Hagfest Northwest 2021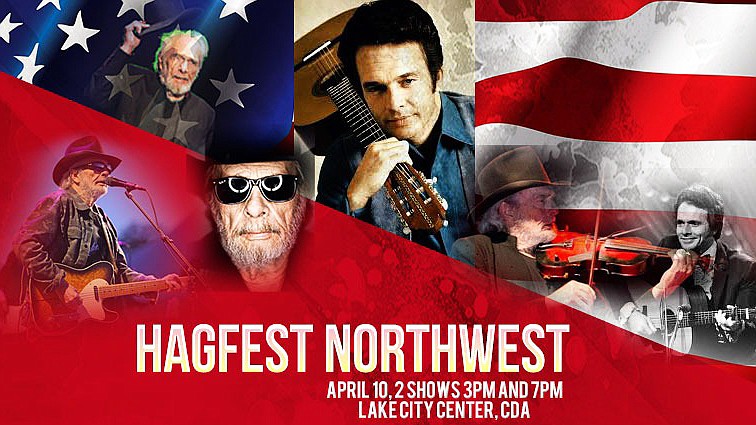 by
Press Staff
|
March 19, 2021 12:00 AM
Hagfest, an annual tributary concert held in memory of beloved country singer Merle Haggard, is coming to Coeur d'Alene.
Two shows will take the Lake City Center stage at 3 and 7 p.m. April 10. The event is sponsored by the Inland Northwest Country Music Association.
The most recent Hagfest was in 2019 at the Bing Crosby Theater in Spokane. Hagfest is a musical celebration of country legend Haggard, who died April 6, 2016 at age 79. Musicians and top performers from across the Northwest join Hagfest to perform, celebrate and indulge in the music of this much-loved singer. Fans of all ages join the show to reminisce about their cherished country idol.
Hagfest host and local country performer Rusty Jackson will bring together some of the area's finest singers and players to perform and pay tribute to "The Hag" for a night of beautiful musical memories and stories about Haggard's life and his journey from Bakersfield to San Quentin to the top of the country charts. Fans in the Northwest consider Haggard as perhaps the greatest country singer-songwriter of all time.
About Merle Haggard:
Merle Ronald Haggard was born during the Great Depression in Oildale, Calif. He was an American country singer, songwriter, guitarist and fiddler. Born April 6, 1937, Haggard lived for 79 years and died on his birthday in 2016. He was one of the most prominent country artists to emerge in the 1960s.
Haggard's music was mainly hardcore country, but time and again he enjoyed pushing his musical boundaries. He was countlessly influencing other artists in the industry. In terms of personal life, Haggard had a troubled childhood that led him to be incarcerated multiple times at a young age. After his father's death, Haggard became rebellious, which landed him in several juvenile detention centers as an attempt by his mother to ease out his behavior.
Haggard recorded his first song for Tally Records in 1963. It became a national hit early in 1964. Haggard started recording singles and by late 1965, he recruited a backing band and named them the Strangers. Between the 1960s to the 1980s, he released 38 No. 1 hits and continued to release successful albums in the 2000s. He received many awards for his music before his death by double pneumonia on his 79th birthday.
Tickets range from $19.50 to $29.50. The 7 p.m. show will feature a mobile bartender.
Lake City Center is at 1916 N. Lakewood Drive, Coeur d'Alene.
Buy tickets: www.eventbrite.com/e/hagfest-northwest-tickets-143388405581
Info: www.in-cma.com/home
---