Love of puzzles flourishes in pandemic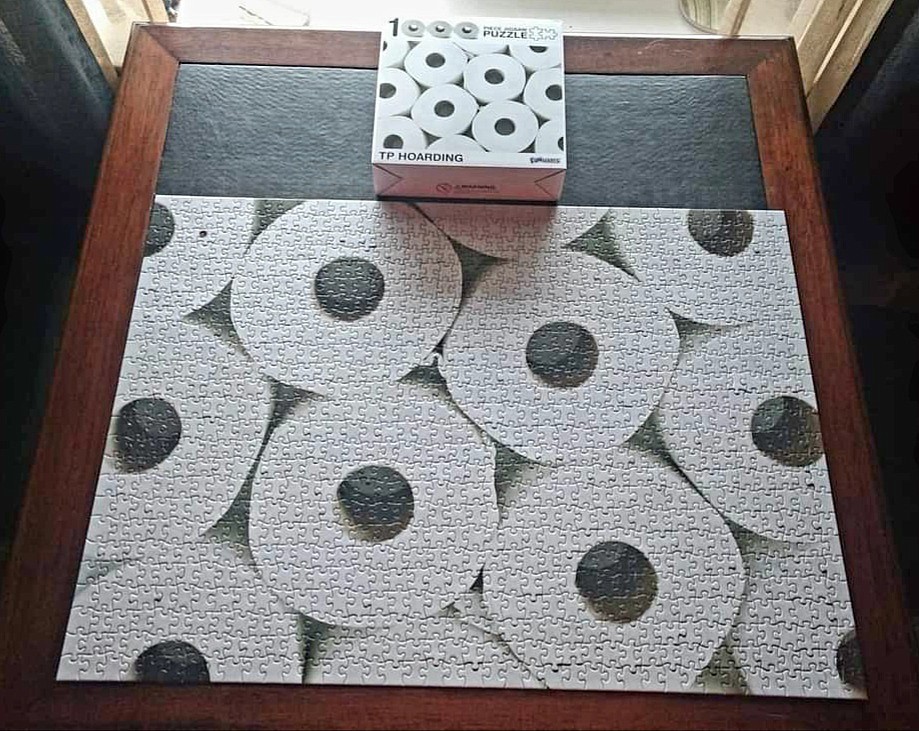 Courtesy photo from Dani Wolfe This "pandemic puzzle," Hoarder TP, is among the more challenging puzzles Dani and Alan Wolfe have taken on during the past year.
by
KERRI THORESON/Main Street
|
March 17, 2021 1:00 AM
LOVE OF PUZZLES FLOURISHS IN PANDEMIC
Dani and Alan Wolfe are expert level puzzlers who said a recent 1,000 piece challenge titled Hoarder TP is an Ironman of puzzles, taking them four weeks to complete. What could be a more perfect theme for the past year than rolls of toilet paper? I've never had the patience for puzzles beyond the simple wooden puzzles that my kids had when they were little.
Dani tells me that the couple loves puzzles of all kinds … jigsaw; sudoku; ken-ken; logic puzzles; word puzzles; crossword puzzles; and trivia. During the pandemic the Wolfes estimate completing approximately 75 puzzles.
"Every morning we do the trivia from the Coeur d'Alene Press and Alan pulls the puzzles and keeps them handy too, she says, "Both of us have a little bit of an analytical brain and enjoy the challenge of finding the solution and with the jigsaw puzzles, taking 1,000 pieces and putting them all together for a fun picture."
They keep a card table in front of their living room window for jigsaw puzzles and leave it out nearly year round, except around Christmas when the puzzle table is replaced by holiday decor. Dani jokingly admits they have some withdrawals while it's put away.

"Sometimes we walk by and pause and put a couple of pieces in and sometimes spend time during the evening," Dani said. "We work them together a lot, but we also sit by ourselves occasionally — I find it takes my mind off of other troubles — a quick brain refresh!"
The Wolfes return the puzzle pieces to the box in a Ziploc bag with their name and date on it, also indicating whether or not all the pieces are present before swapping with friends.
I found it interesting that Dani has never felt the need to preserve a completed puzzle as a wall art. But some of the iconic scenic images have inspired her to add a location to her must travel bucket list.
While the attraction to puzzles is puzzling to me and would certainly not be a relaxing activity personally, I'm estimating the number of books I've read this past year is about equal to the number of puzzles the Wolfes completed. No doubt others might find my need to have a book in progress puzzling.
• • •
---
When I received the results of my Ancestry.com DNA test in 2019 my first thought was that I'd been under celebrating St. Patrick's Day all of my life. While England and Wales are my predominant origins, Ireland and Scotland make up over one third of my DNA story.
So while I'm nowhere near St. Patrick's Day Parade grand marshal status, I'm claiming celebratory options. As almost-Irish I would like to remind people that the shortening of St. Patrick's Day is St. Paddy's Day, not St. Patty's Day. Patty is short for Patricia, Paddy is short for Padraig, the Irish spelling of Patrick.
My beautiful and authentically Irish friend Katherine Ekhoff preaches about the difference between a shamrock and a four-leaf clover — "There are only three leaves on a shamrock. That four-leaf nonsense I see everywhere is a clover. Shamrock is our symbol in Ireland in remembrance of how Patrick used the three leaves on one stem to explain the concept of The Trinity when he was converting the Irish to Christianity.
"A four-leaf clover is an English Druid symbol superstitiously used for good luck and has nothing to do with Ireland. I wouldn't be seen dead wearing it on St. Patrick's Day! People wearing it should be fined, LOL."
I have such smart friends. Slainte!
And for the record, Ilene Moss of All Things Irish assures me that even though COVID has sidelined the 2021 Coeur d'Alene St. Patrick's Day parade as it did last year, Barry McHugh will be duly honored as grand marshal hopefully in 2022. Third time's a lucky charm!
• • •
---
Happy birthday today to William Shannon Reynolds, Pat Castelian, Cody Peugh, Keith Hutcheson, Patty Conkle, Trish Ortega, Terry Corey, Carrie Nicholson, Mike Gump and Nichelle Price, they're combining a little luck o'the Irish with their birthday celebration. Tomorrow my Birthday Club buddy Jack Pierce along with Chris Englebrecht, Dawn Johnston, Lisa Jirkins, Julie Bjornson and Bret Merry put on their party hats. On Friday Lance Bridges, Taryn Nichols, Kris Storey, Megan Merry, Troy Jones, Judey Brown, Patsy Andres, Janet Batchelder and Taryn Moliter celebrate first day of spring birthdays. On Saturday Pam Houser, Kristi Granier, Aaron Sadler, John Blanchette, Tad Thompson, Julie Clark, Carolyn Anderson and Matt Hansen take another trip around the sun. Brandie Chapman, Trey Bartoo, Luke Paul, Michelle Lewis, Marla Lopez, Trudie Chamberlan, Julie Billetz, Steve Hanson, Jacque Kress, Derek Teal and Jack Crawford celebrate on Sunday. Jessica Bonar, Beverly Larsen, Rich Anstine, Greg Cook, Jack Budvarson, Julie Perry, Katie Vaughan, Pam Adams, Boston Pierce, Cole Jaworski and Rob Carpenter will mark their special day on Monday. Tad Leach, Paul Ray, Herb Huseland, Lori Weaver, Julie Perry, Linda Lewis, Landon Stepro and Jacey Brockhoff enjoy a piece of birthday cake on March 23.
• • •
---
Kerri Rankin Thoreson is a member of the National Society of Newspaper Columnists and the former publisher of the Post Falls Tribune. Main Street appears every Wednesday in The Press and Kerri can be contacted on Facebook or via email mainstreet@cdapress.com. Follow her on Twitter @kerrithoreson.
---