Luck of the leprechauns!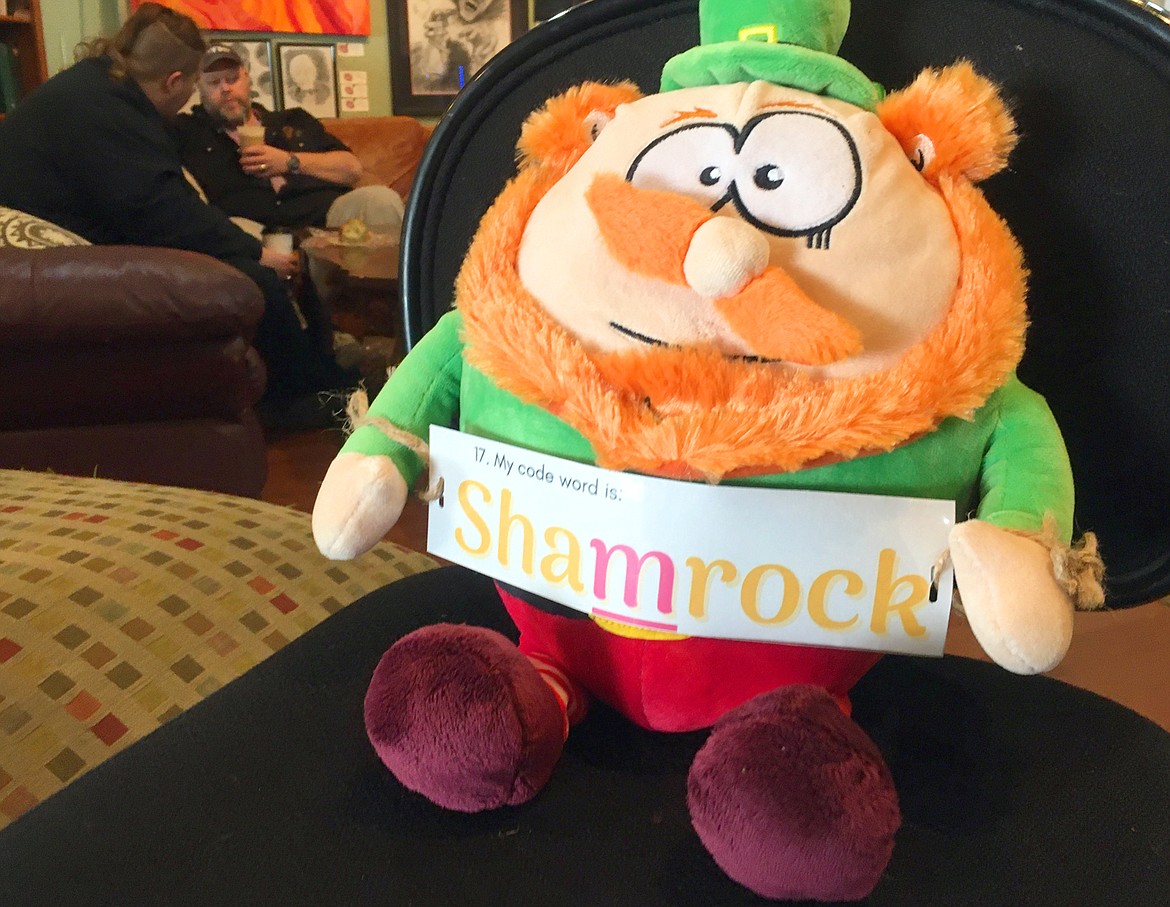 The Great Leprechaun Hunt in downtown Coeur d'Alene will lead people to this little fellow and others like him at participating downtown businesses in pursuit of a pot of gold.
BILL BULEY/Press
by
BILL BULEY
Staff Writer
|
March 10, 2021 1:06 AM
COEUR d'ALENE — There won't be a St. Patrick's Day parade in downtown Coeur d'Alene this year, but there will be something else that promises a pot of gold at the end of the rainbow — "The Great Leprechaun Hunt."
"Leprechauns are sneaky and tricky," said Emily Boyd, executive director of the Coeur d'Alene Downtown Association.
They are also lucky.
Whoever finds them could win riches beyond their wildest dreams — or at least gift cards to downtown shops.
Eighteen cuddly and chubby little leprechauns with green garb and orange beards have been placed at downtown businesses. Each one is holding a piece of paper with a word — like Shamrock at Calypsos Coffee Roasters, with the "m" in pink — and one of the letters is color coded.
Each weekend through March, try to find all 18 leprechauns, copy down the words, piece together the color-coded letters into the final clue and follow it to the pot of gold in the downtown area. You'll have a chance to win a share of $500 in gift cards for downtown shops.
And as the Irish would have it, it's free and fun, maybe even better than discovering a four-leaf clover.
"Just a great way to celebrate St. Patrick's Day," Boyd said.
Everyone who manages to reach the rainbow's end will win some chocolates and have their name entered into a drawing to determine the weekly winner of $125 in gift cards.
The Great Leprechaun Hunt came about because the traditional St. Patrick's Day parade on Sherman Avenue couldn't be held due to COVID-19 restrictions on crowds and social distancing.
There was too much uncertainty to schedule it.
"Planning wise, it just didn't shake out," Boyd said.
But the Downtown Association still wanted to celebrate St. Patrick's Day and give folks a way to enjoy the luck of the Irish.
The Leprechaun Hunt is similar to a winter promotion, Elf on a Shelf, offered by downtown shops. In that one, find the elf on a store shelf and get a discount.
"People love that," Boyd said Tuesday.
Only this time, no elf.
"What if we do this but with leprechauns?" said Ilene Moss, owner of All Things Irish on Sherman Avenue and a Downtown Association board member.
Leprechauns are known to be more mischievous than elves, and more generous, too.
The first weekend saw many people trying their luck and even more are expected this weekend.
A Leprechaun Hunt map listing all the businesses is available at any of the participating businesses. It includes:
Migliore Olive Oil, Mix It Up, Cricket's, Angel Art Gallery, Magpie, Abi's Ice Cream, Woops! Bakeshop, Once Upon a Fairytale Books, Cd'A Garment District, Rustic, Mountain Madness Soap, Gelato By The Lake, Blackwell Gallery, The Spice & Tea Exchange, Finan McDonald at The Lake, Marketplace Gifts, Calypsos and Christmas at the Lake.
Recent Headlines
---