Classes offered at Music Conservatory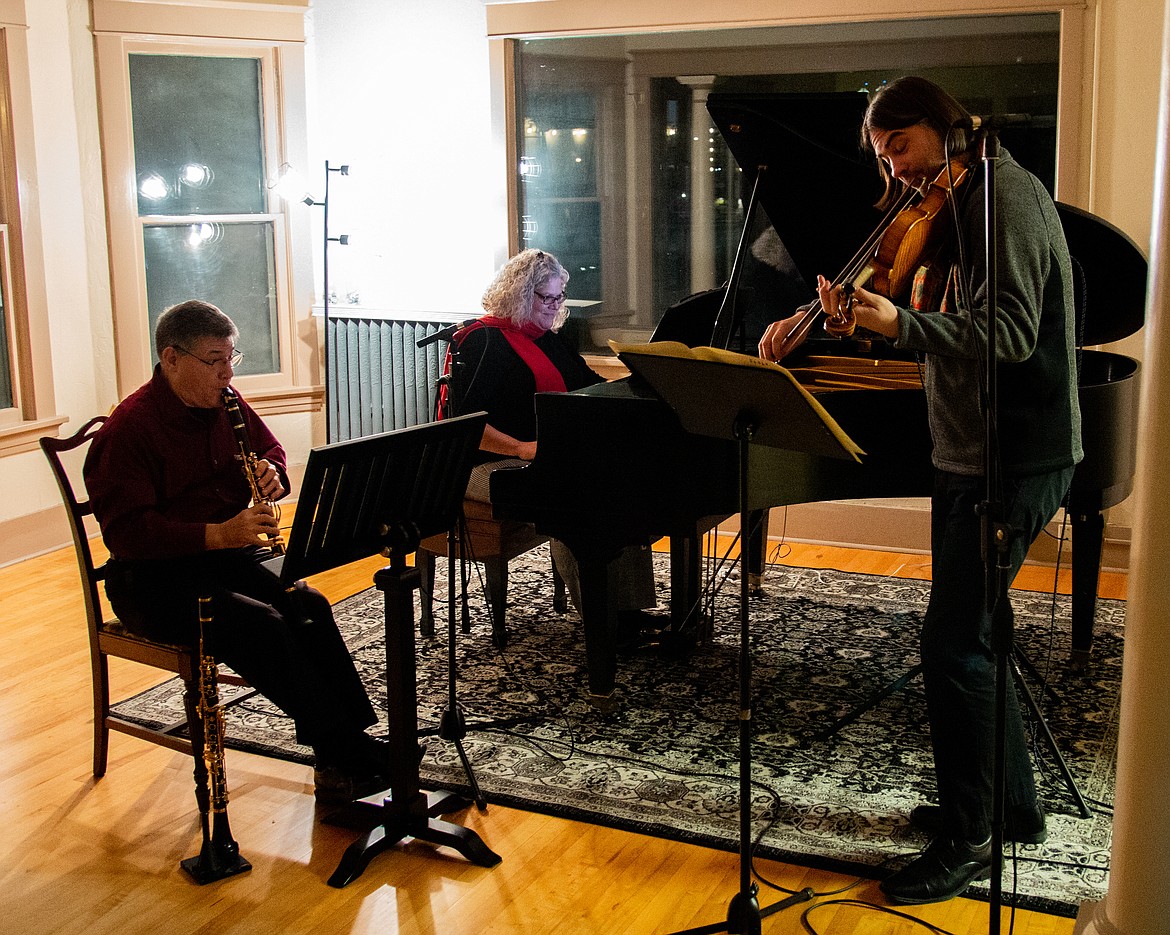 Courtesy photo The Chamber Trio of, from left, Geoff Fiolo, Toni Helms and Jan Pellant, performs at the Music Conservatory in Coeur d'Alene.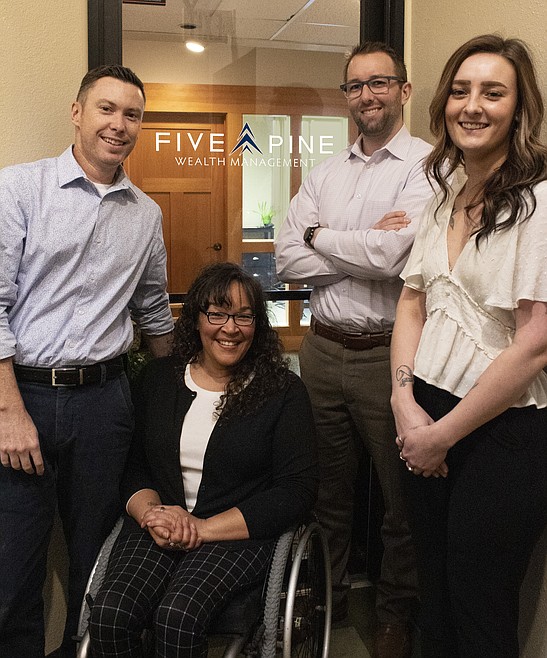 Courtesy photo Five Pine Wealth Management employees, from left, Jeremy Morris, Sherrie Petersen, Ben Holzhauser and Cheyanne Ross, pose in their new office on Sherman Avenue (located above the Coeur d'Alene Resort Shops).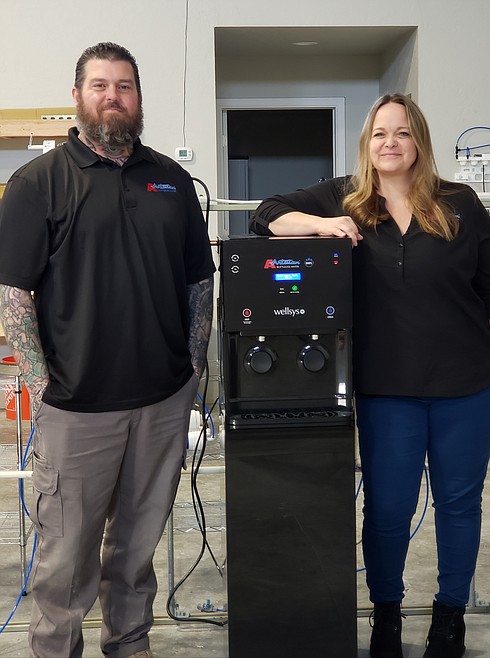 Courtesy photo Artesian Bottleless Water's Leigh and Nick Willis pose inside their new store in Unit B at 6255 W. Integrity Way (behind Walmart and next to California Closets) in Post Falls.
Previous
Next
by
NILS ROSDAHL/Special to The Press
|
March 7, 2021 1:20 AM
Built in 1908, the historic Hamilton House at 627 N. Government Way has become the home of the Music Conservatory of Coeur d'Alene. With a splendid wraparound front porch, it was the home of Boyd Hamilton, the second mayor of Coeur d'Alene. It was the home of other prominent public officials and has large formal rooms that appealed to the senses of several musicians who also lived there.
The mission of the Music Conservatory is to nurture musical talent with mentors, performances and collaborative partnerships to inspire a future generation of musicians. It cultivates a vision for music education with programs for all age groups with group classes, private lessons, concerts and educational seminars.
Early childhood classes introduce musical elements to babies and toddlers from 6 months to 2 years, mother-and-child singing, dancing and playing instruments. Older children learn string, keyboard and wind instruments and choir. Weekend events include concerts and master classes.
Instructors include Geoffrey Fiolo on clarinet, Toni Helms at piano and Jan Pellant on viola. They and other musicians will offer a concert at 7 p.m. this Friday. Other music events will be April 2 and 3 and on Artwalk the second Friday of each month.
Administrative hours are 9:30 to 5 Mondays, 9:30 to 2 Thursdays and 9:30 to 5:30 Fridays. Phone 208-901-8190. Check www.cdaconservatory.org.
Five Pine Wealth
Management downtown
Offering holistic financial planners and fiduciaries, Fine Pine Wealth Management has opened in Suite 204 at 210 E. Sherman Ave. It's above Figpickles and Unchained in the CdA Resort Shops.
Clients are provided with financial plans that include assistance in estate, tax and retirement planning with low-cost investment options. The staff helps more than 300 area households.
All active in giving back to the community, the staff includes Ben Holzhauser (president and founder), Jeremy Morris (vice-president and co-founder), Sherrie Petersen (head of operations) and Cheyenne Ross (administrative assistant).
Hours are 8 a.m. to 5 p.m. weekdays and by appointment. Phone 877-333-1015. Check www.fivepinewealth.com.
Artesian Bottleless Water
opens in Post Falls
Providing water and ice systems to businesses, Artesian Bottleless Water has opened in Unit B at 6255 W, Integrity Way (behind Walmart and next to California Closets) in Post Falls.
Their bottleless coolers eliminate plastic bottles and offer water filtration and purification technologies to transform already-available tap water and remove particulates like dirt, rust, lead, chlorine and other harmful chemicals. The goal is to achieve and maintain cost-effective and efficient use of water treatment technologies.
Open 8 a.m. to 5 p.m. weekdays, the staff includes Leigh Willis, Nick Willis and Chris Macklin. Tree trials are offered for bottleless water coolers. Phone 208-457-7332. Check www.drinkartsian.com.
Now the Tidbits
Cranberry Road Winery will move its restaurant and winery from Westport, Wash., to 2380 N. Old Mill Loop in Riverstone.
The Wax Queen will open March 15 by appointment only at 840 E. Best Ave. Phone 208-446-8734.
James Dry Dock will be in Silver Lake Mall.
A new commercial and residential building will be built at Government Way and Davidson Ave.
Terraza Waterfront Cafe will be at 1950 Bellerive Lane in Riverstone.
The Washboard Laundromat will be in The Plaza of Post Falls.
Killer Burger will put its first Idaho location near the intersection of Prairie and Highway 95.
Trademark Mechanical has moved to 171 W. Lacey Ave. Details soon.
Watch for major changes with the Burger Bunker and Bunker Bar off Spokane Street in Post Falls.
A new building for Linden Coffee Co. is under construction at 1502 N. Third.
Flippens Secured Self Storage is building a complex at 2098 Creative Way in Post Falls
Truck manufacturing company Kenworth plans a large building for 4374 W. Expo Parkway west of Post Falls.
A large storage complex and new corporate office for Steel Structures of America will be built off Highway 41.
The Den will be a new tavern at 761 N. Idaho St. in Post Falls.
My Nails & Spa will be off Canfield Ave.
The CdA Corner Store is adding a kitchen and tables downtown.
A Union Gospel Mission thrift store is under construction at 7761 N. Government Way..
The Blue Shell will be at 1903 Sherman.
Takara Restaurant will open in March or April on Lakeside downtown.
Emerge will be at 119 N. Second St.
The building at 1015 Ironwood will house Element Dental and administrative offices for Northwest Dental Benefits.
Schmidty's Burgers will be at 1524 E. Sherman.
A 120-room boutique hotel will be where the Outback Steakhouse was off Northwest Boulevard and I-90.
Coeur d'Alene Nissan will have a major addition to its building off Highway 95.
The huge One Lakeside project hotel portion will open in April. The condos are sold.
Metro Car Wash will be near Wendy's in Post Falls.
The Hayden Dairy Queen will be at 513 W. Hayden Ave.
108 North is under construction connected to the Moose Lounge downtown.
Something new is going into 413 Sherman beside the Art Spirit Gallery.
Northwest Group will be selling cars at 2995 E. Mullan.
A new motel is under construction on CdA Lake Drive between Mullan Ave. and Michael D's Eatery.
Safe Splash is under construction on Kathleen Avenue.
NOTHING in the English language starts with N and ends with G.
*Contact Nils Rosdahl at nrosdahl@cdapress.com.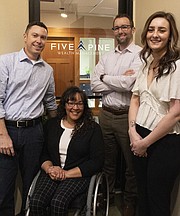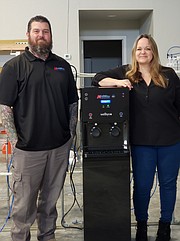 Recent Headlines
---