It's the little things
by
DEVIN WEEKS
Staff Writer
|
March 5, 2021 1:00 AM
"Walk on the outside of the curb (nearest to the street). Walk next to her, not in front of her."
"Ask her what SHE wants to watch on TV, and stay awake to watch it with her."
"Brag about her in public — and never put her down or be sarcastic about her, ever."
"Never let a day go by without saying 'I love you.' And, never just say 'love you.' Only say 'I love you.'"
Call Michelle Dunn old fashioned, but she's been taking notes on human behavior for quite some time. She finally released an instruction book to help those with the Y chromosome be sweeter to those with the X chromosome through the little things they do and say.
And trust the ladies, fellas. Those little things add up to be quite big.
"I really appreciate it when a man stands up for me from the table, or when a man sends flowers," Dunn said Wednesday. "I think we all secretly like these things."
Dunn said she has been making a list through the years, compiling behaviors, actions and words that touch her heart. When her husband said, "I think I need a book of instructions," she ran with it.
"We still want to date our husbands. I don't want to nag him," she said. "This is a fun, playful way of bringing new little sparks.
"I don't care how progressive women are, I think in their hearts, they still love to be pampered and adored."
"How to Keep A Girl Once You've Found Her" can be a lesson in love for men as well as women that the timeless qualities of kindness, thoughtfulness and selflessness are the keys to maintaining a beautiful, healthy relationship.
This coffee table book, dedicated to Dunn's children, is published through Virginia-based Mascot Books and can be found at online retailers for $16.95.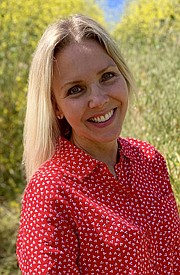 Recent Headlines
---