Paint and rim protection needed for GU's title run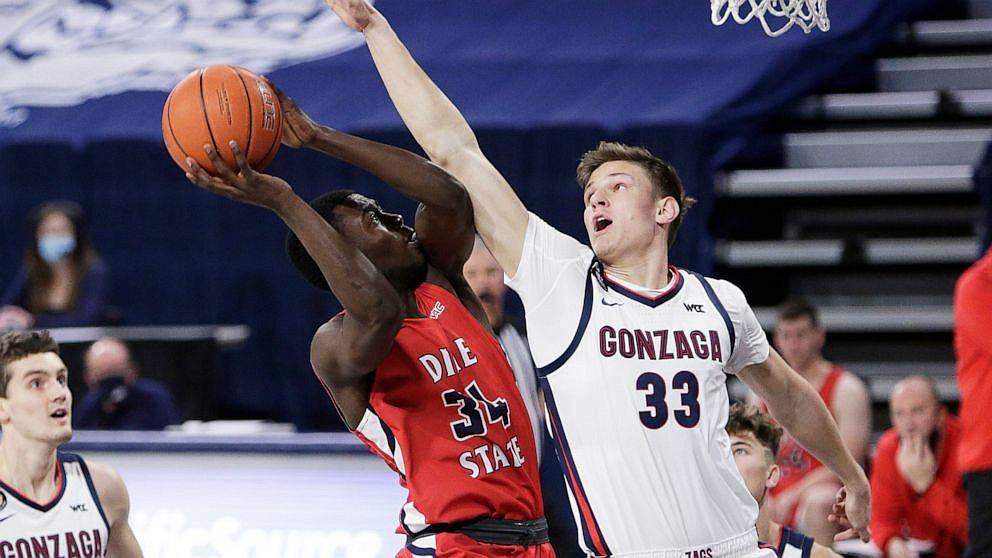 Associated Press file photo Gonzaga freshman Ben Gregg (33) challenges the shot of Dixie State's Emad Elneil during the Bulldogs' 112-67 home win on Dec. 29.
You may think today's tale contains a bit of irony.
That would be correct.
Or …
You may think that the story is coming from a guy filled with Zags bias, and he's whining that things are unfairly stacked against the little school from Spokane.
Now THAT would be nonsense.
First, let's examine the irony …
It is incredibly rare for one of the nation's powerhouse programs to get bona fide help from a young man who, if things were playing out on the usual timeline, would be preparing to graduate from high school.
To borrow a phrase from the entertainment industry, however, Ben Gregg has flipped the script.
Instead of getting ready for a cap-and-gown event at Clackamas High — it's in a suburb of Portland — with all the neighborhood kids, Gregg already has slipped nicely into a college program.
More specifically, he's taking online classes at Gonzaga just like any other student in higher education, and yes …
He's suiting up a couple of times per week for the No. 1 basketball team in the country.
WHENEVER the undefeated (24-0 overall, 15-0 as regular-season champions of the West Coast Conference) Zags gather on the court to celebrate with another trophy, Gregg is right there …
Grinning with the fellas.
Coach Mark Few, to back up just a second here, made it plain that he was happy to have this high school lad in the program a full semester early.
Gregg is a 6-foot-9, 220-pound forward who figures to get considerably stronger by taking advantage of the elite training facilities that are available to athletes at Gonzaga.
The boy is already smooth for his age and size, and he figures to work seamlessly into the Zags' up-tempo style.
Few noted that Gregg would have a "free semester" (because COVID-19 has forced the NCAA to rule that winter sports competitors will not lose this juggled-up year toward future eligibility), and thus Gregg can participate this season without that time counting against his long-term college career.
When Gregg turned up in Spokane to begin his adventure in higher education, the Zags already were blitzing the toughest competition — and had been installed by Vegas betting parlors as favorites to emerge from March Maness by cutting down nets while being covered with confetti.
IN FACT, Few's reaction to adding this talented-but-raw big guy from Clackamas was just what you would have expected.
The coach noted that Gregg would get a nice jump on many of his peers by working out with (and fighting against) many players who soon could be making millions in the NBA.
The coach made it pretty plain, though, that there was no rush for Gregg — and that if the prospect from Clackamas fit in well, he might even see some late-game playing time.
You never really know when Few is dead serious in assessments like that, or whether he might see MORE in a newcomer.
In either case, he'd never throw a load of pressure on a player like Gregg, so only the Gonzaga coaches could accurately guess whether he's added to the long and amazing list of big men who have starred with the Zags, and then …
Played the game for big money somewhere.
One thing is certain now, however.
Whatever their early perceptions, Gregg fit in better than most program observers expected.
Few called on him to help against Santa Clara's bigs late in the first half last Thursday — Drew Timme already had two fouls and Anton Watson, his backup, was saddled with three — and Gregg looked right at home.
He hit a shot, a slick left-handed finish at the hoop, grabbed a rebound with a combination of strength and grace, and basically looked right at home.
Few said afterward that Gregg was improving at practice, and the performance against Santa Clara's experienced big men was not really a surprise.
IT'S NICE to know that Gregg can offer more than a couple of plays throughout garbage time appearances in all the blowouts, that he can handle the ball, and beyond that …
The kid is capable of the physical stuff that might allow him some minutes to rest Timme — or more critically, to save Timme from foul danger.
Two months ago, that notion seemed almost silly.
Now, it's been upgraded to …
Maybe.
Or more accurately …
If necessary.
What's funny, considering this issue of rim protection, is that Gonzaga has acquired something of a reputation for developing big guys (many from outside the U.S.) who improve every year, and now are multi-dimensional impact players in the NBA or somewhere else.
Timme, strangely enough, doesn't fit the pattern.
He's not a bruiser at 6-10, but rather a ballerina who's strong enough to match magical footwork with enough strength to hold his own in a mob around the basket.
THE NEXT true "big" in the pipeline is the same age and experience level as Gregg.
(We're not counting Chet Holmgren, Jalen Suggs' former prep teammate in Minnesota, the 7-1 wonderchild who can play anywhere on the court — and who MIGHT choose to bring his talents to Gonzaga.)
Holmgren would be a terrific bonus, and just like his pal Suggs, he might change the face of Zags basketball for a year — or perhaps two, to develop the full Magic Johnson arsenal.
Rather than Holmgren, I'm thinking of Kaden Perry, an aggressive 6-9 smasher who has just the game to complement Gregg's style.
If you're looking for Zags comps, then close your eyes and Gregg might do a nice imitation of Killian Tillie — smooth, a great shooter, a guy who knows where a rebound is headed rather than getting there late and trying to rip it away.
Perry, on the other hand, might be Gonzaga's next version of Brandon Clarke.
If you're just hitting YouTube, you can watch Perry and see those quick, explosive leaps, the shot-blocking that is almost an attempt to leave the shooter embarrassed.
That's the Kaden Perry game, at least at the moment.
When you look at this unbeaten gang of Zags, by the way, how valuable might it be to have a weapon who's the shadow of Brandon Clarke?
Oh, my!
BARRING anything unfortunate, Perry will be joining Gregg in the Kennel next year — along with however many of this year's group decide to stay.
Remember, they will ALL be eligible to return.
Memo to Corey Kispert …
"Don't you want to play one super-cool season in the jammed, rockin' Kennel?"
OK, never mind.
But everyone else … along with, perhaps, Holmgren and 5-star point guard Hunter Sallis?
As long as we're being greedy, though, why didn't Perry get out of high school early and drive over to Spokane with Gregg?
Ah, well …
Maybe it's enough, just as it is.
You know, to face up against Michigan's Hunter Dickinson in the Final Four for four minutes in each half.
Maybe.
• • •
Email: scameron@cdapress.com
Steve Cameron's "Cheap Seats" columns appear in The Press on Mondays, Wednesdays and Fridays. "Moments, Memories and Madness," his reminiscences from several decades as a sports journalist, runs each Sunday.
Steve also writes Zags Tracker, a commentary on Gonzaga basketball which is published each Tuesday.
Recent Headlines
---