Pie in the sky? Birdie's 2.0 has landed in Hayden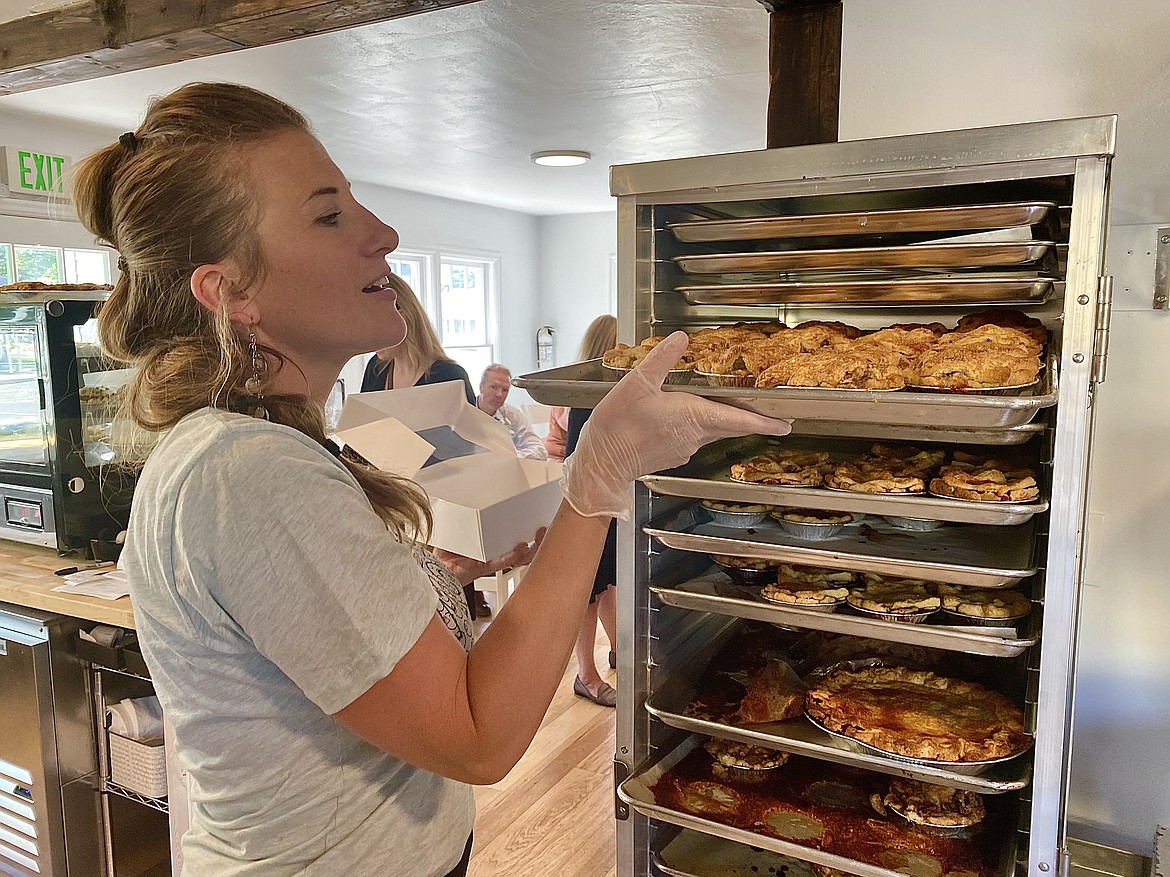 Sharee Moss, owner of Birdie's Pie Shop, reaches into the baker's rack filled with freshly baked pies. Five days a week, Moss and her team create each pie from scratch. (MADISON HARDY/Press)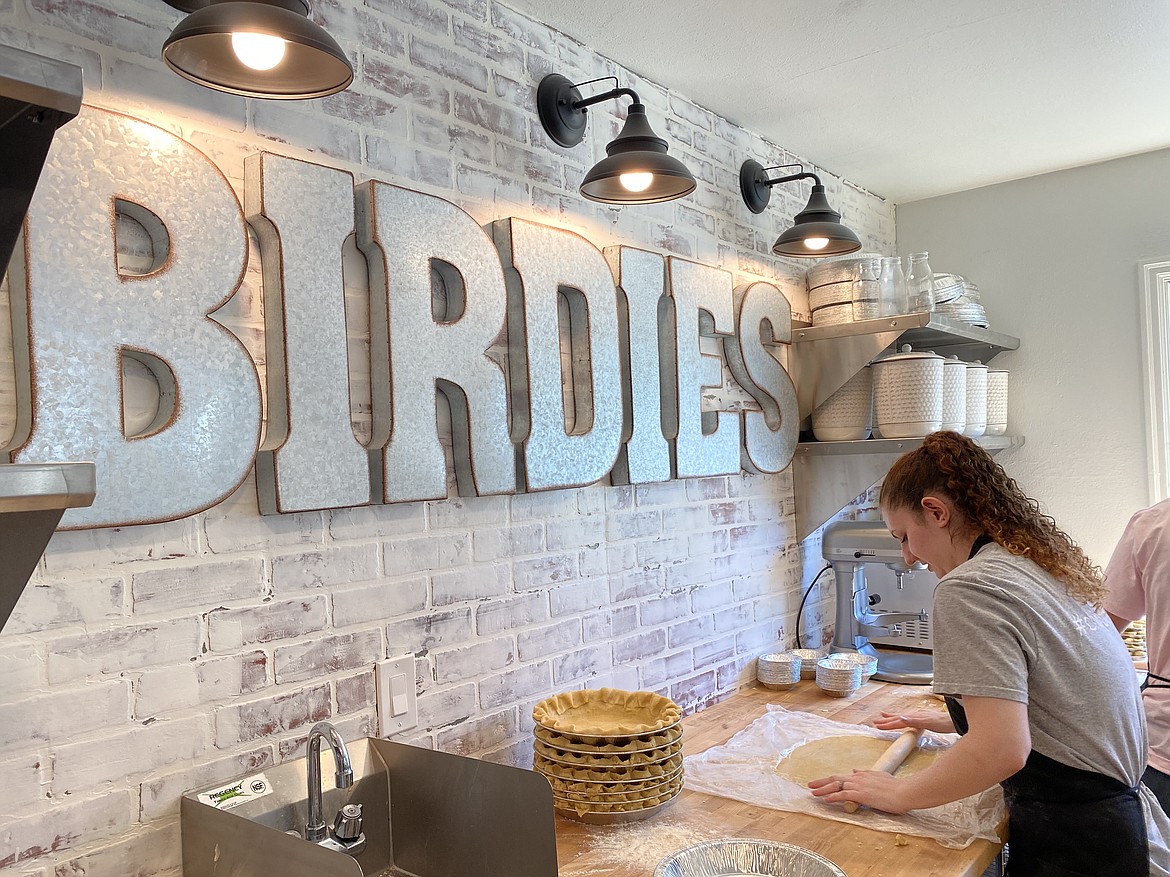 Birdie's Pie Shop bakery staff hard at work in the kitchen at the Hayden location. Their day usually begins at 7 a.m. to prepare for hungry customers. (MADISON HARDY/Press)
Previous
Next
by
ELLI GOLDMAN HILBERT
Staff Writer
|
June 26, 2021 1:06 AM
HAYDEN - Always remember that "pie calories don't count."
That's the mantra, anyway, of renowned baker Sharee Moss, owner of Birdie's Pie Shop at 9375 N. Government Way in Hayden.
That location, the second in Kootenai County, opened Wednesday. Launching the second location one and a half years after they opened the first one in Post Falls, Moss said, was "scary," but she credits the success of her business to the community of "frequent piers" who have supported her, even through the effects that the COVID-19 pandemic has had on the economy.
As a mother of seven, owner of two pie shops and a part-time pediatric nurse practitioner, Moss is a ball of energy. Creating pies at Birdie's allows her an opportunity to scratch her creative itch.
Entering Birdie's, guests are welcomed by a cozy atmosphere, friendly faces and a bakery case full of fresh pies made completely from scratch. Moss' natural flair for design is evident in the decor, but the real star of the whole production is the pies.
The secret to a good pie, Moss said, is always the crust. With a laugh she declared, "If you do not have a good pastry crust, forget it. It's like you're eating cardboard."
Moss started baking as a child and made her first pie before she was a teenager. Her grandmother, Birdella, the original Birdie, inspired all of her pursuits in the kitchen.
As a child, Moss, now 37, said she was "deemed the dessert person" and for "any holiday, any birthday, it's always pie."
Birdie's Pie Shop offers an array of sweet daily flavors: apple, pecan, triple berry, chocolate and key lime. Not so sweet but succulent, the savory chicken pot pie is a daily staple on the menu. A variety of non-alcoholic beverages are available as well.
Coming up with seasonal recipes, such as the root beer float pie that was created in honor of Father's Day, is a passion for Moss. And she always welcomes custom orders, including gluten- and dairy-free requests.
If Moss hasn't previously made a particular variety, she's willing to give it her best effort to experiment and create a recipe.
People often come to her requesting a re-creation of an old family classic, perhaps something their grandmothers used to make. She readily accepts the challenge.
Moss said that sometimes these creations are "so delicious and we love it, then we just sell it in the shop, it's well received and we just keep it coming."
"I dream pie recipes, honestly ...I just want to be creative and think what could be the next thing that could be made into a pie," she said.
With the love of pie she cultivated as a child, she really wanted to create a "great pie place." With her dedicated staff and family rooting for her, Moss made that a reality.
After opening the first location in Post Falls at 1003 N. Spokane St. right before the pandemic hit, Moss realized that people in the community "needed some kind of comfort, and I wanted to give back to anybody who had lost it."
During the 21-day lockdown, Moss and her staff gave back to the community in a big way - offering 21 days of free pies.
Moss described it as the hardest three weeks of her life because they were baking their little fingers off. The community responded to the efforts with abundant appreciation, and support for Birdie's has continued.
Moss and her husband purchased the building in Hayden and spent the next nine months renovating it. The shop offers a carry-out counter, a small indoor seating area and a variety of clever, pie-themed merchandise.
In the near future, Birdie's Pie Shop in Hayden will also offer a "pie-thru" window for people to even more quickly grab a perfectly crusted feast.
Although Moss already had a growing business in Post Falls, her husband encouraged her to open the second location. She recounts him telling her, "You can do more. You're amazing, you can do so much more!"
She attributes much of her success to the support of her family and her staff. As a lifelong resident of the Inland Northwest, Moss feels a desire to give back to her community.
Between the two shops, Birdie's Pie Shop employs 12 people, lovingly called "Birdie Babes." They believe that pie is simply essential. Moss and her Birdie Babes are dedicated to producing pie perfection and prioritizing customer service.
When asked if there is a possibility for a third location, for now she will handle it "one Birdie, one pie at a time."
Both locations are open Tuesday through Thursday from 10 a.m. to 5:30 p.m. and Fridays from 10 a.m. to 8:30 p.m. and Saturdays from 10 a.m. to 4 p.m. Prices range from $1.75 to $28.
Info: Hayden - 208-591-6838; Post Falls - 208-457-7004 Birdiespies.com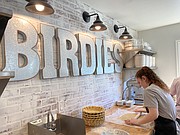 ---