Dad's duty calls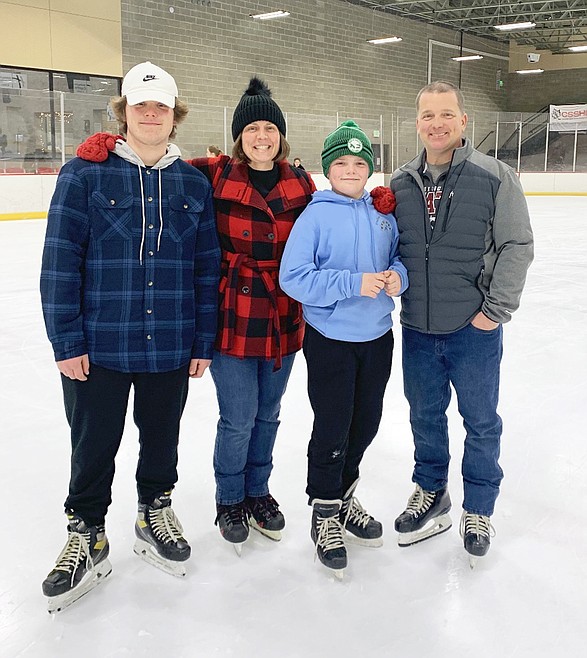 Photo courtesy Darin Schumacher The Schumacher family, Tie, Minda, Rhys and Darin at the hockey rink.
by
BILL BULEY
Staff Writer
|
June 21, 2021 1:06 AM
Darin Schumacher wasn't home for Father's Day.
Not that he neglected his dad duties. Just the opposite, in fact.
The Post Falls man was on his way back from Chicago, where son Rhys, 12, competed in a hockey tournament.
Son Tie, 15, isn't home, either. He's at a hockey camp in Grand Forks, N.D., and has been most of the month.
Yes, hockey is big with the Schumachers. It's a way for Darin to spend time with his sons — and prepare them for the future, when they'll be husbands and fathers, too. They'll learn to deal with challenges that are sure to arise.
"Hockey gives me a clear avenue to help them face that adversity and do it as strong young men," Darin Schumacher said.
Schumacher is a dad, teacher and hockey coach. This past year was his first teaching math at the online public school Inspire Connections Academy and Empower Connections Academy.
It was also his son Tie's first time attending the online school, as he wanted the flexibility to focus on his ice hockey career and dad Darin served as his learning coach.
Many days during the school year you'd find them at the rink.
"I can work from anywhere," Schumacher said. "If my kids are in North Dakota, I can be there."
"I tell people I'm the luckiest dad out there. I get to do a lot of things with my kids," he continued.
The year of the coronavirus, with all its restrictions, created more opportunities, in the case of the Schumachers, for Darin to be with his sons as online teaching and learning brought them together.
"We get to do a lot of things at home," he said.
Others reported the same findings.
A new survey recently released by Pearson and Connections Academy found that 84% of dads became more involved in their child's education during the pandemic and it was an experience they found gratifying. There were 1,000 male parents surveyed with children in grades K-12 from across the U.S. who said they took a more active role in their child's education.
Top five stats from the survey:
• 89% of Dads report that being part of their child's learning experience has allowed them to grow closer with their child. (90% understand their child better)
• 86% of Dads report that — with their increased involvement in their child's education — they have gotten closer to their spouse or partner.  
• Dads plan to stay involved with their child's education but 73% are concerned that  going "back to normal" will impact their ability to maintain involvement.
• 89% of Dads agree that they have more respect and understanding for others who  were more involved in their child's education.
• 75% of Dads agree that they missed out by not being a bigger part of their child's education previously. 
Plus, with the family together more, their sons have become more helpful, "which is a kind of a bonus we didn't see coming," Schumacher said, laughing.
"They've learned to respect the work that their father and mother have done," he said.
Online schooling allows Darin to travel, teach and be part of his son's hockey careers. His wife, Minda, is a teacher, too.
They find that balance between education and sports.
"They don't get to go to practice if their work isn't done," he said, "and that has never happened."
Darin Schumacher wants to teach his sons to persevere.
"If you push through the bad times, eventually, they become good times," he said.
Schumacher was raised with a brother and a sister in North Dakota. He began playing hockey at age 5 and has been a coach nearly 20 years. When he was growing up, his father, Larry Schumacher, told him several times, "The most important job you'll have is being a husband and a father."
Larry Schumacher was a plumber and couldn't attend all his son's hockey games and other sporting events.
"My dad worked a lot," Schumacher said. "He tried, he did his best. Most of the time he had to stay at work to pay the bills. He sure doesn't miss any of his grandchildren's stuff," he added, laughing. "He watches every game online."
To be a good dad, Schumacher said, "you have to be patient and you don't have to do it alone."
Fathers don't have to be perfect, he added.
"But we have to try our best."
Recent Headlines
---