THE FRONT ROW with MARK NELKE: With few options in the GSL, 5A IEL schools scramble to fill football schedules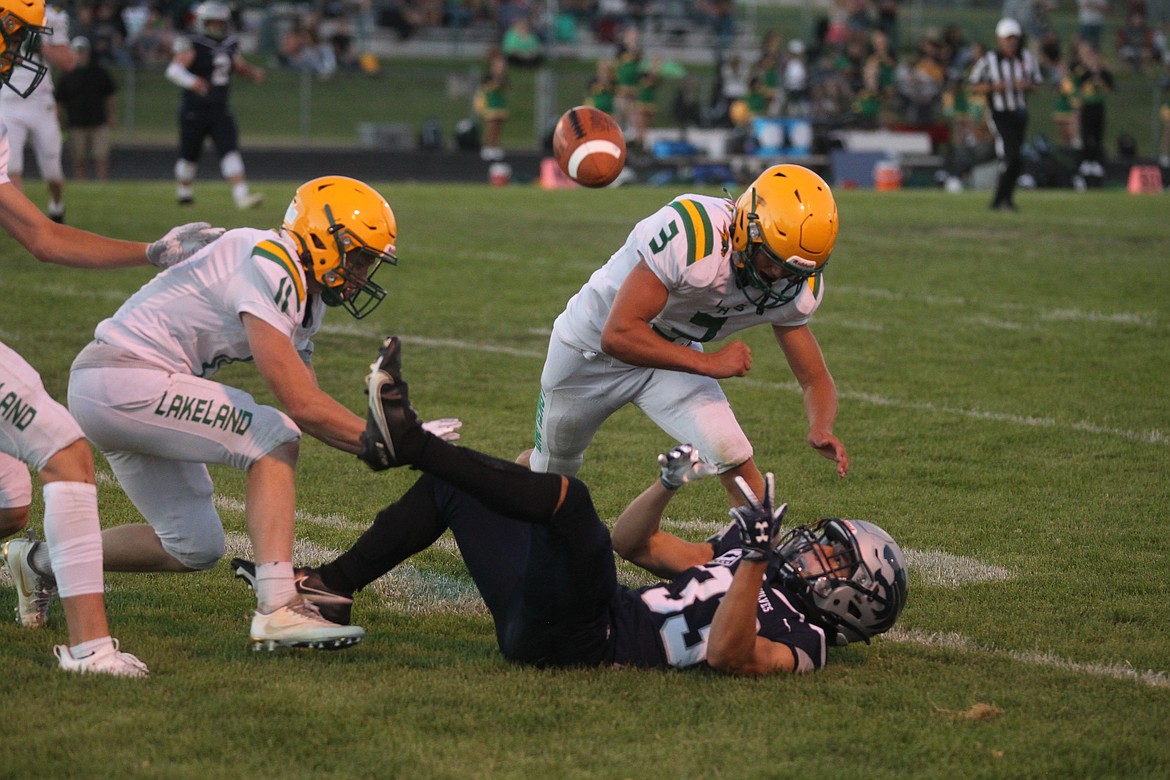 MARK NELKE/Press 4A Lakeland and 5A Lake City are scheduled to meet Aug. 27 in Rathdrum — the season opener for Lake City, and the second game of the season for Lakeland.
For some area high school athletic directors, putting together their football schedules for this fall involved the usual aches and pains.
"The bigger IEL schools over here, we're just floating in limbo, waiting on Washington, waiting for the scraps to come off the table," said Coeur d'Alene AD Mike Randles, who has scheduled eight — so far — of a possible nine football games.
For others, particularly the smaller schools, their schedules came together surprisingly well.
"Ours came together pretty easily," St. Maries AD Todd Gilkey said. "You call me this time next year and it might be a different story."
One stumbling block with scheduling for this season involved the Greater Spokane League, which will have nine schools in its combined 4A/3A league starting this fall when Ridgeline, in the Spokane Valley, opens this fall.
In recent years, North Idaho schools have been able to schedule a few GSL teams in nonleague games the first few weeks of the season.
But GSL director Ken VanSickle said this coming year, with each of the nine GSL teams playing each other once, only one team would have an opening in their schedule each week. And in most cases, those were filled with Mid-Columbia Conference or Big Nine schools, or with matchups already agreed upon last year.
Ferris, which had a bye in its Week 5 (Week 6 in Idaho) will play at Coeur d'Alene — the only 3A or 4A GSL team scheduled to play an Idaho team.
VanSickle, formerly AD at University High, said his old school likely would have scheduled an Idaho team, but its bye week is Week 9 — when Idaho teams are playing league games. Ditto with Mt. Spokane, whose bye is Week 7, but instead is playing Gresham (Ore.).
"This was definitely not a ploy that we don't want to play them," VanSickle said of the Idaho schools. "My hope is, down the road, things will work out again with them."
4A schools in the GSL are Gonzaga Prep, Central Valley and Lewis and Clark. 3A GSL schools are Cheney, University, Ferris, Mead, Mt. Spokane and Ridgeline.
They all play each other in one football league, then go their separate ways for the postseason.
Washington will begin another two-year cycle in the fall of 2022, when Idaho begins its new classification cycle, so unless the 4A/3A GSL gets bigger or smaller by then, the same scheduling issues in football could arise again in '22 and '23.
"I'm hoping we get back to normal, and we can continue our relationship with them," Post Falls AD Craig Christensen said of the GSL, which is scheduled to play Idaho schools in other sports this coming school year.
Here's a look at the football schedules for the local 5A, 4A, 3A and 2A schools for this fall:
COEUR d'ALENE
Schedule
Aug. 28 — vs. Lehi (Utah) at Madison High, Rexburg.
Sept. 3 — at Sandpoint. Sept. 10 — vs. West Valley (Yakima). Sept. 18 — at North Creek (Wash.).
Oct. 1 — vs. Ferris. Oct. 8 — at Lake City. Oct. 15 — vs. Post Falls. Oct. 22 — vs. Lewiston.
Overview
When word got out that there was an opening for an Idaho school in the Rocky Mountain Rumble in Rexburg, "Coach (Shawn) Amos jumped on it quickly," Randles said.
The Rumble was moved to Madison High from Holt Arena in Pocatello last year due to COVID-19. Lehi, located some 30 miles south on Salt Lake City, will make the 265-mile trek north; Coeur d'Alene's trip will be some 470 miles one way.
Coeur d'Alene was scheduled to play host to North Creek last year in the first of a two-year agreement, and the Vikings will travel to the Bothell, Wash., school this year.
"I think Shawn and I thought we won the lottery, picking up Ferris and West Valley of Yakima within the past couple of weeks," Randles said.
The last three weeks of the schedule are the 5A Inland Empire League games. The Vikings play two of them at home, with the lone "road" trip a 2-mile jaunt to Lake City.
LAKE CITY
Schedule
Aug. 27 — at Lakeland.
Sept. 3 — at Battle Ground. Sept. 17 — vs. Moses Lake. Sept. 24 — vs. Moscow.
Oct. 1 — at Sandpoint. Oct. 8 — vs. Coeur d'Alene. Oct. 15 — vs. Lewiston. Oct. 22 — at Post Falls.
Overview
Until earlier this week, the Timberwolves had just seven games on their schedule. A game at Battle Ground in southwestern Washington was recently added; before that, Lake City had two open dates following its season opener at Lakeland.
"It's been quite a struggle," Lake City coach Jim Winger said. "I'm doing all I can to find us games."
Lake City was also able to land a game with Moses Lake, and is scheduled to play Moscow for the first time since 2004.
POST FALLS
Schedule
Aug. 27 — vs. Sandpoint.
Sept. 3 — at Rigby. Sept. 10 — vs. Moses Lake. Sept. 17 — vs. Mount Si (site TBA). Sept. 24 — vs. Lakeland.
Oct. 1 — at Pasco. Oct. 8 — at Lewiston. Oct. 15 — at Coeur d'Alene. Oct. 22 — vs. Lake City.
Overview
Rigby traveled to Post Falls last fall, so the Trojans will travel to eastern Idaho for the return game.
Post Falls was able to pick up nonleague games with Moses Lake and Mount Si after the Trojans were dropped by Eastmont of Wenatchee and University High.
Christensen contacted the AD at Mount Si, located in Snoqualmie, Wash., and the two agreed to try to meet somewhere in the middle — at Central Washington University in Ellensburg, so they can play on a college campus, or if not, at Moses Lake, where the Trojans play the previous week.
Post Falls was scheduled to play Pasco last year before COVID delayed Washington's prep football season to the spring, and the Trojans were able to keep that school on the schedule this year for the second year of the two-year agreement.
"I'm just happy to have that football schedule filled," Christensen said. "That's the one that gives me the most stress."
LAKELAND
Schedule
Aug. 20 — vs. Preston (at Butte, Mont.). Aug. 27 — vs. Lake City.
Sept. 3 — at Columbia (Nampa). Sept. 10 — vs. West Valley. Sept. 17 — at St. Maries. Sept. 24 — at Post Falls.
Oct. 1 — vs. Timberlake. Oct. 8 — vs. Moscow. Oct. 22 — at Sandpoint.
Overview
Preston is some 600 miles from Rathdrum, in southeastern Idaho, a few miles from the Utah border.
Lakeland AD Mike Divilbiss said he was contacted by the Preston AD with the suggestion: Why don't we meet in the middle?
So Divilbiss arranged for the game to be played at Montana Tech in Butte — nearly 300 miles away for Lakeland, some 320 miles from Preston.
Columbia of Nampa was scheduled to play at Lakeland last year but pulled out due to COVID. The Hawks will travel to Columbia this year.
Lakeland also picked up West Valley of Spokane, a 2A team in the expanded GSL.
The Hawks' four other nonleague games are all vs. local schools, ranging from 5A Lake City down to 2A St. Maries.
"We're all getting squeezed with the Washington schools," he said. "People have to realize — we need each other in this league. We have to play each other. We're not going to have anybody to play. It costs too much money to go east, it costs too much money to go to Boise three times during a football season."
TIMBERLAKE
Schedule
Aug. 27 — at South Fremont.
Sept. 3 — vs. Shadle Park. Sept. 10 — at Moscow. Sept. 17 — vs. Connell (Wash.) Sept. 24 — vs. St. Maries.
Oct. 1 — at Lakeland. Oct. 8 — vs. Priest River. Oct. 15 — vs. Kellogg. Oct. 22 — at Bonners Ferry.
Overview
Other than one game, the Tigers are playing the same teams they played last year — the sites are just switched from last year.
South Fremont came to Spirit Lake for the opener last year.
Timberlake was slated to play at Connell (Wash.) last year before COVID hit, but Connell is honoring the return trip to Spirit Lake this fall.
The only scrambling Timberlake AD Tim Cronnelly had to do was finding a Week 2 opponent, as Lethbridge (Alberta) had to cancel since that school might not be able to cross the border by then.
Cronnelly found Shadle Park, which requested an unusual three-year deal — first year at Timberlake, second year at Albi Stadium in Spokane, where Shadle plays its home game, and the third year, in 2023, hopefully in the new stadium planned for downtown Spokane.
Lakeland is an annual nonleague foe, and Moscow and St. Maries are usually on the schedule in recent years.
"For us, when you have three league games, it's find what you can and make as many deals as you can whenever you can," Cronnelly said.
ST. MARIES
Schedule
Aug. 27 — at Kellogg.
Sept. 3 — vs. Lakeside (Nine Mile Falls, Wash.). Sept. 10 — vs. Freeman. Sept. 17 — vs. Lakeland. Sept. 24 — at Timberlake.
Oct. 1 — at Bonners Ferry. Oct. 8 — vs. Grangeville. Oct. 22 — at Orofino.
Overview
The Lumberjacks are playing the same teams, in the same order, as they were originally scheduled to play last year, before the pandemic and the two Washington schools (Lakeside and Freeman) couldn't play because football was pushed to the spring across the border.
"All we did was flip the schedule," Gilkey said. "If we wouldn't have had COVID last year, that's our schedule from last year, just flip the sites.
"I was lucky; I know some people were really scrambling to try and find games."
Mark Nelke is sports editor of The Press. He can be reached at 664-8176, Ext. 2019, or via email at mnelke@cdapress.com. Follow him on Twitter @CdAPressSports.
---