Onward and upward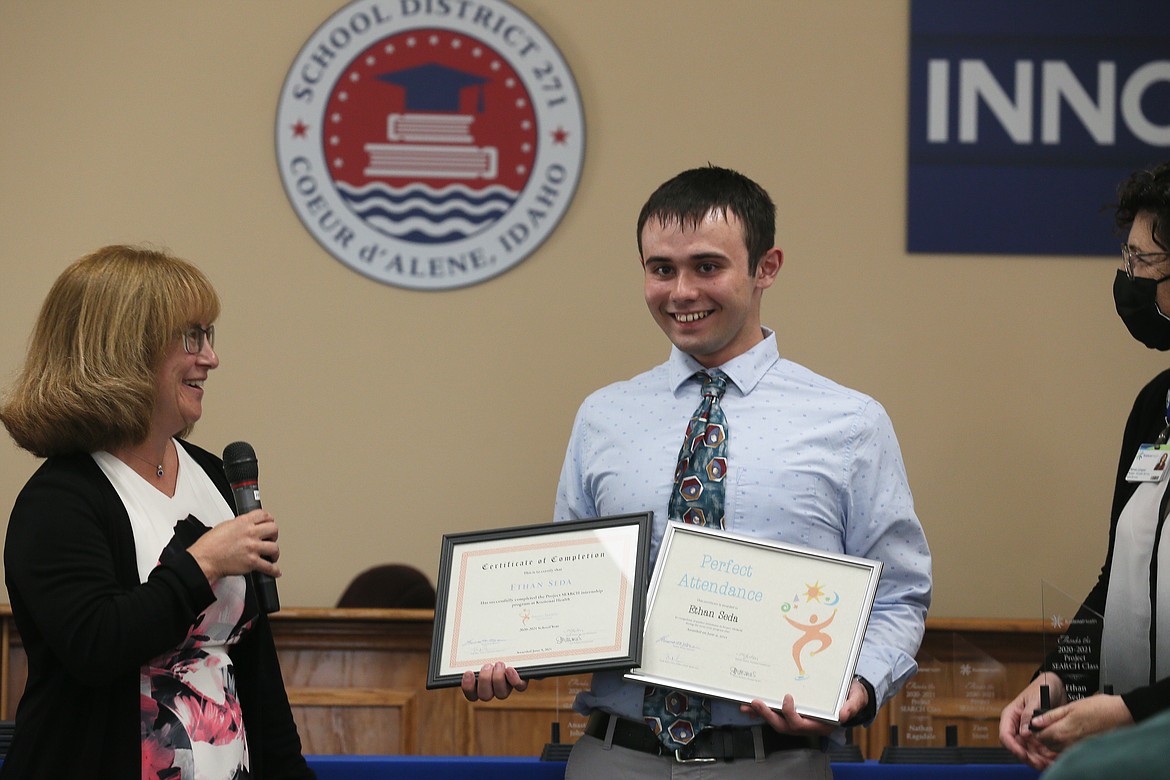 Project SEARCH grad Ethan Seda is all smiles as he receives his certificate of completion and an award for perfect attendance during the graduation celebration Wednesday. Also pictured: Project SEARCH instructor Theresa Moran, left, and Kootenai Health business liaison Renee Langue.
DEVIN WEEKS/Press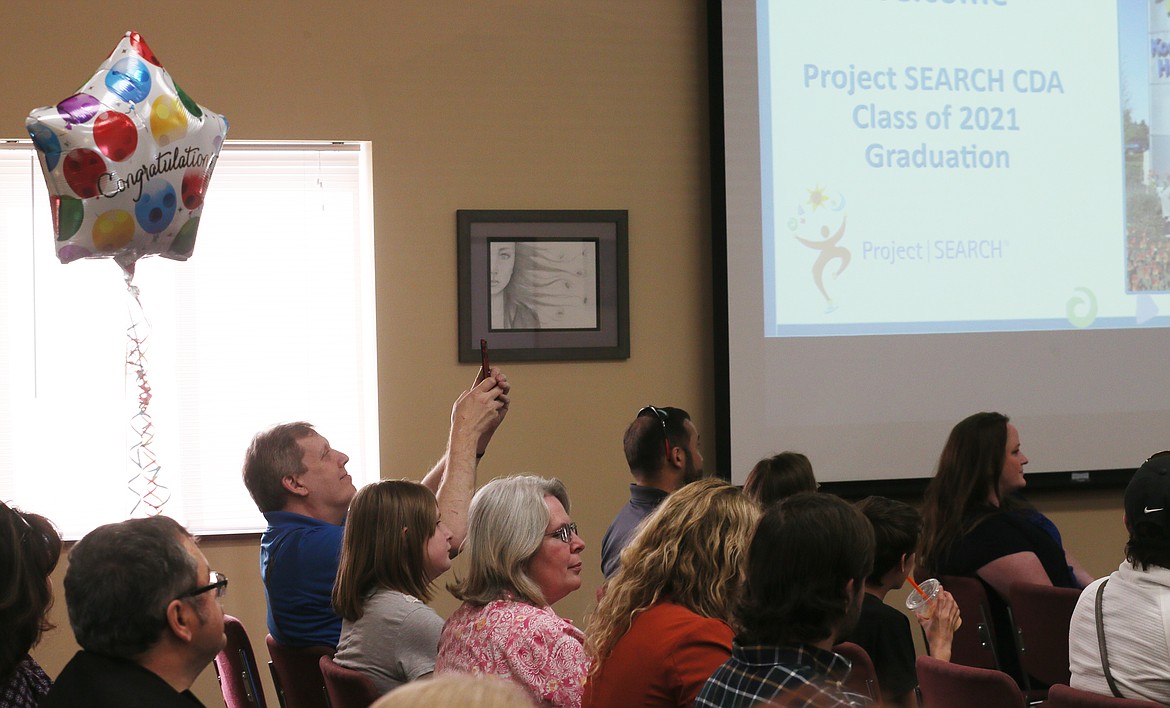 A proud dad takes a photo of the Project SEARCH graduating class of 2021 during a celebration in Midtown Meeting Center on Wednesday.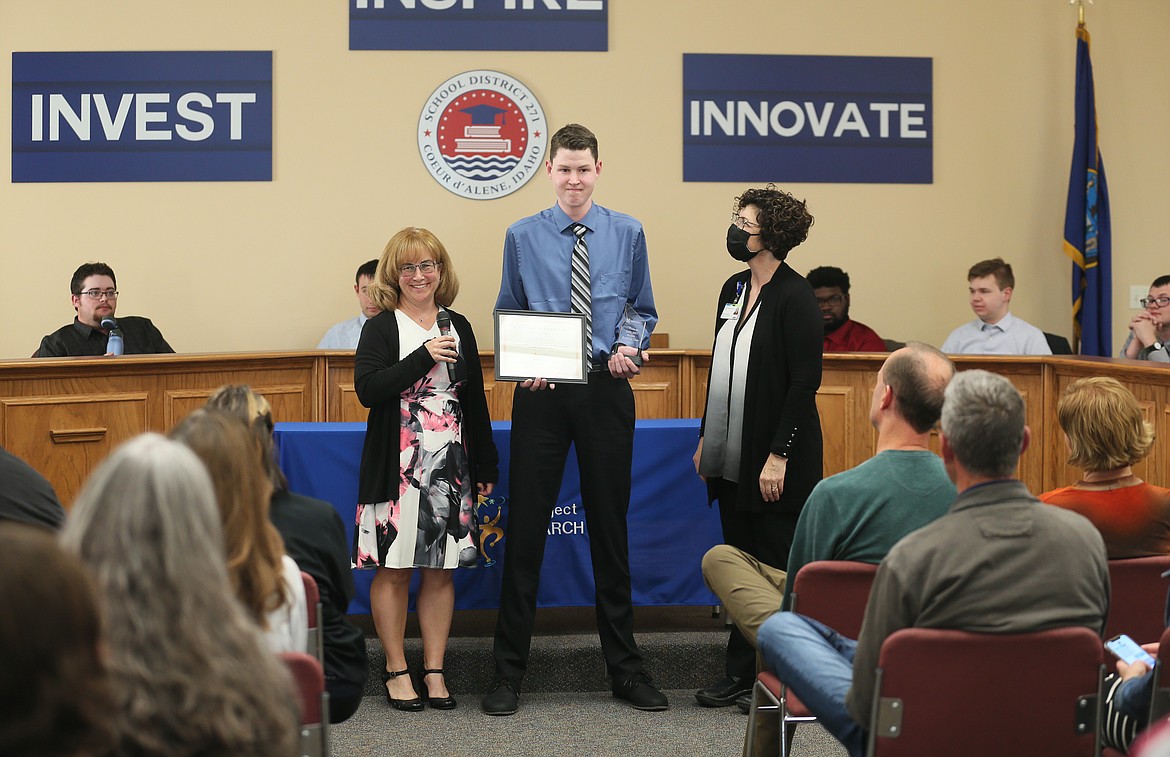 Zion Stout, center, receives his certificate of completion from Project SEARCH instructor Theresa Moran, left, and Kootenai Health business liaison Renee Langue on Wednesday.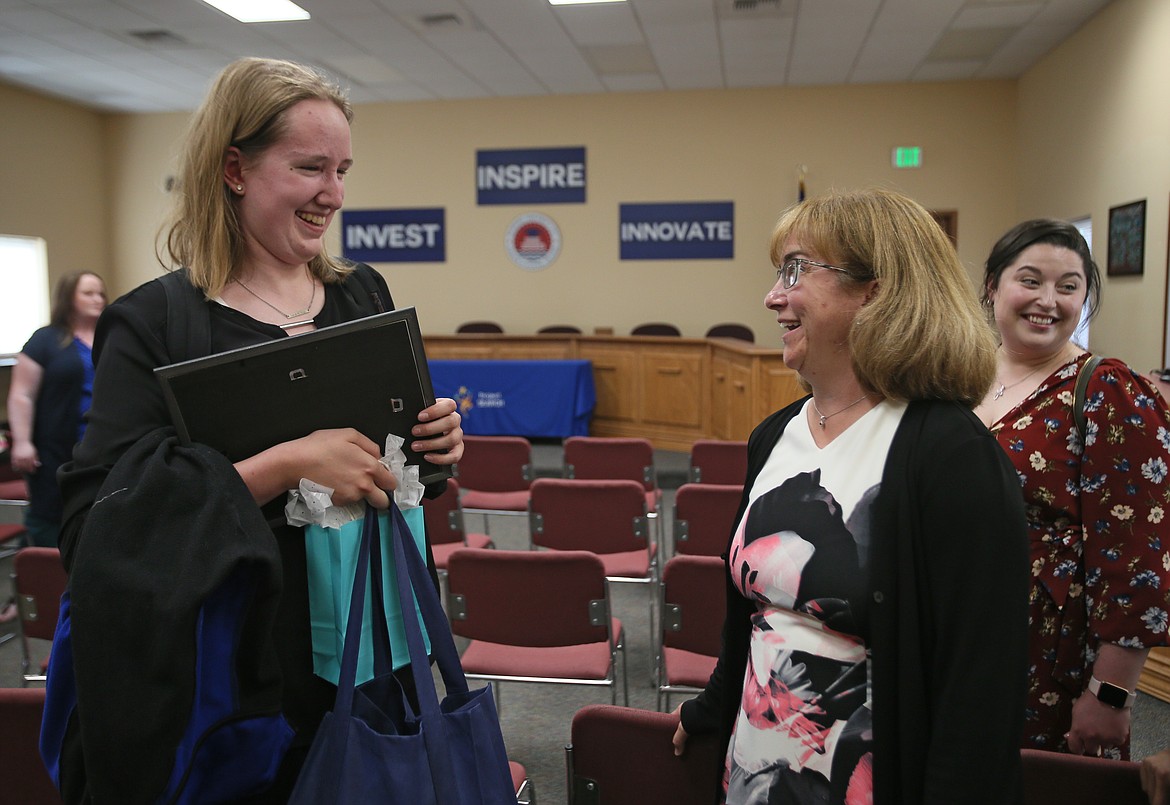 Anastasia Johnson shares a moment with instructor Theresa Moran after graduating from Project SEARCH on Wednesday. Anastasia is one of 11 students who graduated in the 11th year of the program.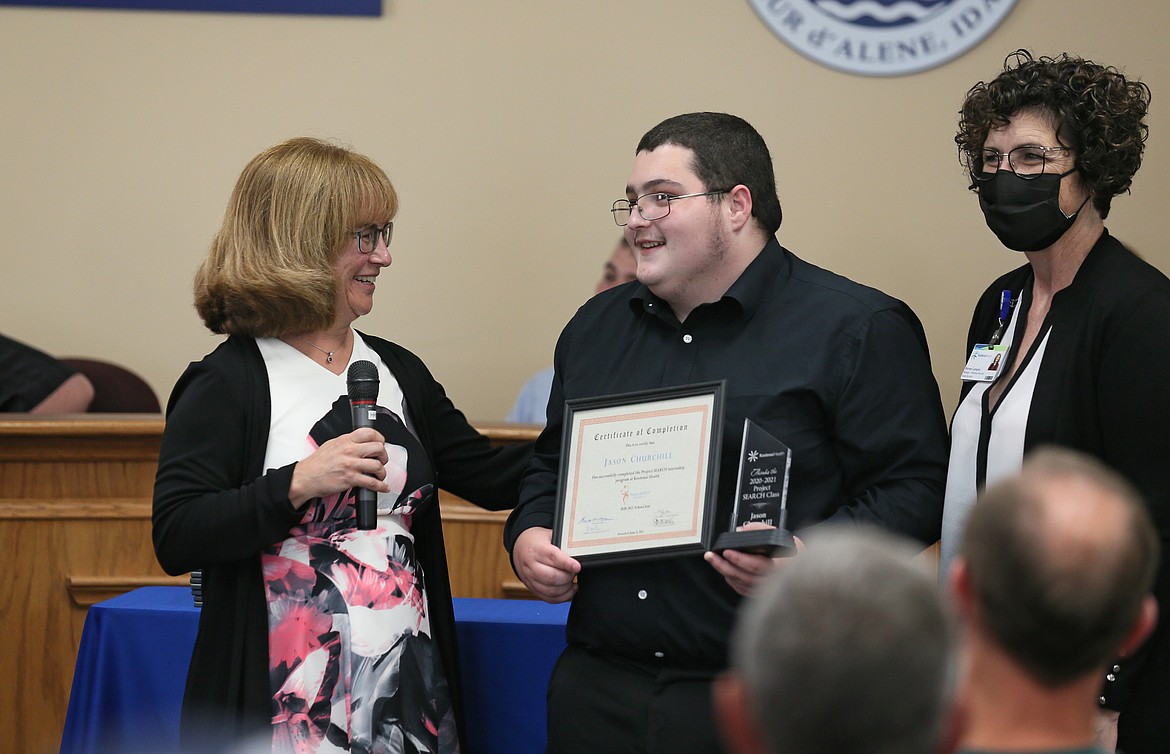 Project SEARCH instructor Theresa Moran, left, and Kootenai Health business liaison Renee Langue congratulate graduate Jason Churchill on Wednesday as he receives his certificate of completion.
Previous
Next
by
DEVIN WEEKS
Staff Writer
|
June 11, 2021 1:00 AM
COEUR d'ALENE — Lessons from Project SEARCH:
• Be honest.
• Be responsible.
• Be kind to others.
• Have good stamina.
• Have a good attitude.
• Find something to do when you need something to do.
• Manage your money better in "Reality Town."
With these helpful tips and nine months of hands-on workforce experience behind them, the 2021 Project SEARCH graduates are ready to take on the world.
"It's been a program I've wanted to do for a very, very long time," said Jason Churchill, 19. "A lot of my friends went through the program. They kept telling me about, 'Oh this is what's going on, this is what it's about.' I was like, 'This is something I really want to do.'"
Churchill and 10 classmates comprise the 11 members of the 11th graduating Project SEARCH class. They gave final presentations to a packed house of friends, family members and mentors in the Midtown Meeting Center in Coeur d'Alene on Wednesday.
Unlike most years when one or two bow out, every student who entered the 2020-2021 program celebrated a successful completion.
Project SEARCH is a high school transition program of the Coeur d'Alene School District for young people with intellectual and developmental disabilities, ranging in communication skills and experience, but all with goals of finishing the program and finding meaningful work and independence once they've graduated.
Six of the new graduates have already been hired by companies including Kootenai Health, Shabby Fabrics and Original Mongolian Barbecue. Several of those jobs are full time, according to an especially exciting announcement made by program instructor Theresa Moran.
"Eleven years of doing this. It just doesn't get old," said Moran, who praised the hard work, follow-through and dedication of this year's grads.
During Project SEARCH, young adults just out of high school have opportunities to work three rotations doing different tasks to hone in on their strengths and explore outside their comfort zone.
The program partners with Kootenai Health, the Idaho Division of Vocational Rehabilitation and Tesh, Inc., as well as other generous area businesses that provide internship opportunities.
Churchill worked all three of his rotations at Kootenai Health. He learned grounds and maintenance, inventory and patient equipment transportation.
"There were some difficult times, especially learning to work in different environments that I wasn't comfortable in at first, and being in the hospital where we had to wear masks the whole time we were there, getting used to that," he said.
Zion Stout, 20, has filled out an application at Cascadia Custom Molding where he hopes to find employment in fabrication after Project SEARCH.
"At first I was shy," Stout said. "As the months went on, I started gaining a bunch of good friendships. We were doing this team-building and I stood up to be a leader."
He also gave credit to Moran for helping refine his interpersonal skills.
"Theresa helped me out so much, telling me to have good eye contact," Stout said. "She taught me a lot of good job skills."
Mya Ketron, 19, was a little bit nervous before her presentation, "since we did it online and now we're doing it in person at the very end of it," she said.
Ketron plans to be a veterinarian some day.
For her rotations, she worked in the Big Blue Cafe and grounds crew at Kootenai Health. She also had a business internship at Shabby Fabrics, where she has now been working for two weeks.
Ketron shared a few things she learned from her time in Project SEARCH.
"Always be honest, even though it might be hard to tell the truth," she said. "Be kind to others and don't be so hard on myself."
Project SEARCH was developed in 1996 at Cincinnati Children's Hospital to provide employment and education opportunities for individuals with significant disabilities. In 2010, Project SEARCH came to North Idaho.
Info: www.projectsearch.us
---