Extra! Extra! Reed all about it!
by
D.F. "DAVE" OLIVERIA
|
June 4, 2021 1:00 AM
Bruce Reed is now the deputy chief of staff for President Joe Biden.
But in another life — 50 years ago — he was an aspiring business manager and reporter for his family's newspaper.
All right, maybe "family newspaper" is misleading.
Bruce was 11. His sister, Tara, was 14 and editor-in-chief of the Xeroxed, biweekly Fernan Hill Times. Another youth, Chris Cheeley, helped gather the news.
"I had a blast doing that," former state Sen. Mary Lou Reed told Huckleberries on Wednesday.
Mary Lou earned the title of publisher because she typed the articles and helped lay out the paper. Scott, a longtime Coeur d'Alene attorney and Mary Lou's late husband, was the printer.
"You see," Tara explained to Press reporter Corinne Thompson in June 1971, "we find the news, mom types it and dad has a copy machine in his office."
Bruce was quick to point out for The Press, "We pay dad for each copy of the paper we run off."
The Times had begun as a summer project four years before.
The 14 subscribers on Fernan and Blackwell hills got their money's worth from the three-pager.
Included in each issue were feature articles, hill-top sports, "Words from the Mouth of Fernan Hill Mayor Bill Giesa," "Blackwell Hill Chit-Chat," and Dog Beat, a column spotlighting the local canine population. The Reeds also covered hard news, like a Fernan Hill water installation.
And they sold front-page and classified ads.
Oddly, Mary Lou mused, Bruce dreamed of becoming a professional writer. But he was derailed by a political path that led ever upward. His sister became the family writer.
By profession, Tara Reed Woolpy is an aquatic scientist who teaches biology online for the University of Wisconsin Green Bay. By avocation, she has written and published fiction for more than 30 years, including poetry, short stories, and three books about Lacland, an imaginary, upper midwestern town.
Mary Lou refers to the series as "beach reads." The books have gotten good reviews.
And it all began in the Reed sibs' childhood home at Fernan Lake Village.
Show of Respect
Gary Dagastine of Post Falls served in the Navy from 1964 until 1971 and was in and out of Vietnam from 1964 to 1968. He first saw combat as a 17-year-old. But the tough veteran cried while waiting his turn to pass through a road construction zone on Syringa between 16th and Horsehaven in Post Falls Tuesday. The female flagger was about to swivel her sign from "STOP" to "SLOW" to let Gary proceed when she stopped mid-turn. She then snapped to attention, with her sign still showing "STOP," and crisply saluted the old vet. She had spotted the Vietnam service ribbon on Gary's license plate frame. The respectful flagger then spun the sign to "SLOW" while still at attention. "That got me teary-eyed, and I'm still in shock," Gary said afterward, adding it "was much better treatment than when we came home 50-plus years ago." And long overdue.
Huckleberries
• Poet's Corner: Abracadabra,/some pixie dust, too,/and money appears/straight out of the blue — The Bard of Sherman Avenue ("The Magicians' Club of Washington, D.C.").
• By the way, Julia Reed, daughter of the aforementioned Bruce (and Bonnie Lepard) Reed, has a desk overlooking the White House Rose Garden, near her father's office. In a place where titles open doors, she has a good one: Coordinator of the Oval Office. Like father, like daughter.
• In Huckleberries Last, we discussed the demolition of the four Bunker Hill smelter smokestacks 25 years ago. The late David Bond, who was sitting in the VIP section that day, columnized the following Sunday: "You could tell it was a Kellogg party and not a Wallace party because there was no place nearby to get a drink. You just had to sit in the dry heat and watch."
• If you are in the habit of eavesdropping, as Huckleberries is, you'd know that the children's section of the Coeur d'Alene Library re-opened Tuesday. That tidbit was dropped by a librarian while trying to help a woman find a book to buy, Susan Nipp's "Mudgy & Millie."
• Capt. Ben Wolfinger, then spokesman for the KCSD, was at his PR best 25 years ago when he described Sheriff Pierce Clegg's condition after a gelding named Jerome bucked him off. "It rang (Clegg's) bell a little bit, but he's OK." Later, we learned that more than the sheriff's pride had been hurt. "Pierce suffered facial bruises and lacerations, a sprained wrist, two broken ribs, and a huge bruise from his knees upward." Here's hoping you readers are better than "OK" today.
Parting Shot
Earl Pleger of Hayden was caught in a "Seinfeld" moment when he called the local U-Haul last Friday to check on his reservation for a 20-foot truck the next morning. The company had no 20-footers available, which surprised Earl. He had made the reservation weeks before. In the "Seinfeld" episode, Jerry and Elaine are told that a car rental place didn't have a mid-size available, even though Jerry had reserved one. Jerry informs the rental employee: "You know how to take the reservation, but you don't know how to hold the reservation, and that's really the most important part of the reservation — the holding." Earl, who was helping a church friend move, wasn't deterred. The U-Haul employee told him the closest available 20-footer was in Omak, Wash. So, early Saturday morning, Earl and buddy Dave Wagner of Coeur d'Alene drove 3 ½ hours to Omak to fetch it, arriving at 9, just as that U-Haul opened. And that's what you call friends indeed.
• • •
D.F. "Dave" Oliveria can be contacted at dfo@cdapress.com.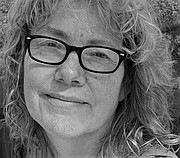 ---