Near-drowning punctuates a day on the water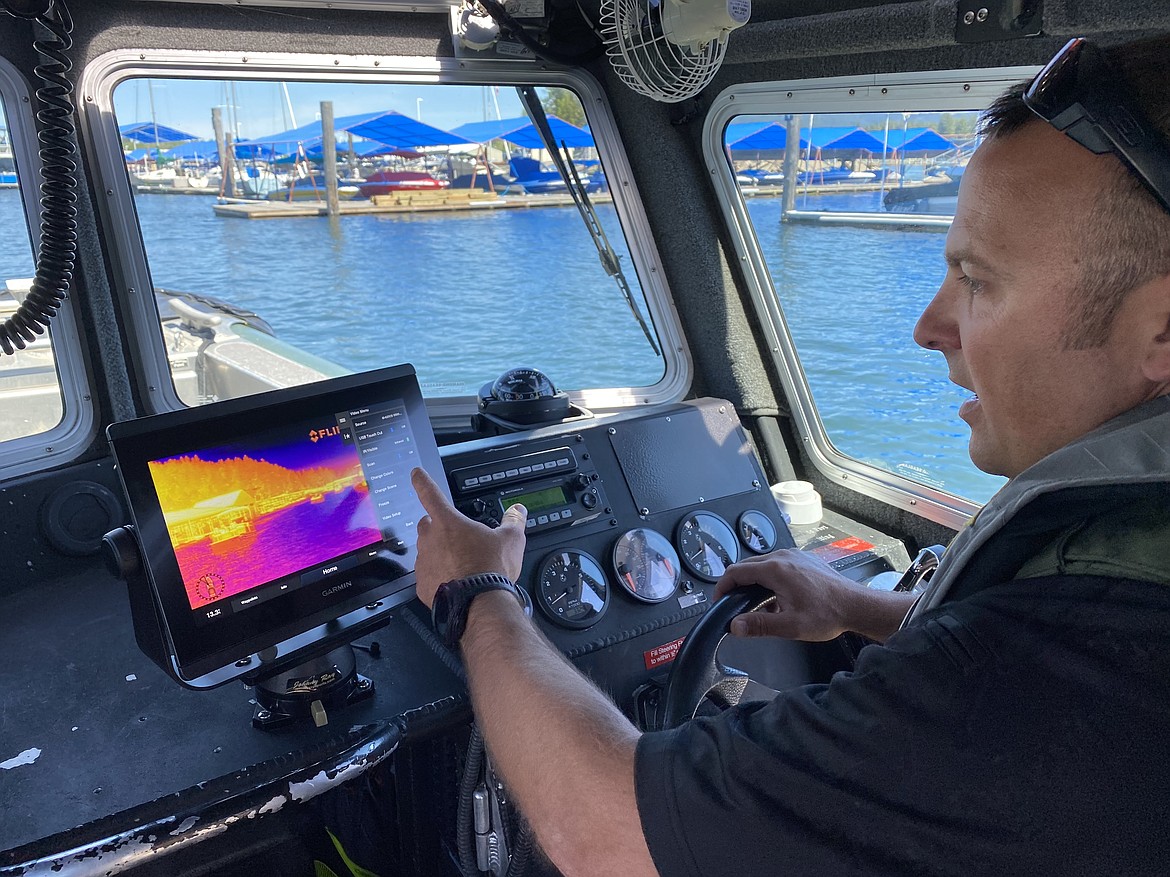 Kootenai County Recreation Safety Supervisor Sgt. Ryan Miller monitors sonar footage inside a former U.S. Coast Guard vessel converted several years ago for the KCSO Marine Division. (MADISON HARDY/Press)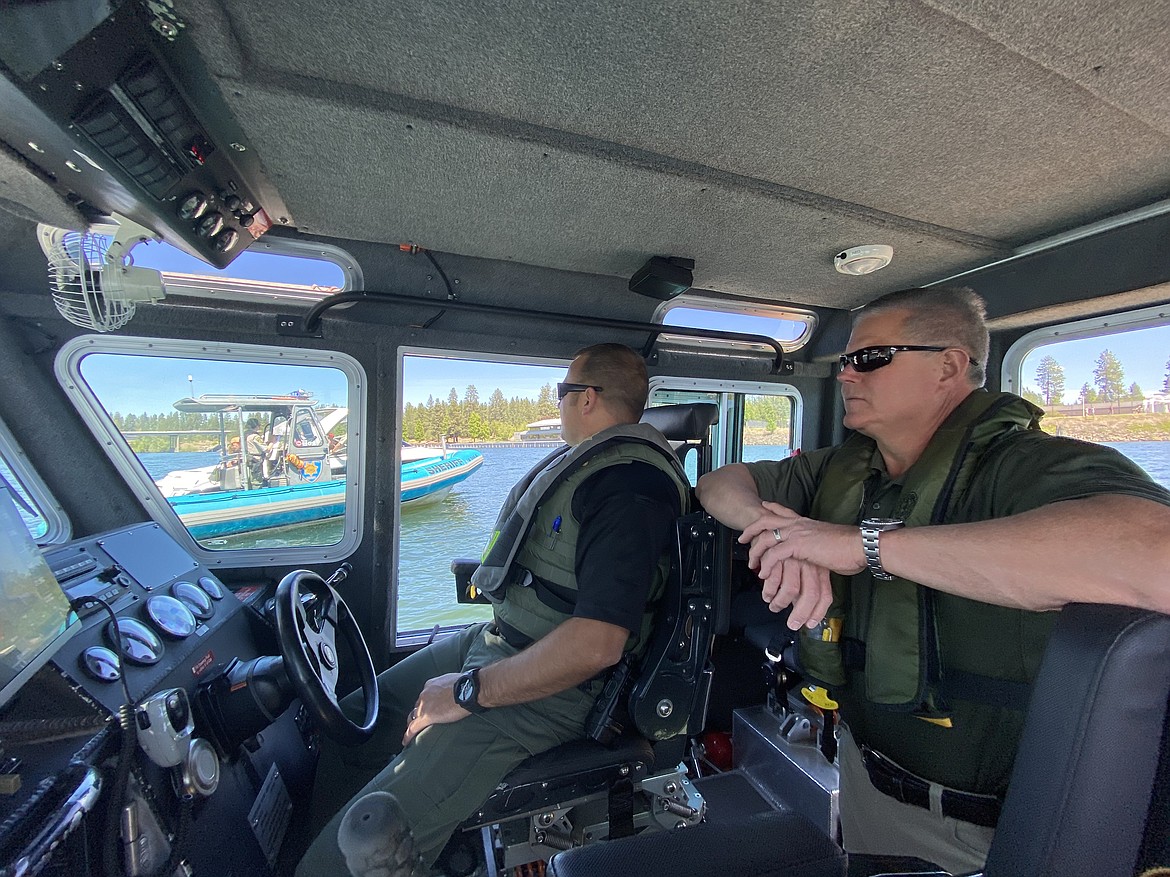 Kootenai County Sheriff Bob Norris, right, and Recreation Safety Supervisor Sgt. Ryan Miller check on a KCSO Marine Divison patrol unit Sunday afternoon. (MADISON HARDY/Press)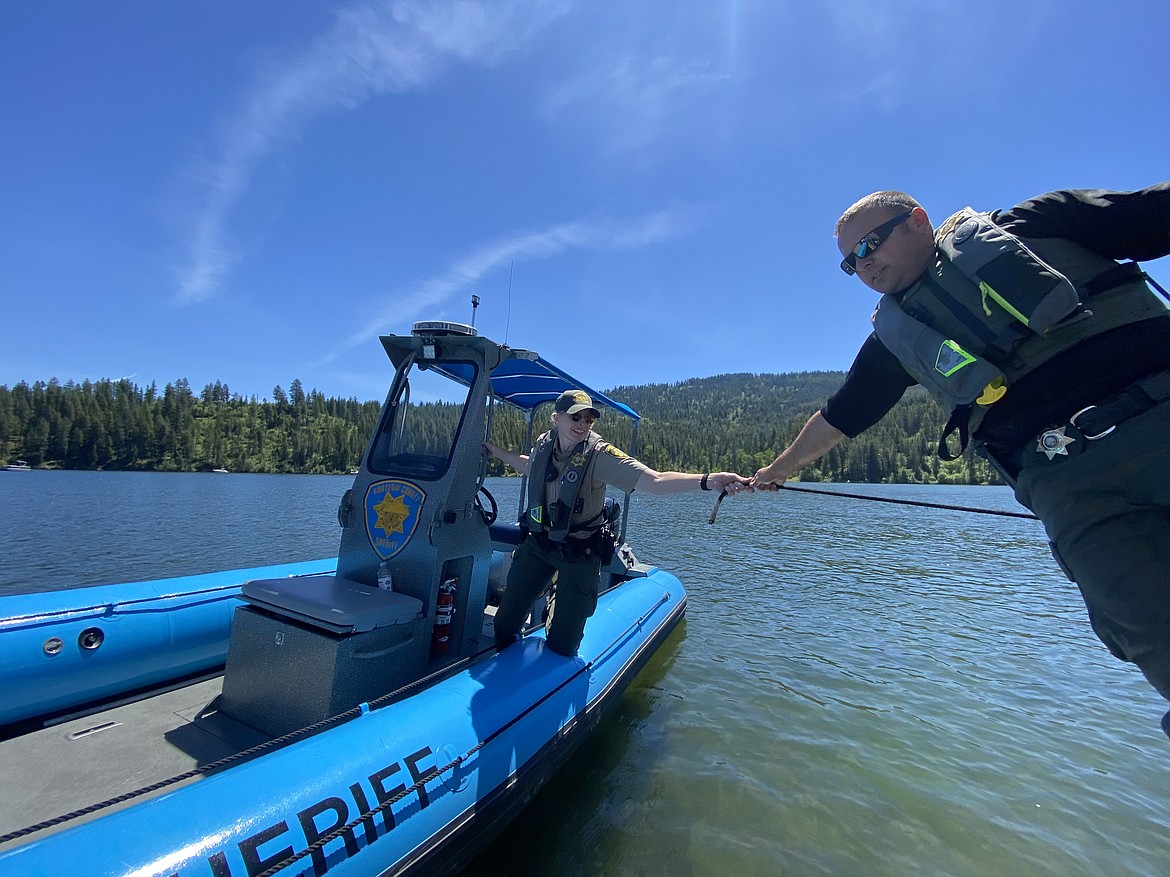 Kootenai County Recreation Safety Supervisor Sgt. Ryan Miller, right, hands off a rope to seasonal Marine Deputy Karen Perkins Sunday afternoon. (MADISON HARDY/Press)
Previous
Next
by
MADISON HARDY
Staff Writer
|
June 2, 2021 1:08 AM
Refer:
Be careful out there. Columnist recalls time as a boy the Spokane River almost killed him. See Page C1
Code Three. Lights and sirens.
It was 2 p.m. Sunday when a report of a possible drowning at Corbin Park came over Kootenai County Sgt. Ryan Miller's radio.
Immediately Miller was en route to the site, supplemented by the Kootenai County Sheriff's Office dive team and several county law enforcement agencies.
Reports from dispatch alerted units of four people on inner tubes swept into the Spokane River current.
Floating the river this early in the season is dangerous for several reasons, Miller said. Water that's too cold can send recreationists into shock and inhibit them from fighting the river current, which is a battle for even the average swimmer when rushing more than 800 cubic feet per second.
"Our river can get up to 30,000 cubic feet per second. What you saw today, I'm guessing it could have been about 4,000 cubic feet," Miller said. "Nobody can swim against that."
Miller pointed out that alcohol, absence of life jackets, debris, current, cold temperatures and varied physical abilities have led to multiple drownings at Corbin Park. In the 2020 boating season, he noted, there were drownings in two consecutive days.
Three of the individuals on tubes had made it safely to the river bank by the time Miller arrived. Farther down the river, though, a lone woman was located by KCSO Deputy Mitchell Jan and Miller on the south shore.
Despite being a bit shook up, the woman, who identified herself as a Spokane resident, was fine.
None of the individuals were wearing life jackets.
"We knew that was going to happen this weekend, unfortunately," Jan said.
The incident encompassed the last hour of this reporter's Sunday ride-along with Miller and the KCSO Recreation Safety Section that annually patrols Kootenai County's 18 lakes and 54 miles of navigable waterways.
Thrilling would be too mundane to describe the four hours spent observing the team. Compared to officers like Miller, who regularly work upward of 10-hour shifts, it was merely a blip.
Made up of nine seasonal and three full-time deputies, the department spends more than 4,000 hours policing the approximate 20,000 registered boaters who flock to Kootenai County every summer. Beside the on-water duties, Recreation Safety officers also oversee the backcountry, dive, SONAR and volunteer search and rescue units that serve the entire North Idaho region.
2021 is Miller's first year as supervisor of the Recreation Safety Division, but his 14th with KCSO. Before moving to Idaho, Miller, 38, spent seven years in the U.S. Army as an artillery paratrooper.
"As you can see, I like the boring jobs," Miller joked after returning the Spokane woman to her group.
Boredom in the KCSO division is unlikely this summer as Miller expects the waters to be busy, possibly even more active than last year.
"The more people, the more activity, the more possible danger is going to be here," he said. "Our call responses are going to go up. Our citations, our arrests, our overall contacts are all going to go up."
With fewer COVID-19 restrictions nationwide, Miller anticipates more people will travel to Kootenai County for outdoor recreation opportunities, like boating. Idaho is one of few states where boaters do not have to live where they register, he said, allowing people from around the country to dock their vessels in local waters.
"It's going to be through the roof, in my opinion," Miller said. "That's why our recruiting efforts were pretty strong — because we need people. We need more people than we even have positions for, and we still need people to fill current positions."
Paid $17.50 per hour without benefits, the seasonal deputies undergo a two-week academy, firearm training, in-service preparation and supplemental courses specific to marine enforcement. The only application requirements are being older than 18 and having at least one year of job experience.
The number of applications received by KCSO used to be in the hundreds, but this year, Mitchell said, there were only 80.
"It's been a struggle. We're just not getting the applications we used to, but I think everyone's saying that right now," Kootenai County Sheriff Bob Norris said Sunday. "There is a smaller number that will pass backgrounds and all the other processes."
After going through a rigorous vetting process — consisting of written and physical tests, an oral board interview, psychological and medical evaluations and background checks — the goal is to hire at least 10 people.
KCSO Marine Division Deputy Sheriff Gerald Wallace is one of the full-time officers in the marine division. A former two-term Colorado county sheriff with law enforcement experience throughout the Northern Hemisphere, Wallace said the team's main difficulty is the rising number of untrained boaters.
"The population is insane. It's busier and peaks quicker than other areas I'm familiar with," Wallace said. "The biggest struggle I find is that there is no mandated (boating) education from the state. We are one of five states that don't mandate anything right now."
KCSO offers a free boater safety class every third Saturday of the month. An online boating course is also available at www.boat-ed.com/idaho/.
Miller said he, and the other deputies, would have considerably fewer calls if people paid better attention to three factors:
• Alcohol consumption
• Education
• Life jackets
Miller said it's good to engage the "what if" scenarios and practice risk management when it comes to safety.
"It's predictable. It's preventable," Miller said. "As long as you have a plan. That is what we train for so much in law enforcement — knowing what to do when something happens."
To encourage a safer boating season, Norris has planned for a three-week patrol emphasis beginning mid-June.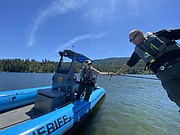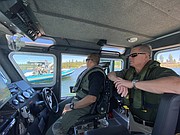 Recent Headlines
---