Still seeking Smokey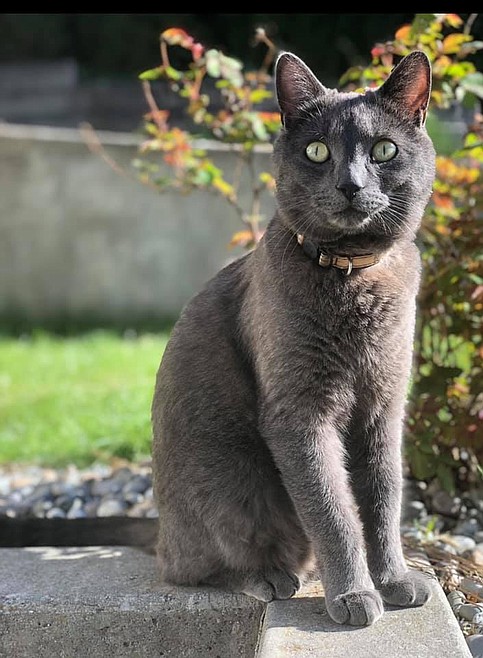 Smokey disappeared recently from a local pet boarding facility. Courtesy photo.
by
KAYE THORNBRUGH
Staff Writer
|
July 30, 2021 1:06 AM
COEUR d'ALENE — There's been no trace so far of Smokey, a five-year-old cat who disappeared recently from a local pet boarding facility.
But his owner hasn't stopped looking.
Spokane resident Cristina Salgado left Smokey in the care of Paws and Claws Resort while she was on vacation.
When she went to collect her cat on Saturday, he was nowhere to be found.
"I was shocked," Salgado told The Press earlier this week. "(The employee) was frazzled. He didn't realize the cat was missing before we did."
On Friday — the day before Salgado came to collect Smokey — two unidentified women arrived at the facility with three cats in tow.
One of the women spent about an hour alone in the cat room, where she let at least two of her cats out of their crates.
Before she left, an employee helped her collect her cats. Security footage appeared to show the woman place a fourth cat inside a crate, Salgado said.
The quality of the footage made it difficult to determine if the last cat the woman picked up was Smokey, Salgado said.
Salgado reported the incident to police as a possible theft.
The woman who appeared in the footage contacted The Press. She said she was shocked to learn that she had been implicated in a pet's disappearance.
"I have no idea what happened to Smokey," she said Thursday. "To start pointing fingers isn't right or fair."
The woman, who did not wish to be identified by name, said she and a friend visited Paws and Claws on Friday, along with three cats in crates.
They planned to board the cats in the near future and wanted to see if Paws and Claws was the right fit.
She said she released all three of her cats from their crates, not just two, and the final cat she picked up belongs to her.
Neither she nor her friend took Smokey, she said.
"I would never steal a cat and I hope they find Smokey," she told The Press.
She said she contacted the Coeur d'Alene Police Department to share her version of events.
Cd'A PD declined to comment on the case Thursday because the investigation is ongoing.
Paws and Claws owner Tudy Gilbert said she's placed several live cat traps around the facility, in case Smokey escaped and remains in the area.
Salgado said Thursday she appreciates the efforts of Paws and Claws staff to uncover what happened to Smokey.
"They really love the animals," she said.
For her part, Salgado has continued to pass out flyers and visit neighboring businesses in the hopes that someone has seen Smokey.
She's offering a $500 reward for his safe return.
If someone has found him, Salgado urges them to give him to his family.
"I don't want to condemn anyone," she said. "I just want to find my cat."
Smokey was wearing an orange collar with Salgado's contact information at the time of his disappearance. He's also microchipped.
If you have information about Smokey's whereabouts, contact Cristina Salgado via phone at 509-263-8734 or via email at salgadocristina@yahoo.com.
---