Youth Sports: Select soccer, baseball and more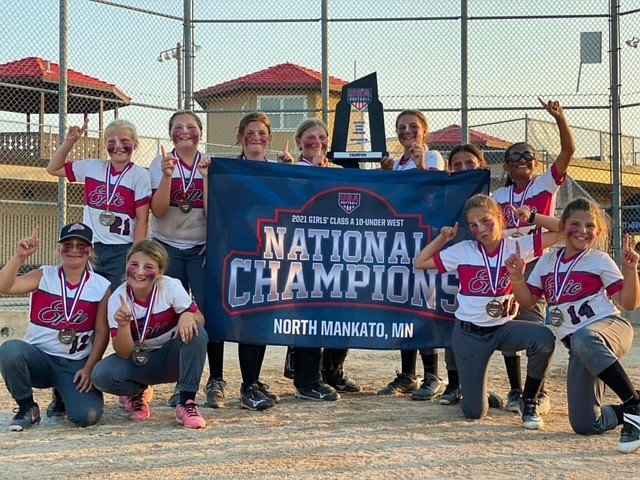 Courtesy photo Spokane Epic softball won the Class A 10U National Championship in a tournament at North Mankato, Minn. From left, are: Regan Davis from North Idaho, Ali Malsom, Avian Dobbs, Kenzie Boyce, Kendall Perez, Bailey Tampien, Cadence Buscher, Annie Beito, Mykaela Koeller, Mya Martinez and Sophia Wickholm.
• COEUR d'ALENE
• YOUTH SOCCER
The City of Coeur d'Alene Recreation Department will hold registration for youth fall soccer for all boys and girls from Kindergarten (or age 5) to eighth grade from Aug. 2-13.
Registration can be done online at www.teamsideline.com/CDAID or in person at the office, located at 710 Mullan Avenue in the lower level of City Hall.
The league will start in mid-September and runs through the end of October.
Registration is $20 for city residents and $30 for non-city residents.
Information: (208) 769-2250.
FLAG FOOTBALL
Registration for fall flag football for second and third graders will be Aug. 2-27, with practices and games to begin after Labor Day.
Cost is $20 for city residents and $30 for non-residents.
Registration can be done online at www.teamsideline.com/CDAID or in person at the office, located at 710 Mullan Avenue in the lower level of City Hall.
Information: (208) 769-2250.
• SELECT SOCCER
The Thorns North 09 Red girls went undefeated in the Crossfire Select Tournament located in Redmond, Wash., over the weekend, bringing home the gold.
Goals were scored by Chloe Burkholder (5) and two assists, Katie Kovatch (4) and one assist, Ava Roberts provided 2 goals and one assist, Lucia Barton scored a great left footed goal and Nell Hutchins scored a PK in the final shootout. Assists were provided by Sierra Sheppard Phinalley Voigt and Tayla Rutchi as well.
The Goal was defended by Savannah Spencer who only let one ball in "her house" all weekend.
• YOUTH BASEBALL
Real Life Ministries
July 20
T-Ball
Game 1
Team Cake Batter Hits – Samuel Archer, Hunter Branting, Evan Fay, Wyatt Kreiger, Grayson Sifford, Remington Swartzendruber, Adeline Wiedebush, Brooklyn Helmuth
Team Toasted Dragons Hits – Elias Castro, Beau Cleave, Harper Fore, Micah Kacalek, Ezekiel Kacalek, Yeshua Lang, Kannon Olson, Wes Rigg, Abel Sapp, Charlee Short
Game 2
Team Blue Dragons Hits – Leighton Brunner, Landon Link, Owen Lokken, Easton Moody, Keeley Moody, Jordan Ontiveros, Dylan Patterson, Logan Simmons,
Team Red Spiderman Hits – Brody Burnett, Gage Degel, Graydon Desautel, Aedan Genovese, Wesson Malmstadt, Luke Munhall, Adam Terry, Eli Waco, Raven Woodruff
Game 3
Team Green Thunder Hits – Finleigh Chathams, Isaac Clegg, Lazarus Edman, Grayson Faust, Deacon McBroome, Bennett McBroome, Brody O'Grady, Landrey Ralston, Royce Sanborn, Graham Thurston
Team Blue Shells Hits – Bodhi Blizzard, Brandon Bourassa, Mason Butler, Declan Francis, Amaris Hawkins, Cole Rounds, Aaron Sarver, Owen Scaggs,
Game 4
Team Blazin Cheetos Hits – Waylon Chappell, Decklen Desrochers, Madison Forkner, Isaac Marquez, Beckett Murphy, Christian Poland, Bradley Sandin, Sawyer Smith, Luke Squires
Team White Tigers Hits – Deacon Boone, Peyton Fuson, Scarlett Johnson, Benaiah Morency, Kessler Morse, Benjamin Mueller, Avan Vaughn, Paige Veitenheimer, Blake Veitenheimer
Coach Pitch
Game 1
Team Banana Robbers- 1
Hits – Titus Kacalek, Ryan Kacalek, Cole Martin, Jacob Sylvain, Ady Waco, Jaxon Waco, James
Team Wild White Wolves – 14
Hits – Aure Brennan, Maverick Fisher, Joel Hampsch, Cadence Hillyard, Owen Krogovich, Daniel Rutherford, Ava Smotherman, Jora Tesky, Grant Hillyard
Game 2
Team Green Eggs and Ham – 6
Hits – Marie Brodin, Jerzey Duarte, Travis Lettau, Ryan Lettau, Jace Moser, Jaden Perry, Lex Sheffler
Team Green Hornets – 16
Hits – Jameson Beierle, Landen Carhart, Jesse Dolan, Dustin Dolan, Cole Luzzo, Jaxsen Ontiveros, Jase Parke, Jonathan Reinhardt, Parker Sandin, Avery Terry
Game 3
Team Fire Dragon – 11
Hits – Anna Carr, Kase Cathams, Micah Creighton, Parker DeGraff, Cooper Faust, Reno Greco, Kaden Hammer, Elijah Lute, Kase Ralston, Norah Raskell
Team Mighty Thunder Sharks – 11
Hits – Levi Anderson, Afton Arrotta, Paxton Bond, Treyton Crouch, Gabriel Edman, Fox Harty, Enoch Ruiz, Ebbett Vucinich, Kade Whiteman, Hudson Whiteman
Game 4
Team Viper Wolves – 5
Team Blue White Monsters – 6
Submit items for youth and non-varsity high school sports by noon Tuesday for publication Wednesday. Email stories and photos (in .jpg format) to sports@cdapress.com.
Information: 664-8176, Ext. 2019
---