Crews make progress on Character Complex fire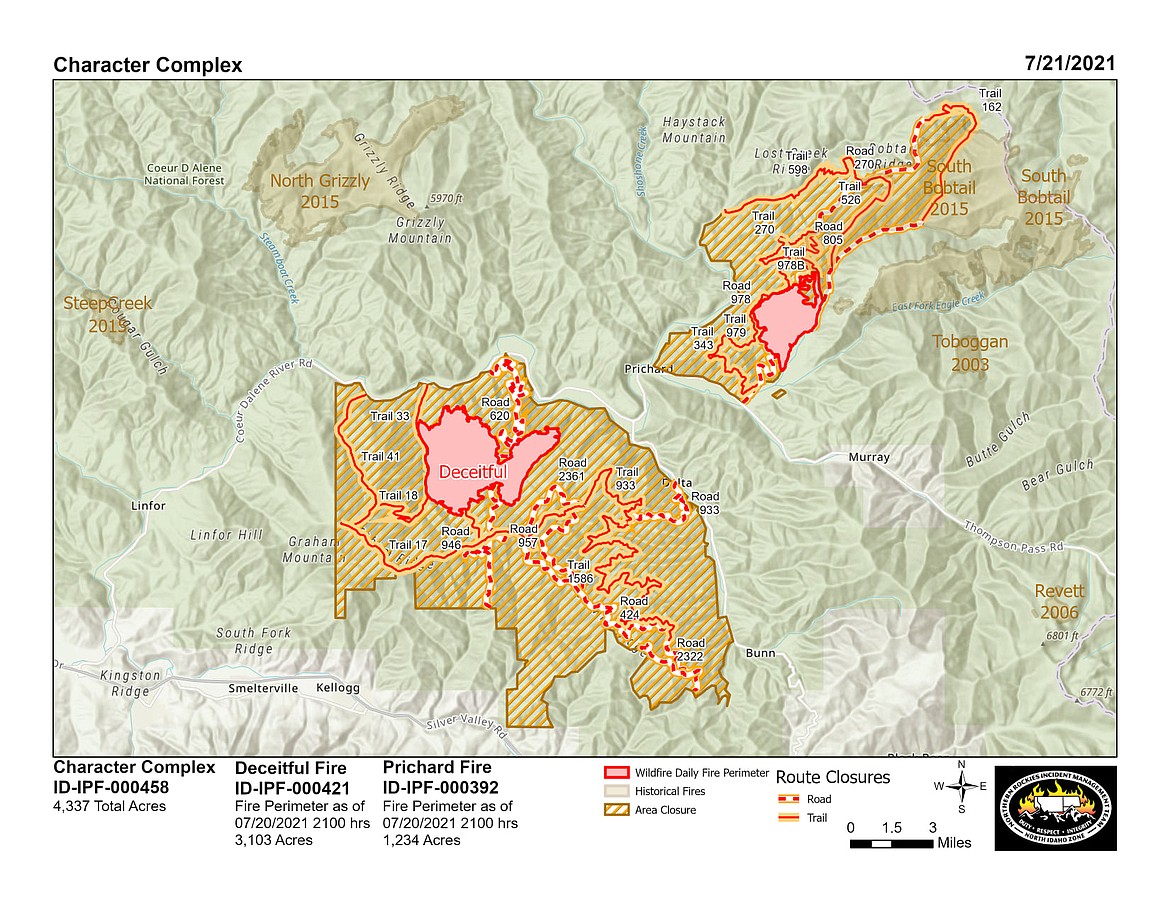 by
KAYE THORNBRUGH
Staff Writer
|
July 22, 2021 1:00 AM
KELLOGG — Fire crews are battling back the Character Complex fire, but weather conditions continue to complicate their efforts.
Comprised of the Deceitful and Prichard fires, the complex has burned more than 4,300 acres north of the Silver Valley since lightning sparked it earlier this month.
The fire was 10% contained as of late Wednesday — twice as much as the day before — with 392 personnel working on the conflagration.
Approximately 36 more acres burned between Tuesday and Wednesday, according to the U.S. Forest Service.
When burning fuel — such as trees, grasses and fallen pine needles — contains some moisture, dropping water or aircraft retardant on them can suppress the fire enough for ground forces to move in and knock down the blaze.
But the fuels in the Character Complex are so dry that such measures will only temporarily decrease fire behavior.
Light precipitation won't have much effect, officials said.
The Deceitful Fire has burned more than 3,000 acres so far and is 0% contained.
Officials said that's because the fire is burning in heavily timbered, inaccessible terrain.
Crews have placed close to 30 miles of indirect line around the fire. An indirect line is a fire line placed a distance away from the fire edge.
"We're making good progress," said Operations Section Chief Keith Brink.
Fire managers have scouted possible opportunities for direct attack along Graham Creek.
A plan to confine the fire between Graham Ridge, Graham Creek, Cedar Creek and the North Fork Coeur d'Alene River remains in place.
Crews continue to secure fire lines along the rugged northeastern perimeter of the Prichard Fire, which has burned about 1,200 acres so far and is 10% contained.
Some unburned islands of fuel are present within the fire perimeter, even as the Prichard Fire backs downhill toward West Fork Eagle Creek.
The Shoshone County Sheriff's Office has placed a Level 2 evacuation status for milepost 12 Coeur d'Alene River Road to Babin's Junction.
That means residents should be prepared to evacuate, with supplies gathered and vehicles fueled and ready to go.
Although the Deceitful Fire is not an imminent threat to the area, SCSO said that could change with short notice.
Falling debris and emergency vehicle traffic would necessitate an immediate road closure.
"Do not wait," SCSO said in a statement shared on Facebook. "Prepare now."
---