The effects of mining 100 years later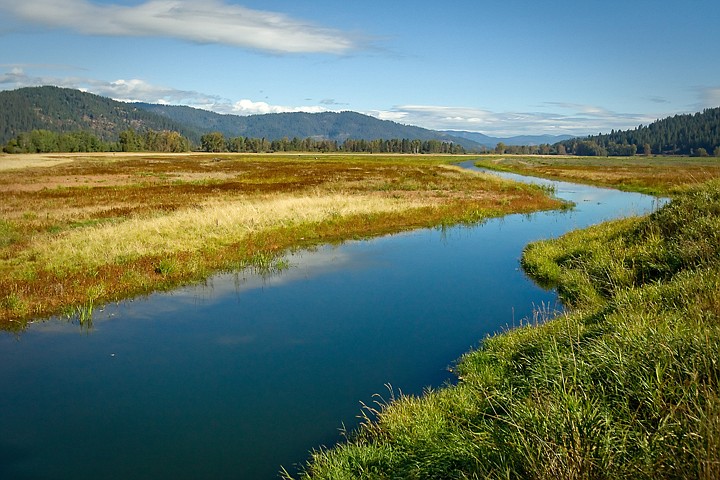 <p>A drainage channel was created on a 285 acre parcel of private property in 2007 following the clean up and reduction of metals in the soil left from mining contamination. The area is now deemed a clean feeding habitat for migratory and resident wetland species.</p>
by
MADISON HARDY
Staff Writer
|
July 20, 2021 1:06 AM
The U.S. Environmental Protection Agency has attempted to clean up the Coeur d'Alene Basin since labeling the Bunker Hill Mining Complex a superfund site in 1983. Almost 40 years later, that effort is ongoing with no end in sight. 
EPA Remedial Project Manager Ed Moreen said the agency has "cleaned up" approximately 7,200 residential properties with elevated lead in the soil since acid mine drainage treatment began in 1995.
"This area has some of the highest blood lead levels in the nation," Moreen said in a presentation with the National Academies of Sciences Committee on Monday, entitled "The Future of Water Quality in Coeur d'Alene Lake." 
There were, and still are, multiple uncontrolled sources of lead throughout the upper Coeur d'Alene Basin, Moreen said. Without control of those sources, he said heavy metal fluxes continue to impact the Coeur d'Alene River.
Moreen explained that most of those metals in the upper basin originate from mining operations surrounding the Bunker Hill Mining Complex. North Idaho mining operations began in the 1800s and continue today around the Silver Valley. 
Those operations contributed to more than 100 million tons of mine waste in the basin, he noted, including 2.4 billion pounds of lead dispersed over thousands of acres. 
"The Coeur d'Alene Basin was impacted by over 100 years of mining," Moreen said. "Until 1968, roughly 2,200 tons of mine waste was discharged (by mine sites) in the South Fork of the Coeur d'Alene River per day."
Historical mining and milling practices that disposed of waste in the river spread contaminants throughout the flood plain, EPA data shows. Smelter operations, which gave Smelterville its name, also contributed to the soil, sediment, groundwater, and surface water contamination with heavy metals like lead. 
"Many of the waste piles were located or adjacent to streams which released into surface water," Moreen explained. 
At one time, the Silver Valley was one of the most productive mining districts in the United States, Moreen said. 
From Cataldo into Lake Coeur d'Alene, the lower basin or "main stem" of the river continued to see ongoing contamination from the upper basin, EPA Remedial Project Manager Kim Prestbo said.
"There are significant sources of lead that remain downstream in the riverbed banks," she said. "It may require many years for us to get a significant data set in which we can indicate trends."
Cleaning up the "mega-mining site" follows a two-pronged approach that centers on:
• Receptors, such as human health, environmental quality, and susceptible wildlife.
• Control the source of the harmful waste through consolidation and stabilization efforts.
Given the extent of contamination, the EPA has focused on providing "clean oases to protect human health" and wetland rehabilitation, Prestbo said. Current projects follow the 2016 Recreational Sites Implementation Plan developed with the Coeur d'Alene Tribe, Panhandle Health District, and the Basin Environmental Improvement Project Commission. 
"Through this work, EPA has identified over 65 private and public recreational sites of concern in the lower basin," Prestbo said. 
Cleanup of the basin includes removing and replacing surface soil in people's yards, public playgrounds, parks, commercial properties, and mine waste at nonoperating mine and mill sites in the Upper Basin. EPA also identified several habitat remediation projects like Grays Meadows and Lane Marsh for further research. 
Bunker Hill was the first area the EPA took action due to high blood lead levels. Next, and the process presently ongoing, Moreen said, is working on a "top-down approach" concentrated on basin tributaries and areas producing large amounts of contaminants.
Historically, EPA efforts have focused on addressing heavy metals instead of phosphorus levels. However, the agency has begun monitoring phosphate as part of the basin surface water and wetland remediation programs, Prestbo said. There is not yet enough data to gauge the interactions between lead and phosphate, she noted.
Over the next 10 years, the EPA intends to focus on:
• Addressing the discrete Mine & Mill sites in Nine Mile and Canyon Creek Basins
• Prioritizing sites loading the most dissolved metals
• Monitoring remedial action effects on the groundwater collection system at the Bunker Hill site
• Reducing lead contamination in humans by remediating public recreation areas  
"The Coeur d'Alene River is a conveyor belt of contaminated sediment transported to the lake that will occur for years to come," Prestbo said. 
"Given the broad scope of work that we need to accomplish, remediation and restoration must always be in sync to most effectively protect people, wildlife, and aquatic resources," Prestbo later added. 
After three decades of the cleanup in the Coeur d'Alene Basin, NAS committee chairman Samuel Luoma asked if the EPA anticipates continued support for the project — financially and otherwise. 
"We expect to see a continued level of effort, if not an increase in effort as other source sets are addressed in the upper basin," Moreen said. "I think, if anything, we expect to be very busy in the coming decade and beyond."
In their closing remarks, the EPA representatives said it would help them if the NAS identifies:
• Spatial/temporal trends and biogeochemical processes that impact metal/metalloid and nutrient levels and cycling within Lake Coeur d'Alene, and
• Pathways and processes impacting nutrient levels in Lake Coeur d'Alene to guide local protection management options
Recent Headlines
---