Randy Mann weather: Summer records could fall
The summer of 2021 may end up as the hottest and driest summer season in history across the Inland Empire.
Since the start of the astronomical summer on June 21, our average high temperature in Coeur d'Alene through Sunday afternoon was nearly 94 degrees. The average high temperature from June 21 through July 17 is 79.6 degrees, a whopping 14 degrees difference.
In terms of the low temperature, the average for the same period is slightly less than 52 degrees. Our average low since June 21 has been 63 degrees.
We just passed the midpoint of July and we've already had 25 afternoons with highs at or above 90 degrees at Cliff's station in northwestern Coeur d'Alene. There were also a record 22 consecutive days, June 24 through July 15, with highs at or above 90 degrees.
Of course, there were five afternoons in a row, from June 27 through July 1, with the mercury topping 100 degrees.
Our hottest day was June 29 with a high of 107 degrees in northwestern Coeur d'Alene. Coeur d'Alene Airport in Hayden hit 109, tying its all-time record high. Spokane International Airport hit 108 degrees on that day, which broke its record for the hottest day in recorded history.
In 2015, the summer season was extremely hot. There was a record 39 afternoons with highs at or above the 90-degree mark at Cliff's station. Spokane International Airport had 31 days. Other locations around the region had about 34 afternoons with highs at or above the 90-degree mark.
More 90-degree temperatures are expected later this month and into August, so there is a good chance we'll challenge or break the record set in 2015. We've already broken the longest number of days in a row with readings in the 90s or higher. There were 16 consecutive days in that blistering summer of 2015 with highs at or above 90 degrees. The hottest afternoon in 2015 was on June 28 with a high of 105. Sept. 12, 2015, was the latest 90-degree temperature in history.
In addition to the very hot weather, it's also been the driest early summer season in history. There has not been any measurable rainfall in Coeur d'Alene since June 15, when we had .15 inches.
Cliff and I don't see much moisture between now and at least the end of the month. However, there's a very weak storm system that may produce some isolated showers or a thunderstorm on Tuesday and perhaps into Wednesday. Most of the activity is expected to be over the mountains, but if we get some "dry lightning" from that system, it's possible that we could see the start of more wildfires in the region.
Let's hope that doesn't happen, as we're already seeing another tough year for wildfires. There have been many afternoons across the Inland Northwest with haze and smoke.
According to the National Interagency Fire Center, as of the weekend, there are approximately 70 large wildfires burning across the western U.S that have charred over 1 million acres. There are 17 fires in Idaho, 12 in Montana and four in Washington.
Since the start of 2021, nearly 2.4 million acres have burned from wildfires, which is the highest since 2018 when 3.5 million acres were charred from Jan. 1 through July 17.
Officials are predicting another above-normal fire season across much of the western states, including central and eastern Washington, all of Idaho and Montana through August. Many fear this season will be severe, as Idaho Gov. Brad Little says this one could be the worst wildfire season in years.
I'm receiving plenty of questions on when the western states will finally see some much-needed rainfall, especially down into California. The only significant moisture would be from the southern monsoon pattern that will bring showers and thunderstorms to the mountains of the Desert Southwest and some of the lower elevations in Arizona and Nevada at this time of year.
Unfortunately, the rest of the far West will continue to be drier and hotter than normal into August.
As I mentioned last week, since 2010, whenever Coeur d'Alene has a dry summer, the following fall is often wetter. Cliff and I don't expect to see much moisture between now and the middle of August. However, we should start to see an increase of some rain later next month and into September.
With these extreme weather patterns, when we have extremely dry conditions on one side, we will often flip to the wetter side. Therefore, our chances for the wetter-than-normal weather should become much higher in October and/or November.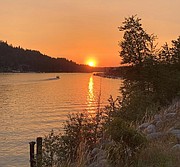 ---