'The marker is always moving' — Former Coeur d'Alene High swimmer Lana Lawrence looks to share her love of weightlifting with local youths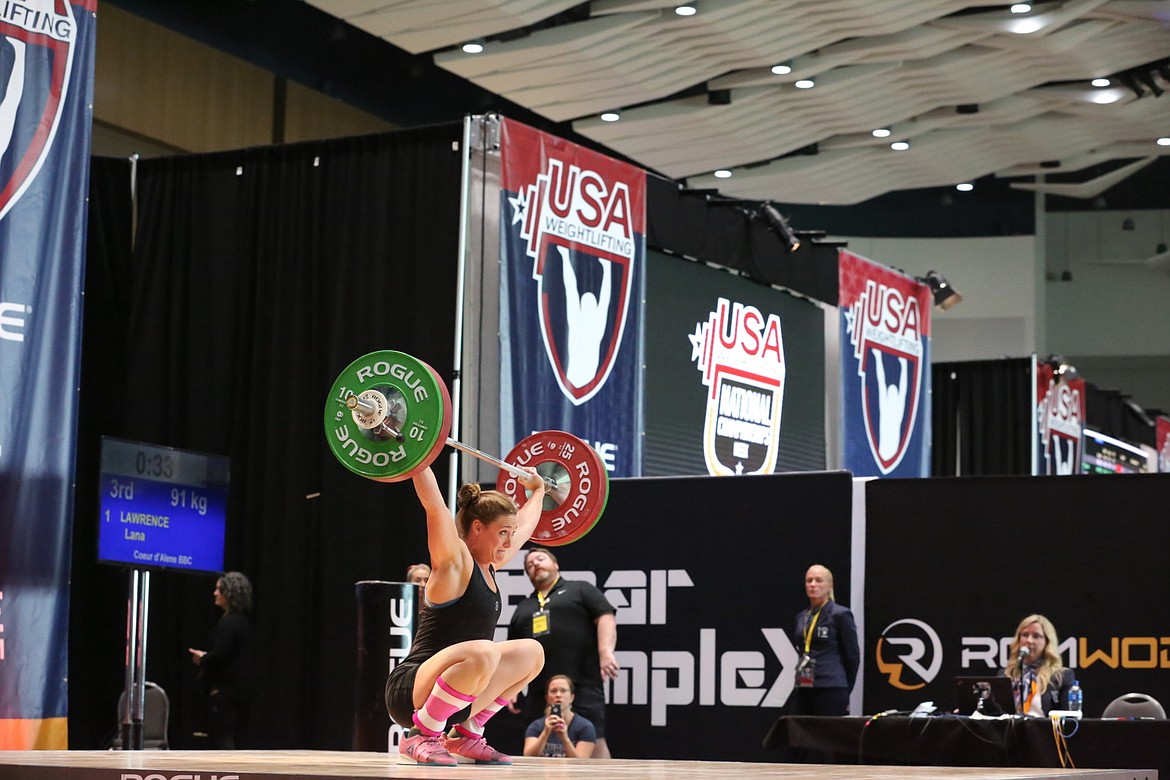 Courtesy photo Lana Lawrence of Coeur d'Alene competes at the recent USA Weightlifting Nationals in Detroit.
Lana Lawrence said she was once the weakest girl at her CrossFit gym.
"When a coaching course for Olympic lifting came around I took that and fell in love. It was a different kind of challenge," said Lawrence, now 28.
For the past six years, Lawrence has competed in weightlifting events at the local and national level.
Most recently, the former Coeur d'Alene High swimmer competed at the 2021 USA Weightlifting Nationals in Detroit, where she placed 10th in her 76kg division.
Olympic lifting focuses on snatch and clean and jerk; powerlifting involves squat, bench and deadlift.
She snatched 91kg and lifted 105kg in the clean and jerk for a total of 196kg.
"It's hard not to want to do better; I'm happy with the lifts I made but definitely could have set myself up a little better with training," said Lawrence, a coach/personal trainer. "I was mainly shooting for personal goals, like a 93kg in the snatch and a 111kg clean and jerk — just because those would top my best competition lifts.
"Some days it's just heavy," she said of the weights.
Still ...
"It was a great experience because there was a girl in my session who is one of eight on the Olympic team," Lawrence said. "That alone made it a really cool opportunity."
This was Lawrence's fourth trip to nationals, where her best finish was seventh.
"But each year the qualification total increases, which makes it that much more competitive," said Lawrence, who has also competed in a half-dozen local events.
After graduating from Coeur d'Alene High, Lawrence went to North Idaho College, where she started swimming with a masters group, started going to a CrossFit gym, and took up rowing.
Olympic weightlifting soon followed.
Last year she registered a club — Coeur d'Alene Barbell Club.
"We have a small group mainly to get the sport rolling in the area," Lawrence said. "When I first started it was challenging to find resources for Olympic lifting. The sport is underdeveloped in this area — unless you go to a CrossFit gym."
She said she trained in the back of Trevor Prangley's AKA gym for a few years before she found a 24-hour gym that would let her drop weights. That gym (Precision Fitness) is where her club currently trains.
What's next?
"It's weird with weightlifting because you get numbers in your head that you just want to hit," Lawrence said. "When I started, 91kg (200 pounds) in the snatch and 111kg (245 pounds) in the clean and jerk were the numbers I wanted. I decided I wouldn't quit until I made those."
She said she's reached those marks in training, just not together in competition.
"But the marker is always moving," she said. "I'd say my goal now is looking like a 100kg in snatch and a 120kg clean and jerk, mainly because the girls on the U.S. team are right around there."
In the meantime, Lawrence, who has lived in Coeur d'Alene since age 2, said she still enjoys swimming and rowing, and feels blessed to have the resources to lift and compete in those events.
She's also an assistant swim coach at Coeur d'Alene High, and "hope I can give back what weightlifting has done for me," she said.
Recent Headlines
---