Across the U.S. on a wing and a prayer
by
KERRI THORESON/Main Street
|
July 14, 2021 1:00 AM
If summer adventures were scored like the Olympic Games, two Coeur d'Alene pilots are atop the medal stand hoisting the gold.
LaDonna Beaumont and Lori Porath, members of The 99, returned home from a most incredible odyssey on Sunday afternoon, welcomed at Coeur d'Alene Airport by family and friends. Their coast-to-coast, sea to shining sea trip began on June 27 in Tillamook, Ore. The pair's winged chariot was LaDonna's 1976 Cessna 172, destination the First Flight Airport near the site of the Wright brothers first flights in Kitty Hawk, N.C.
Their final trip stats are impressive: 11 days, two coasts, 23 stops, 12 states on the ground, 67 flight hours, 5,000+ miles and 500+ gallons of 100LL fuel.
They began the trip homeward bound on July 8. On the morning of July 11 they woke up in Gillette, Wyo., and flew to Helena, Mont., had a bite of lunch and then headed on the last leg of the journey home.
Wrote Lori in the trip blog, Coast to Coast Flight with L & L from Idaho on Facebook, "Our last day in the air was remarkable in many ways, but mostly because our most challenging leg was our very last. Helena to Coeur d'Alene was punctuated with heat, (high density altitude/poor airplane performance) smoke, mountains, turbulence, temporary flight restrictions, bad ATC contact, and terrible visibility. The smoke was so thick at times, our forward view was nil. LaDonna might have nerve damage from her grip on the yoke."
LaDonna observed, "Things have changed so much since 1929 when Amelia Earhart and 98 other women pilots formed the 99s, but people are still sometimes surprised to see two women hop out of the cockpit. I couldn't be prouder or more grateful to be one of them, and I hope she'd be proud of us, too."
I think that's a given, ladies.
"Adventure is worthwhile in itself." — Amelia Earhart
•••
Like father, like son, like grandson and now great-grandson. When Don English started English Funeral Chapel in Coeur d'Alene in 1941, I wonder if he ever imagined that three more generations of his family would carry on the tradition. Great-grandson Luke English is now an apprentice funeral director/mortician.
Don English died in 1986 when Eric English was just 15, long before he joined his grandfather's profession. So Eric is grateful his son, Luke, has the opportunity to work alongside his grandfather Bruce in these apprentice years.
In June Eric was named president of the Idaho Funeral Service Association, a position once held by his father and grandfather.
Another piece of English family trivia … Bruce served as chairman of the board of the Post Falls Chamber of Commerce in 1977. His son, Eric, served in the same role in 2006. They are the first and only (to-date) father/son duo to hold the top leadership position in the organization.
•••
Happy Main Street birthdays today to Bri Gilge, Dee Barnes, Kathleen Esquibel, John Lasher, Jim Lyons, Nancy Seright, Jaime Vanderpool and Dawnelle Garvey. Tomorrow Logan Virgil, Kris Siebers, Katie Mans, Laurel Flerchinger, Loretta Lyon, Angela Olson, Andreas John, Julie Ingram, Marisa Buffaloe (30!), Brian Bunch, Wayne Huckabee and Glen Collins will celebrate.
On Friday Sandi Morrison, Yvonne Smith, Marcy Clutter, Angela Olson, Andreas John, Rich Doughty, Cindy Wiedmer, Patrick Ryan and Doug Jaworski enjoy their birthday cake. Steve Roberg, Terry Werner, Callie Cabe, John Malloy, Erik Nelson, Rick Souza, Janet Brock, Belinda Rowe, Amber Flinn (40!), Lori Larkin and Emily Crawford take another trip around the sun on Saturday.
Eric Wurmlinger, Jessica Ohlig, Annette Davis, Kathy LaTourrette, Dustin Peacock, Lori Nelson, Sandie Husby, Joanne Anglin and Cody Jones put on their party hats on Sunday. July 19 is the anniversary of the birth of David Kilmer, Maria Dawson, Brooke Skidmore-Wood, Vic Grilli, Bill Noordam, Hillary Main, Sherri Dust and Micheala Cocoran Hall. On Tuesday Duffy Smock, Linda Litalien and Kymber Baker blow out the candles.
•••
Kerri Rankin Thoreson is a member of the National Society of Newspaper Columnists and the former publisher of the Post Falls Tribune. Main Street appears every Wednesday in The Press and Kerri can be contacted on Facebook or via email mainstreet@cdapress.com. Follow her on Twitter @kerrithoreson.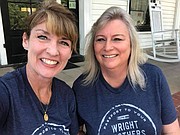 Recent Headlines
---