Bubbles, bikes, stars 'n' stripes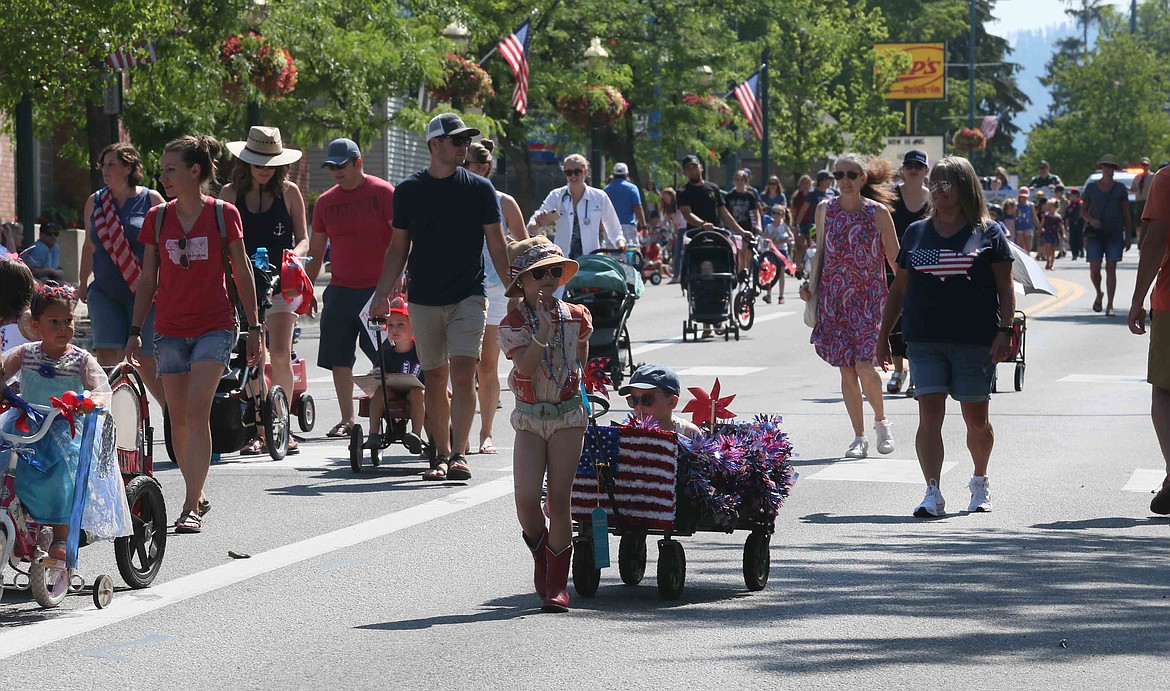 Hunter Grace Harkin, 6, rocking red cowboy boots and Western Fourth of July-themed attire, gives a perfect parade wave while towing little brother Henry Harkin, 3, in a star-spangled wagon during the Kiddies Parade on Friday.
DEVIN WEEKS/Press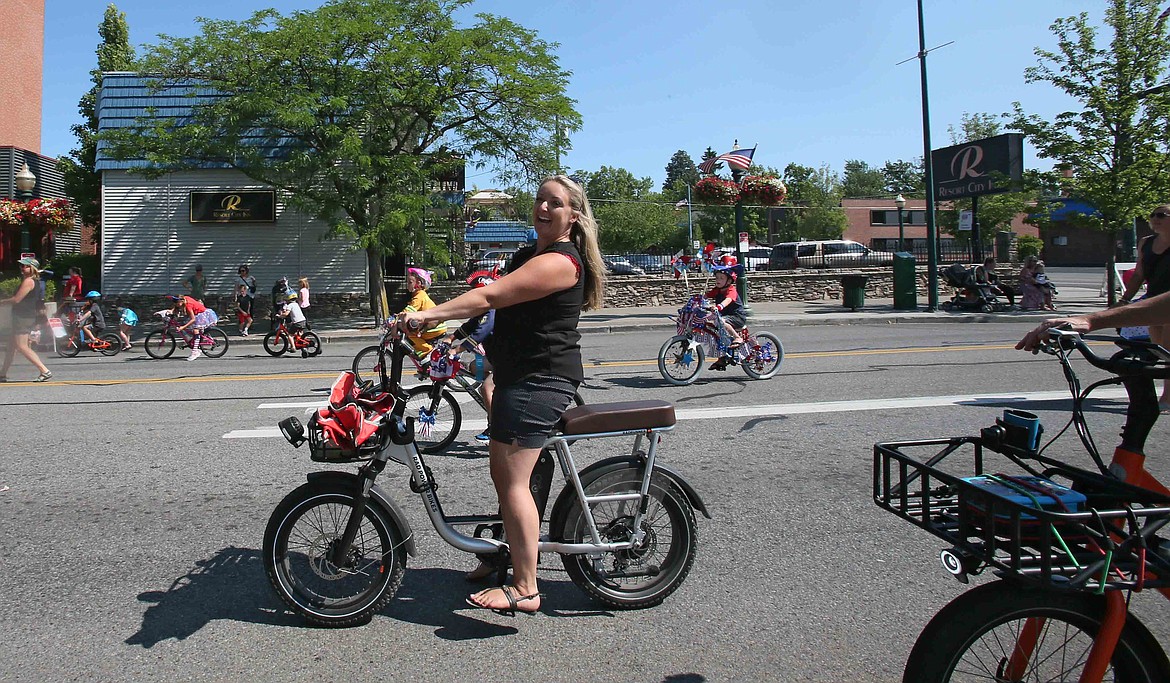 Children's Village interim CEO Vanessa Moos smiles for the camera Friday as she rolls along the Kiddes Parade route on Sherman Avenue.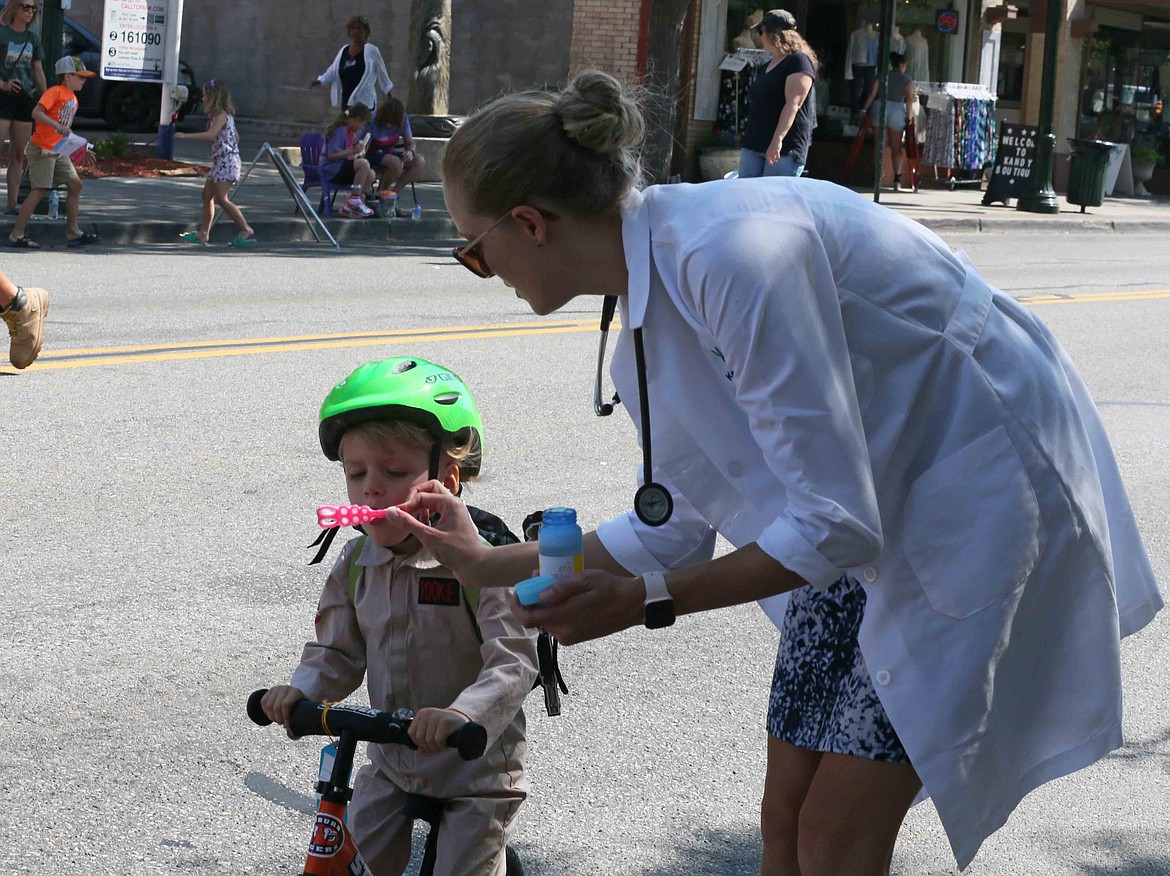 Dr. Kate Aguirre holds a bubble wand for son Asher, dressed as a rookie Ghostbuster, on Friday during the Kiddies Parade. Asher turns 3 years old today. Happy birthday, Asher!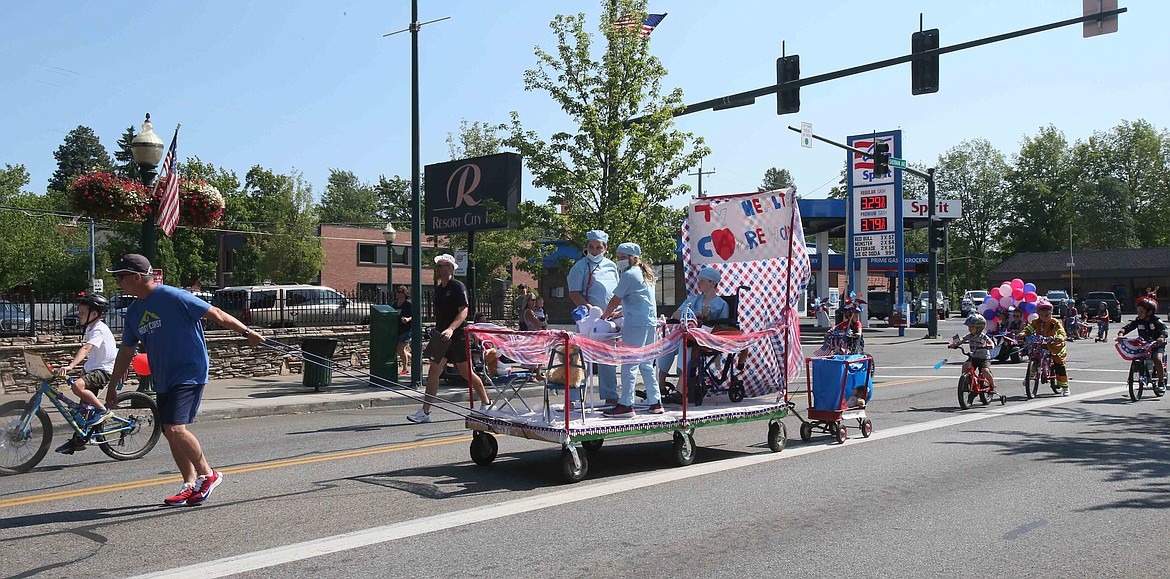 Tristan Riplinger, Shannon Riplinger and Anna Graupman salute America's doctors and nurses with their "Thank you health care workers" float in the Kiddies Parade on Friday.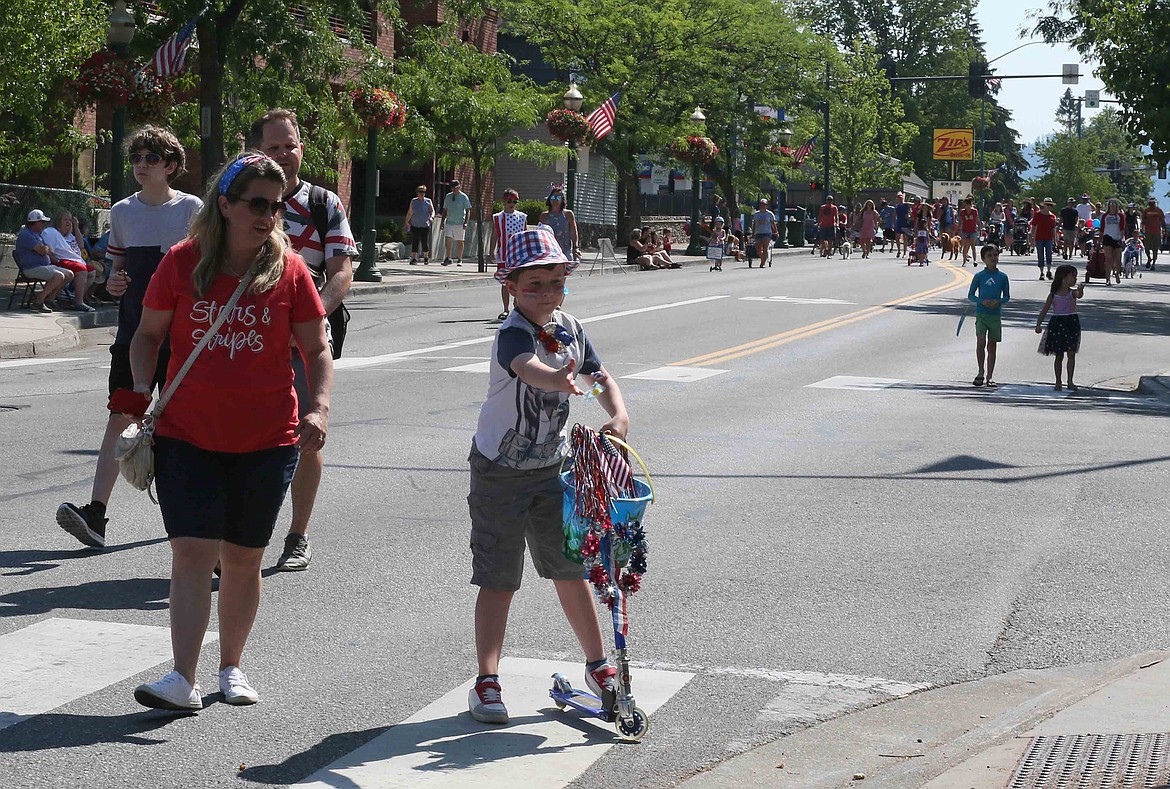 Josiah Goldthorpe, 9, of Coeur d'Alene, tosses candy to spectators Friday during the annual Kiddies Parade on Sherman Avenue.
Previous
Next
by
DEVIN WEEKS
Staff Writer
|
July 3, 2021 1:07 AM
COEUR d'ALENE — Old Glory's inner child had a blast on Friday during the Coeur d'Alene Recreation Department's annual Fourth of July Kiddies Parade on Sherman Avenue in downtown Coeur d'Alene.
Hunter Grace Harkin, 6, rocked red cowboy boots and Western Fourth of July-themed attire as she gave a perfect parade wave while towing her little brother, Henry Harkin, 3, in a star-spangled, garland-festooned wagon.
"I'm very proud," their dad, Kyle Harkin, said. "She woke up this morning and started getting everything ready and hasn't stopped worrying about every part of the wagon or her outfit since she woke up."
Josiah Goldthorpe, 9, of Coeur d'Alene, wore a red, white and blue fedora as he made his way along the parade route on his push scooter. He said he was feeling "pretty good" to toss candy to spectators.
The theme this year was "Salute to health care and frontline workers."
Moms, dads, kiddos, parade dogs, wagons, bikes and more created a jubilant spectacle for parade-goers who sat on curbs and found shady nooks to enjoy the show.
"We like the American theme," Tom Knepper said as he watched the parade with three generations of his family. It was his first time seeing the Kiddies Parade.
"It's super cute, darling kids" Knepper's daughter, Rosemary Kiese, said. "Brought the parents to breakfast this morning and we enjoyed it."
"It's beautiful weather," Kiese's daughter, Savannah Gigstad, said with a big smile.
The parade was short and sweet, like the kids themselves.
2021 Kiddies Parade results:
Best Float — Reese, Quinn and Cody Burrill. John Deer tractor decked out in red, white and blue balloons and swag. Brother Cody rode his red, white and blue bike.
Best Costume — Jett Droesch. Dressed as a firefighter.
Most Patriotic — Bode Hebener. Red, white and blue galore.
Best Theme — Tristan and Shannon Riplinger and Anna Graupman. "Thank you health care workers" float.
Recent Headlines
---