'Now I gotta get the vaccine'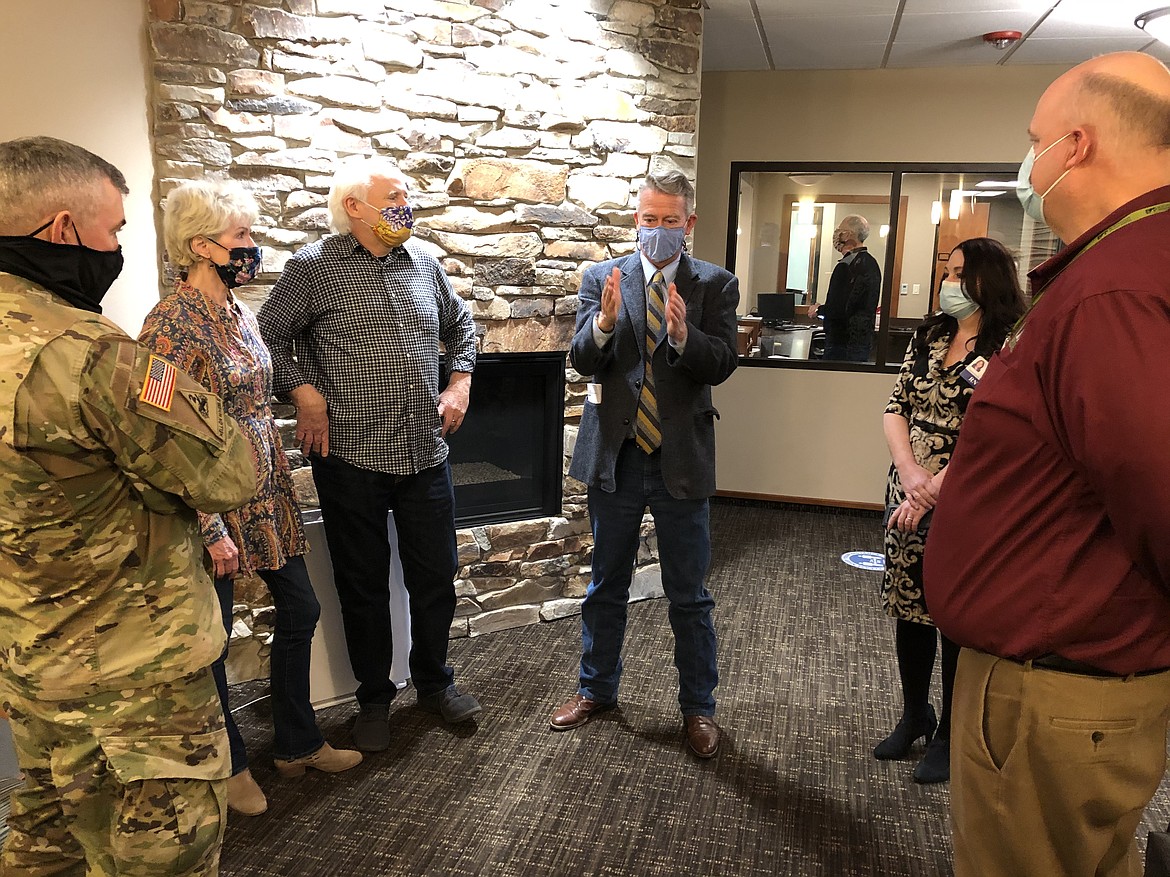 Gov. Brad Little isn't talking about the fish he caught or his level of patience with some Idaho legislators, but he is deep in discussion about the vaccination program throughout Idaho. Little toured Northwest Specialty Hospital's COVID-19 clinic Friday in Post Falls. From left: Major General Michael J. Garshak of the Idaho National Guard, Rotary volunteer Sandy Patano, former lieutenant governor Dr. Jack Riggs, Gov. Little, NWSH infection prevention & employee health manager Leah Davis, and NWSH CEO Rick Rasmussen. MIKE PATRICK/Press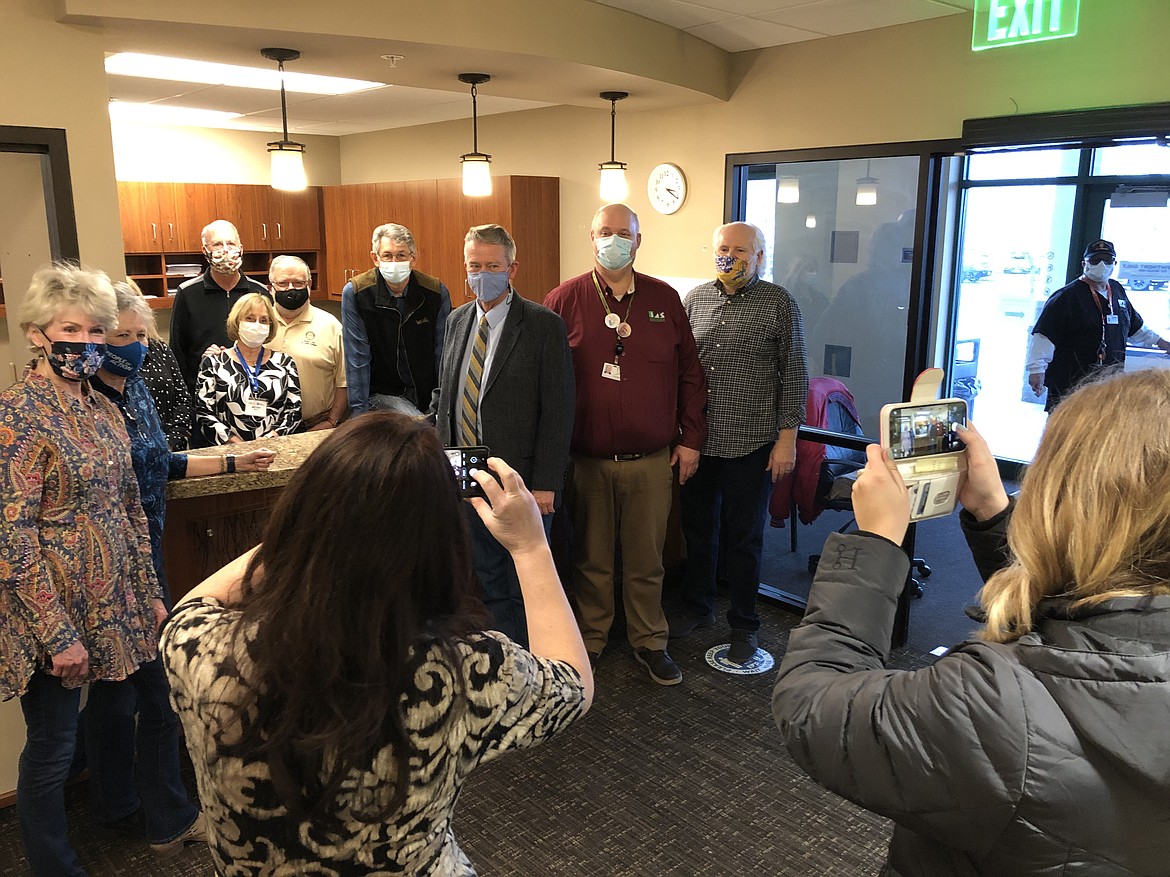 Surrounded by Rotary Club volunteers, Gov. Brad Little (center), Northwest Specialty Hospital CEO Rick Rasmussen (red shirt) and Dr. Jack Riggs, a former Idaho lieutenant governor, pose for photos during the governor's visit Friday afternoon. MIKE PATRICK/Press
Previous
Next
by
CRAIG NORTHRUP
Staff Writer
|
January 30, 2021 1:09 AM
POST FALLS — Gov. Brad Little said Friday he marveled at Kootenai County's ability to administer COVID-19 vaccines through its health care facilities, saying he's fully confident local clinics will be able to get doses into residents' arms in a safe and orderly fashion.
"We have already got this figured out faster than the amount of vaccine we're going to have," Little said from Northwest Specialty Hospital's clinic in Post Falls.
Alongside Northwest Specialty CEO Rick Rasmussen and a legion of volunteers and staff, Little made a stop at the clinic as part of a tour of Pocatello, Sandpoint and Post Falls to oversee a ramp-up through Idaho's vaccine clinics. Little said the efforts he saw at Northwest Specialty have injected him with a fresh dose of optimism.
"This is a typical, really good Idaho story where a group of people — Rotarians — go with a great company and all of their affiliated people and just get 'er done," Little said. "What I'm interested in is, if we get more vaccine, can we scale up? Can we double or triple [capacity]? So I can sleep now. Now I gotta get the vaccine."
Idaho's vaccine problem is one of demand over supply, a problem confirmed by the Centers for Disease Control earlier this week after their report listed Idaho as receiving the second-fewest doses per capita in the nation.
While Little said he has not received a satisfactory or complete answer as to why the Gem State has received so few doses — 10,300 per 100,000 residents, according to the CDC — he has pinpointed two of the factors. One, he said, is Idaho's relatively young population — second youngest, next to Utah.
The other reason is growth.
"[The federal government is going off] old population data," Little said. "We're the fastest growing state. But even if you factor all that in there, we're still not getting our fair share."
Little said he's been in constant communication with the still-transitioning Biden Administration, and that he will continue to crank up pressure on the White House to increase Idaho's vaccine allocation.
"The new president's head economic adviser, I had a call with him, and I said, 'Please don't change much on us. Tell us what we're going to get. Don't change the rules on us, because every state's trying to scale this up.'" Little said. "On the call I had with him Monday, he said, 'Whatever you got last week, you're going to get 16 percent more for the next three weeks.' So that gives us some [assurance]. But Idaho's not getting our fair share."
Little has stressed since before the vaccine became available how he is pushing for herd immunity, where a high percentage of vaccinated Idahoans will calm the coronavirus numbers into a manageable virus that won't overwhelm the health care system.
While Little has said in past interviews that ideal percentage of vaccinated residents has been somewhat nebulous, the governor said Friday that number could be closer to 70 percent. He added the Department of Health and Welfare's recent ad campaigns promoting both health protocols like masks and getting vaccinated have been effective, and that he laments not getting a more effective message out sooner.
"We should have done that earlier," he said before adding a note of sarcasm. "We should have done a better job: Just because the governor tells you to do something — I know this is a shock — People may not do it. We had to get the health care industry and the regular people out and say, 'Here's the consequences of it.' I think that's helpful."
As COVID-19 numbers trend downward, the number of residents eligible for the vaccine will spike dramatically in the coming days. On Monday, Idahoans age 65 and older will qualify for the vaccine.
That number will increase the need for vaccinations — a need currently reserved to front-line health care workers, educators and long-term care facility residents and staff — by more than 260,000 statewide.
One person who will help facilitate those vaccinations is Gen. Michael Garshak, commanding general of the Idaho National Guard. Garshak was part of Little's entourage Friday. He told The Press the governor's direction has given the Guard laser-focus as vaccination efforts continue to roll out.
"We're supporting the health districts throughout the state and the health facilities to assist in their response to the COVID-19 pandemic," Garshak said. "That comes in a wide variety of missions, from logistical support, some contact tracing, testing, screening."
New COVID-19 cases and hospitalizations have trended down since the first week of January. When asked what reasons his coronavirus team might have gleaned from that data, Little said the input from volunteers and staff at Panhandle Health offered some fresh insight into the positive trends.
"I was speaking with the tracing people at Panhandle Health," he said. "They said, originally, everybody knew some young kid that got COVID, and it was nothing. But now, they're starting to know somebody who, unfortunately in some circumstances, died. A lot of people got really sick."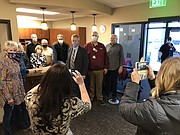 ---