Pizzalebrities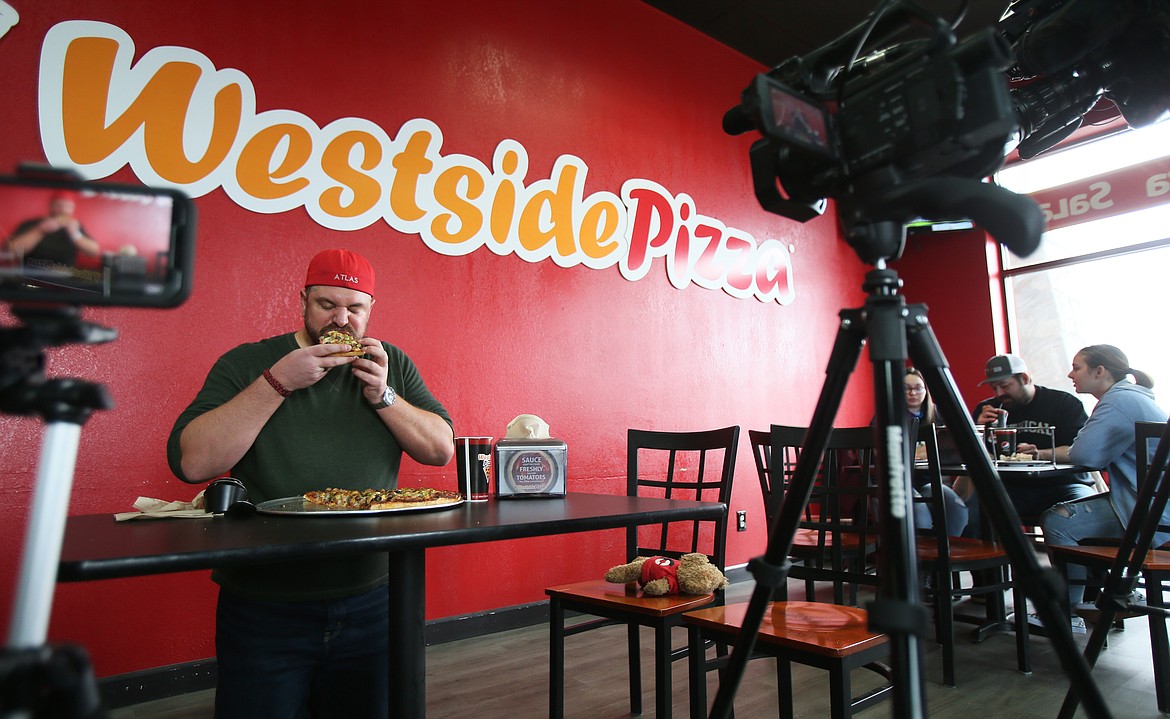 Professional eater and YouTuber Randy Santel takes on his 920th food challenge as he gobbles a slice of Westside Pizza's Death by Pizza on Thursday. Santel finished the six-pound pizza in 17 minutes and 39 seconds, winning $100 and a place on the wall of fame.
DEVIN WEEKS/Press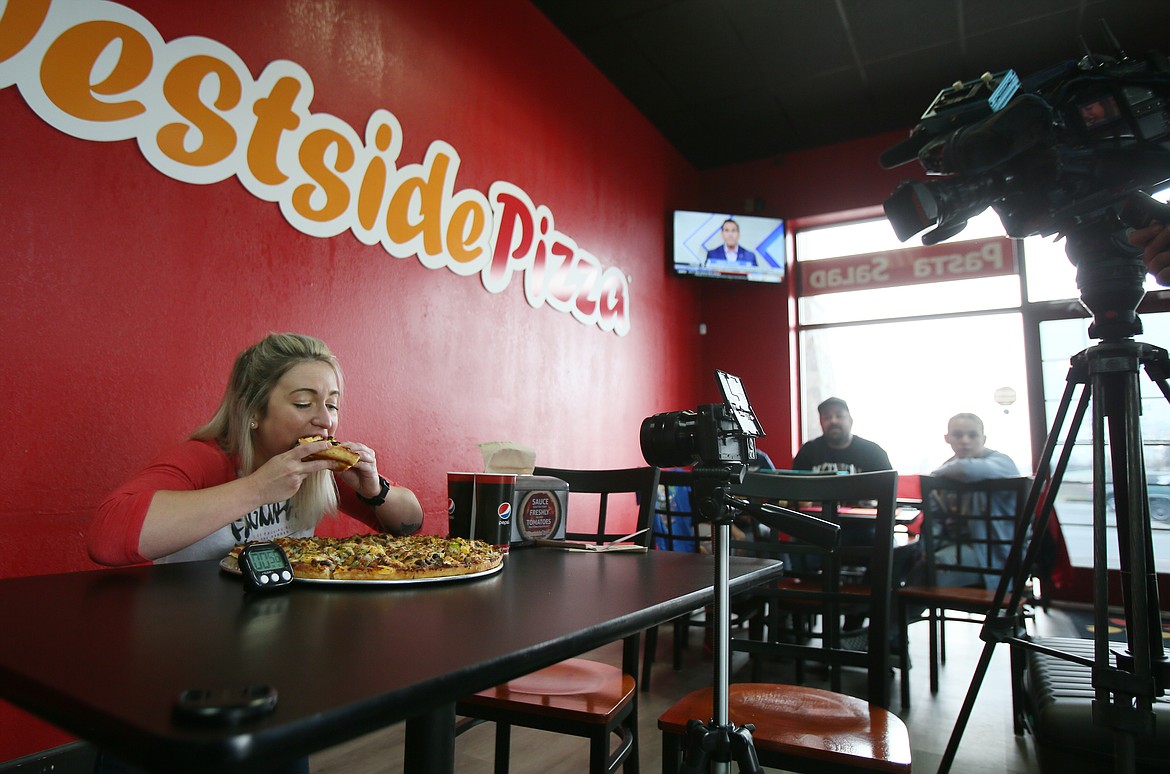 Food challenge YouTuber "Katina Eats Kilos" Katina DeJarnett takes a bite of her first slice in the Death by Pizza Challenge on Thursday. She and boyfriend Randy Santel were the first to rise to the challenge at the Post Falls store, both completing the 18-inch, 10-topping pizza and winning cash and bragging rights.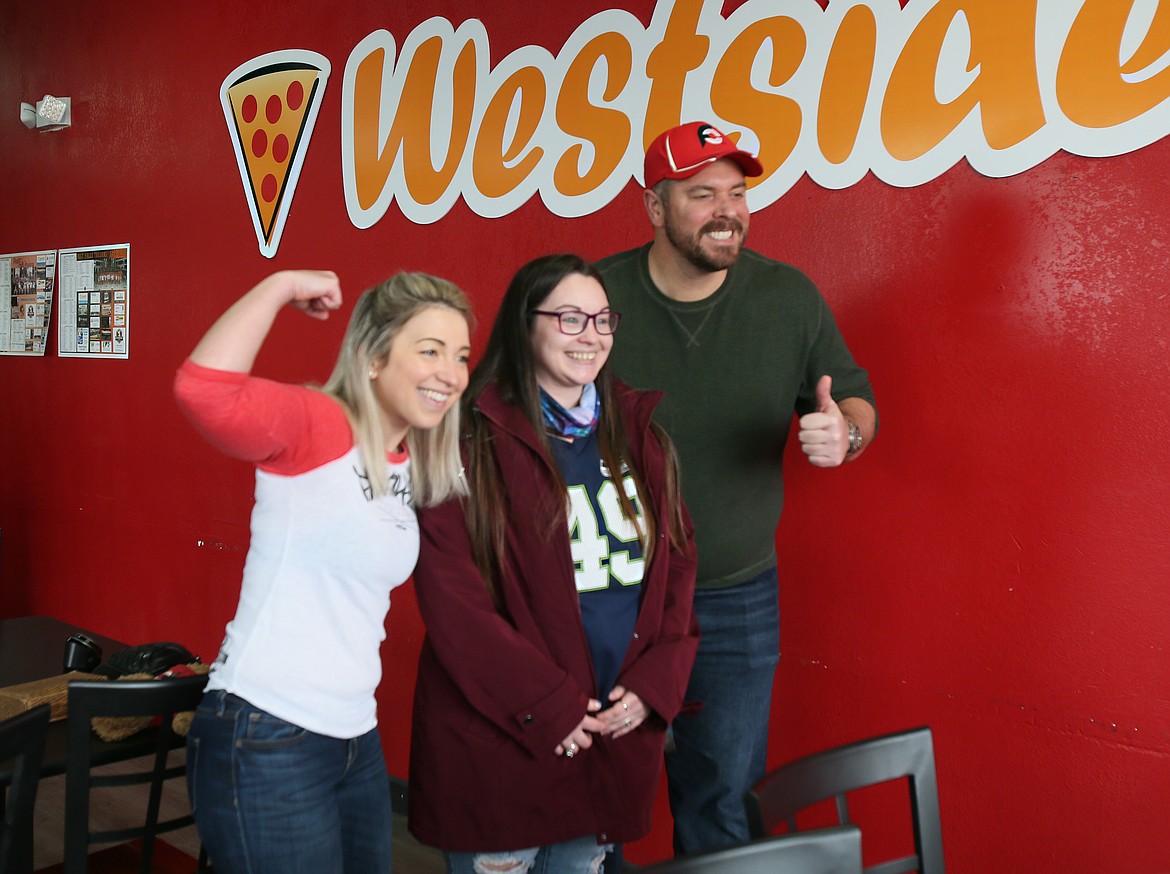 Fan Brandi Atchison, center, smiles for the camera with famous food challengers Katina DeJarnett and Randy Santel during their Death by Pizza Challenge at Westside Pizza on Thursday.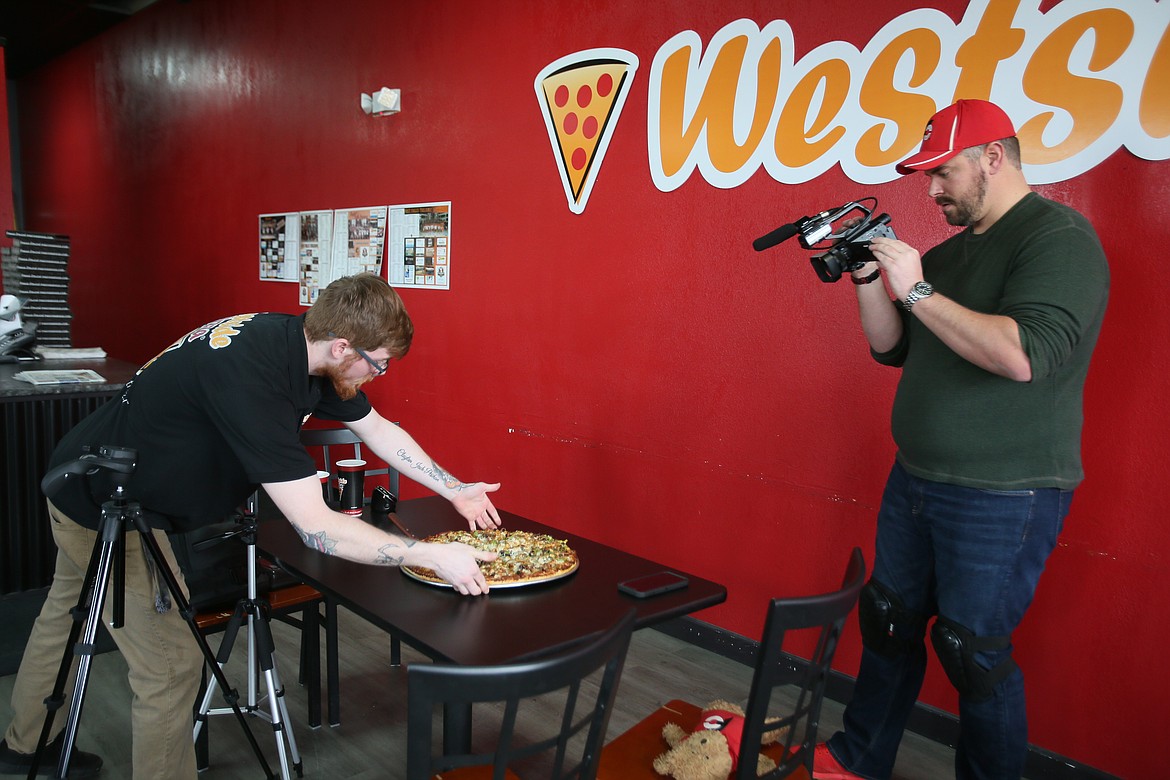 Post Falls Westside Pizza general manager Jason Pesikan serves a grand-sized Death by Pizza to YouTuber and professional eater Randy Santel as he films a piece for his channel on Thursday.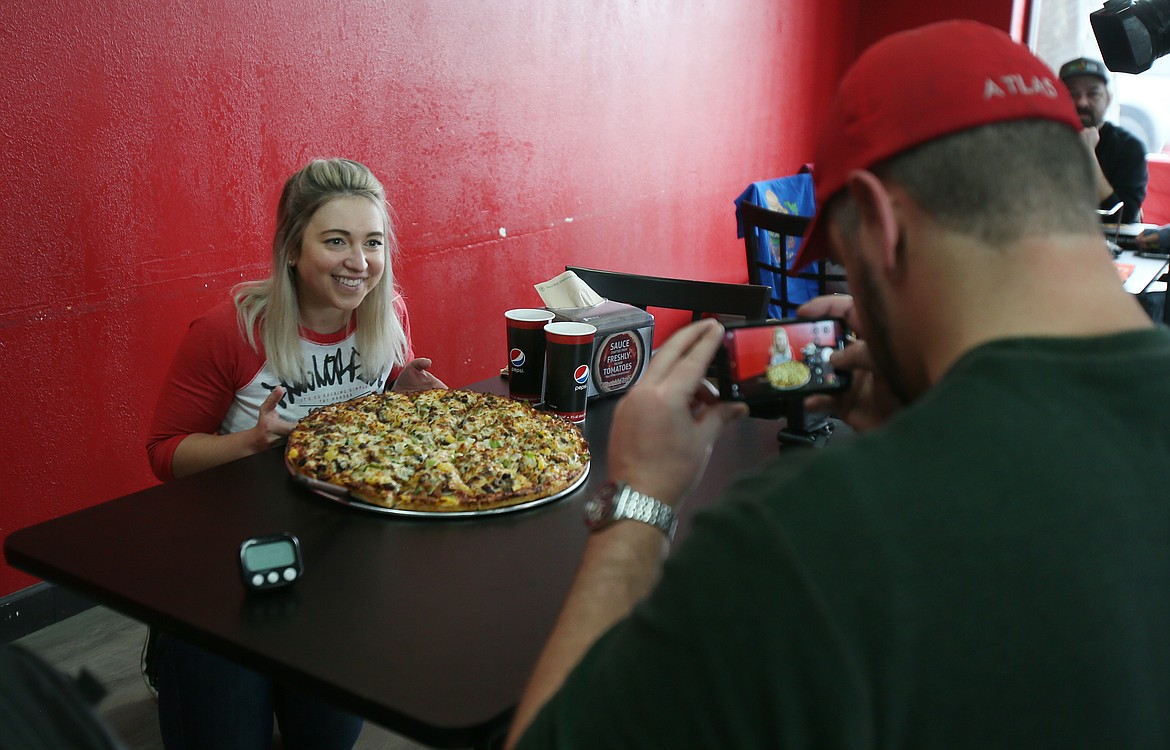 Katina DeJarnett of "Katina Eats Kilos" YouTube fame films an intro with boyfriend and professional eating colleague Randy Santel in Westside Pizza on Thursday. Both completed the Death by Pizza Challenge by eating an 18-inch Death by Pizza pie in less than an hour.
Previous
Next
by
DEVIN WEEKS
Staff Writer
|
January 29, 2021 1:06 AM
POST FALLS — With a backward flipping of his hat and a crossing of his heart, professional eater and YouTuber Randy "Atlas" Santel of Foodchallenges.com prepared to chow down.
Before him was Westside Pizza's Death by Pizza Challenge: To consume a six-pound, 18-inch pie, covered to the crust with 10 toppings and loaded with cheese, in less than one hour.
"Look how thick this is," Santel said, lifting a piece to a camera to give his live-streaming audience an up-close shot. "This is delicious pizza."
Deliciously daunting for even the biggest appetites, perhaps.
But not for Santel, who hails from Springfield, Mo., nor for his girlfriend, professional eater and YouTuber "Katina Eats Kilos" Katina DeJarnett, of Spokane Valley.
The couple were the first to take on the Death by Pizza Challenge in the Post Falls Westside Pizza, which has been open since Halloween 2019.
Spectators cheered and chanted "Randy! Randy! Randy!" between moments of intense silence, on the edge of their seats as Santel downed about a slice a minute.
"We saw they were going to do a competition close to us and we could go see it," said fan Brandi Atchison, who drove from Spokane to watch the excitement, adding that she loves their personalities and their capacity for eating "so much so quick."
"He puts videos out so consistently and on time, almost every other day," Atchison said, smiling. "I wake up and I get excited to watch them."
Four minutes into Santel's Death by Pizza Challenge, the pizza was half gone.
In 17 minutes, 39 seconds, Santel vanquished the pizza and conquered the challenge, setting a high bar for his successors.
This was win No. 920 for Santel in his 11 years as a professional eater. Westside Pizza awarded him a $100 cash prize and his photo will be hung on the wall.
The pizza was free as well, because he completed the challenge. Otherwise he would have been out $27.
"I actually feel better now than I will in like two hours," he said after devouring the last bite and standing up.
DeJarnett followed Santel's performance, masterfully masticating and completing the challenge in just more than 30 minutes.
The couple actually met on an Alaskan trip for professional eaters and have been together since last July.
"I played hard to get for a little bit, and it didn't work, I caved," Santel said with a grin.
They undergo stomach capacity training and other eating strategies to consume copious amounts of food for their challenges, but they are also rigorous in their diet and exercise routines.
"We eat really, really large, healthy meals, maybe a large salad with fruit and water on top of that to keep the calories down," she said, giggling. "Or you can be fatties like we were (Wednesday), we went to a Chinese buffet and ate a crazy amount of food.
"We do a lot of working out," she added. "But mostly it's down to nutrition on your off days."
They'll soon be on their way to Florida for a month-long food challenge tour.
Westside Pizza owners Daniel and Kiley Lawson were on site for the experience and happy to have the famous foodies visit their store. They also have a store in Fortuna, Calif.
Daniel said they've had challenges at their Fortuna store, but they've never had anyone make an event out of it.
"It's amazing. It's always fun seeing people be able to complete the challenge," he said. "I've had a lot of people ask about it, they say, 'All right, we'll do it,' and I never see them again."
For info and to follow their adventures in eating, visit www.foodchallenges.com or find "Katina Eats Kilos" and "Randy Santel" on YouTube.
Recent Headlines
---