COVID one year later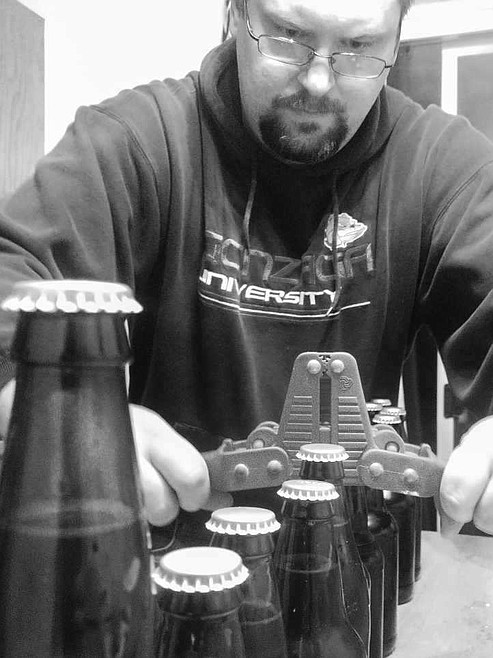 James Stovern bottles his home-brewed beer from the comfort of his home. The Hayden resident said the unexpected symptom of losing his sense of smell after catching the coronavirus felt like a light switch had turned on, sending him into a panic. "I couldn't imagine never being able to smell a hop again," he said. "Honest to goodness, that was my biggest fear in that moment." (Courtesy of Jen Stovern)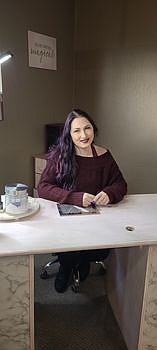 After the unknowns of the last year flung Jessica Kaminski into uncharted territory, the nail technician opened her own shop, Nail Boss on Dakota and Government Way. Taking control of her own destiny was how she says she dealt with the stresses and rigors of the last year. "Obviously, I need to have an income," Kaminski said, "but I need to make time for my family, and not just be at work all the time." (Courtesy of Toni Kaminski)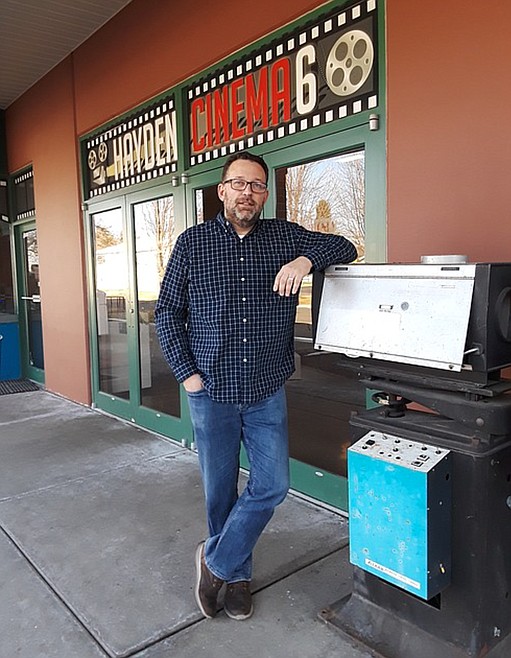 (CRAIG NORTHRUP/Press file photo) Mike Lehosit said that, while the industry likely won't fully recover for the next year or two, the return of blockbusters like Wonder Woman 1984 have helped bring moviegoers back into theaters like Hayden Cinema. "After COVID hit, it's just a matter of survival with the business," he said, "trying to be creative, and doing whatever we could do to keep the doors open."
Previous
Next
by
CRAIG NORTHRUP
Staff Writer
|
January 21, 2021 1:09 AM
Once upon a time, a 35-year-old man from Snohomish — a town of a little more than 10,000 people in western Washington, barely 300 miles away — felt run down and fatigued. He checked himself into a nearby hospital in Everett as a precaution, one that might have seemed unnecessary to most, but not to him. The man had seen these symptoms under a very different light than most Americans, having just returned from a trip to Wuhan, China, where he watched hundreds stricken with a pneumonia-like ailment.
As it turned out, the man had contracted the same strange virus. He was diagnosed on Martin Luther King, Jr. Day, when most government administration offices are closed. As a result, the Centers for Disease Control wouldn't officially mark him as the first American to test positive for the novel coronavirus until the next morning, Jan. 21, 2020, one year ago today.
Since then, there have been more than 400,000 COVID-19-related deaths in the U.S. The CDC reports the virus is now the country's third-leading cause of death for ages 45 to 84, bested only by heart disease and cancer.
Many have found uncharted ways to live a new normal, including James Stovern of Hayden.
---
"I hate that term," Stovern said. "'New normal.' I want to strangle everyone who uses the term, 'The new normal.' But unfortunately, ours is a world of precedents, and we just set a new precedent."
Stovern walked into Jan. 21, 2020, with a completely different set of routines, enough predictable patterns that "precedent" was a word he never thought he'd have to dust off.
"Before COVID, my life was normal," he said. "I was working in an office, attending events, church events, that sort of stuff. Nothing too fancy, you know? We were doing soccer with my son. We were doing all the sports events and everything. It was normal back then."
'Back then' is another term that haunts the husband and father of two. Not unlike the one-day delay from when America's Patient Zero in Snohomish was diagnosed and when his case was actually registered with the CDC, time in the age of COVID — an age filled with stay-home orders and quarantines — changed the way Stovern processed time, to the point where the days before COVID feel like a half-century ago.
"I don't even remember what it feels like to be in a group of people that I don't know and not think about how dirty everyone else is," Stovern said with a smile.
But as the reality of COVID set in, the virus would quickly hit Stovern's day-to-day routines at his job, where he works as a customer service representative for a company that makes fire alarm control panels. The threat felt real, Stovern insisted, even if it remained separated by more than a few degrees.
"Remember April, when everyone was terrified they were going to get it?" he asked. "But really, honestly, no one really knew anybody that actually had it. It was just this horrific idea … A friend of a friend of a friend had it, and everybody was afraid of it, so you just worked from home. That was our first time with it, when there was literally zero danger."
What was then called the first wave gave way to a second, then a third. By fall, no one at his job was immune.
"We thought we were going to escape this whole thing," Stovern said. "We thought we were going to escape this, because we're a small business of about 150 people. We thought we were going to sail through scot-free. Boy howdy, were we wrong? When it hit, it hit."
Even after COVID-19 struck Stovern's workplace, he still remained hopeful. The first thing he noticed, he said, is how his company needed to change.
"This is a business that could only work from work for the past 35 years doing exactly what we did," he noted. "And we had to figure out how to work from home in a week. My company was still running off of tri-fold, tri-color paper. We would physically take orders and walk that order from one part of a company to another. A person would physically walk that order over to our shipping department or over to our accounting department. We were that dependent on paper, still."
The company changed, soon configuring its ways to accommodate employees caught in a pandemic. Employees soon alternated working from home, Stovern said, but it wasn't enough.
"I work really, really closely with about eight other people," he said. "Four of them caught it, and I thought I was impervious."
He wasn't. He remembers Halloween 2020 as the last day he felt normal. Soon after, he tested positive, as did his wife, Jen. He said he's confident his 6-year-old son, Lucas, and his 2-year-old, Chloe, contracted COVID-19, as well, choosing not to have them tested, as they would spend their two-and-a-half weeks in isolation together.
But Stovern's time in isolation was no family picnic. While Jen remained completely asymptomatic, the patriarch of the family lost his senses of taste and smell, which triggered an unusual-for-him anxiety that kept him from sleeping. The insomnia brought on hallucinations, he said, but the one place he wanted to go for help — Kootenai Health — wasn't an option.
"This was early November," he said. "At that time, they were shipping people who were checking into Kootenai and could make the trip over to Seattle."
As area hospitals hit maximum capacity, Stovern decided to wait it out. As he recovered, his senses of taste and smell returned, something the home brew enthusiast said he felt in joyous relief.
"I couldn't imagine never being able to smell a hop again," he said. "Honest to goodness, that was my biggest fear in that moment."
So what lesson has the last year taught Stovern? As he bottled beers in his basement, he reflected on his employer, his family and his bout with the disease before answering.
"You have to learn how to take the modern challenges that exist and you have to adapt," he said.
---
Movies are supposed to provide an escape. Whether the films of choice are big blockbusters, romantic comedies or dark thrillers, the ability to slip into a dimly-lit room and immerse yourself into someone else's story is a coping mechanism, a way to avoid reality for two hours. And if ever there was a reality to avoid, it was this last year.
But what if you can't escape? What if the very delivery system of that escape has been warned against by health experts in the early days of a global pandemic.
Mike Lehosit of Hayden Cinema said he'd acclimated himself to the world of COVID-19 long before the pandemic ever struck.
"I have 10 kids," he said. "My life is always crazy. Really, it's always been crazy, pre-COVID."
While Lehosit said his role as a father inoculated him from a certain amount of chaos, the pandemic arriving one year ago sent him and his staff at the movie theater scrambling, particularly after Gov. Brad Little ordered Idaho to shut down.
"After COVID hit, it's just a matter of survival with the business," he said, "trying to be creative, and doing whatever we could do to keep the doors open."
That creativity bounced from reducing occupancy slightly to reducing occupancy dramatically to only selling movie popcorn as a curbside service for a few weeks. Soon, Lehosit hired painters to paint giant white screens outside the Hayden building, where the theater manager would eventually play drive-in movies outside.
Over time, Lehosit worked demand back into the local market. Drive-in shows of classic films like "Grease" and "Raiders of the Lost Ark" soon sold out. But the theater industry would soon face another challenge as a result of COVID-19: supply. Movie studios had to halt production of upcoming projects, fearful the disease would strike their sets. That gap had big-name companies like Warner Bros. and Disney shuffling release dates on upcoming blockbusters, such as the James Bond opus "No Time To Die" and Marvel's first theater installment in its Phase 4 strategy, "Black Widow."
"Thank God Hollywood put a few movies out," Lehosit said. "We were able to get something out there for people to enjoy."
But people would enjoy the movie experience differently. All of Lehosit's employees wear masks, and he said the company encourages people to wear masks. Occupancy has been cut in half in his theaters, so the days of packed movie theaters are, for the time being, over.
But perhaps the biggest change Lehosit's theater made happened behind the projector. For the most part, theaters can only run first-run films or films on later runs at a discount, but not both. Lehosit had to choose. After the only first-run theater in the area — Regal Riverstone — closed up in the early onset of COVID-19, Lehosit gauged the market and made his choice. His business walked into the pandemic as Hayden Discount Theater. It emerged over the summer as Hayden Cinema, able to play first-run movies.
While the first blockbuster movies Hollywood shot out landed with varying degrees of success, it wasn't until the Christmas Day release of "Wonder Woman" 1984 when people started lining up to buy tickets to what would become the movie event of the year.
Virtually line up, that is.
"We sold out a few showings for 'Wonder Woman' online," Lehosit said. "Again, we're only letting 60 people in the auditorium, but still."
Still, the success of the DC superhero film was a good sign of things to come, the beginning of a trend Lehosit says he expects to continue as the country enters the second year of COVID-19, particularly with "No Time To Die," "Black Widow" and the much-anticipated "Top Gun" sequel among the slate of films Hollywood will release.
Looking back where Hayden Discount was in the early months of the pandemic — relegated to selling popcorn curbside — it seems like science fiction to consider the possibility management would expand during this first year of COVID-19. But that's exactly what happened: Lehosit went into partnership to purchase its new sister theater in Sandpoint.
Lehosit said he has confidence in growing both Sandpoint and Hayden theaters.
"I think we're going to see another year or two of less-movies-more-streaming," he predicted. "But with these big movies coming out this next year, I think people will come back."
One of the many lessons he learned this past year is to stay creative.
"And stay appreciative," he added. "I'm lucky that I've had a really supportive community come out and stay with us during all of this. The community stayed with us, so we've got to stay with it. Don't give up."
---
Giving up was a luxury Jessica Kaminski of Rathdrum said she could never afford.
"I've got kids," the mother of three from Rathdrum said. "We just have to keep going."
"Keep going" is easier said than done when you're a nail technician, one of the professions in an industry hit hardest by the coronavirus. Along with hairdressers, masseuses and other beauticians, Kaminski's profession requires physical contact with her clients, a necessity that was shut down in March. As the state's economy gradually opened up to retailers and other providers, the beautician industry had to wait. Kaminski would be laid off for two months.
Except, according to the state, she wasn't laid off.
"Unemployment was a nightmare," she recalled. "It isn't necessarily offered when you're self-employed. I was never a W-2 employee. I was an independent contractor, so I was just paying rent for my spot."
With no source of revenue, Kaminski relied on her tax refund to support her family through that first month, eventually getting by with a stimulus check in the second. Waiting for that revenue, she said, took a toll.
"It was a lot of stress those first few months," Kaminski said, "which caused a lot of anxiety. And there was a lot of depression that came with it, too, because we were stuck at home. We couldn't go anywhere or do anything, so yeah, it was a really stressful time for us."
As the industry eventually opened back up, the pandemic still kept her constantly thinking on her toes. One of the ways she said she's changed this past year involves staying flexible and understanding, particularly with her clients.
"I'm not as busy as I've been, probably, in the last couple of years," she said, "and I definitely get a lot more last-minute cancellations, just from people waking up not feeling well … For me, personally, I think my clients know my stance and know what I have at stake when it comes to potentially exposing my family to COVID. They have enough respect for me that, if they wake up with a headache or a cold, they're going to wait a few days, just to be sure."
The pandemic and all that came with it tightened the vice on her friendships, as well. She said the politicization of the pandemic and the ensuing summer's civil unrest over social injustice eventually reached a tipping point with some of her friends — and the owner of the nail salon where she rented her space.
"In the midst of everything," she said, "with the pandemic, politics, human rights issues, things like that, we just had vast differences and different views, and it got to the point where I didn't feel comfortable working for her anymore."
In November, Kaminski made her move, starting a winter-long transition that culminated with the opening of Nail Boss on the corner of Dakota Avenue and Government Way in Hayden. She said, looking back a year, she never thought she would have opened her own shop in the midst of a pandemic. But she said she has no regrets, and that COVID-19 has taught her some valuable lessons, both in her work and in her personal life.
"Obviously, I need to have an income, but I need to make time for my family, and not just be at work all the time," Kaminski said. "I've learned that their mental health is more important than their education. I need to prioritize my mental health, as well. I can say that, but I don't always put that into practice.
"This really put into perspective what's important."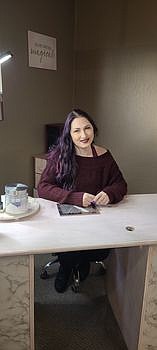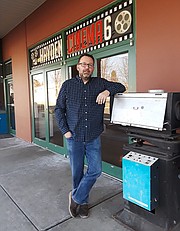 ---