Village Bakery helps build dreams, gives big lift to Panhandle Autism Society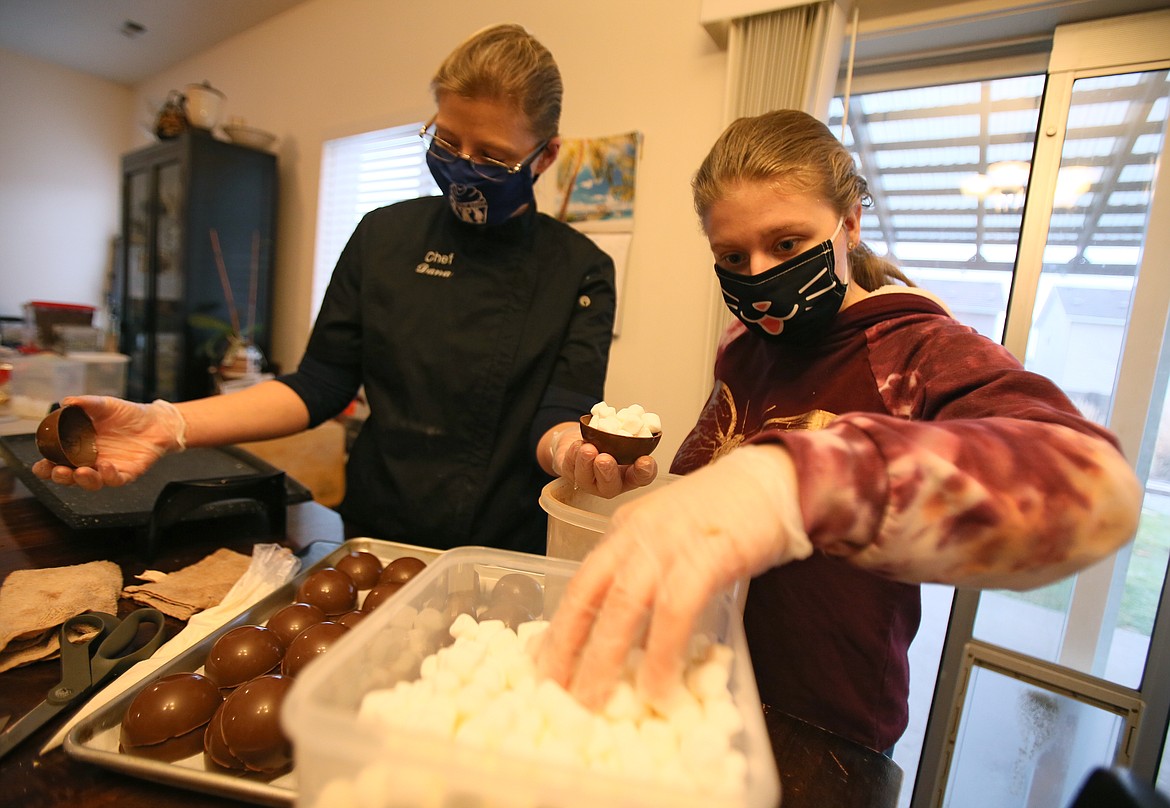 Baker-in-training Lizzie Adams, 17, of Rathdrum grabs marshmallows to fill chocolate cocoa bombs on Thursday with the assistance of Village Bakery owner and chef Dana Bellefeuille. Bellefeuille and her team of volunteers raised $10,000 for the Panhandle Autism Society through the sales of the cocoa bombs, which are insanely popular and delicious.
DEVIN WEEKS/Press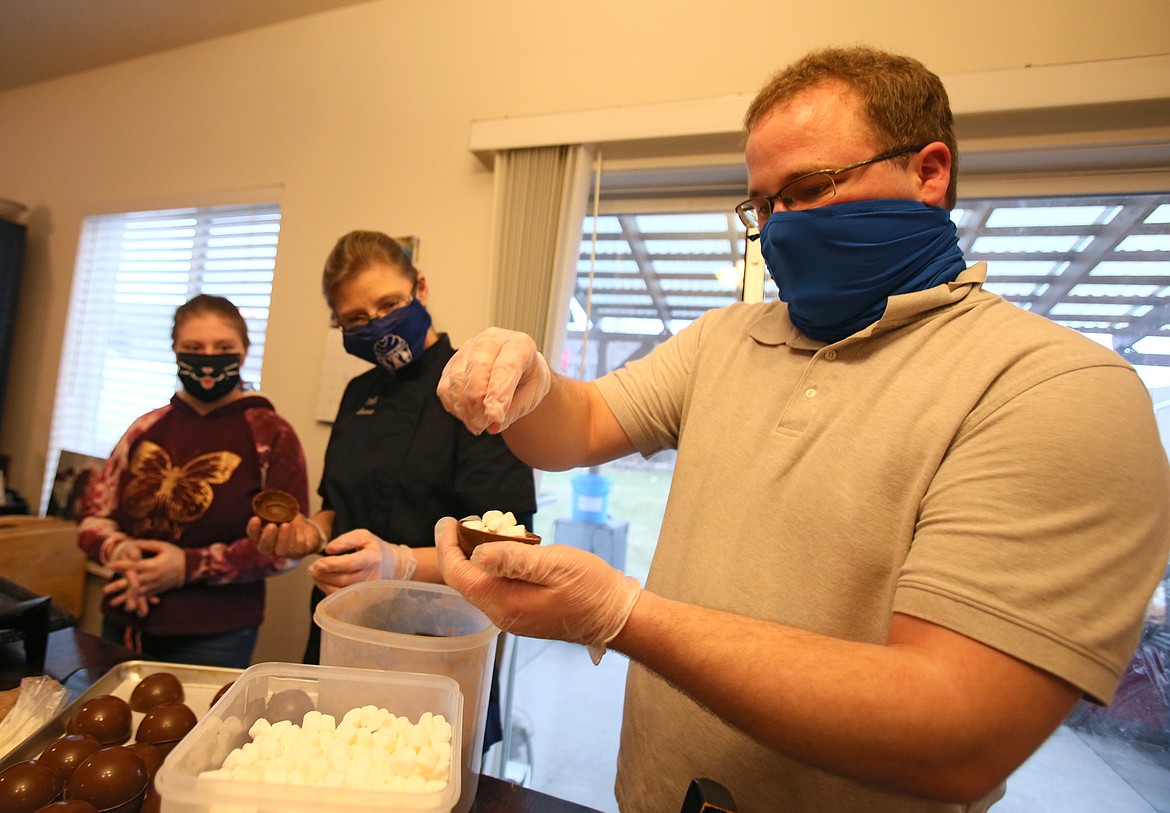 Andrew Shiley, 32, of Coeur d'Alene, carefully fills a chocolate cocoa bomb with miniature marshmallows Thursday evening in Village Bakery owner chef Dana Bellefeuille's Coeur d'Alene kitchen, which doubles as her business. She is in the process of finding a brick-and-mortar location for the bakery, which runs on volunteers to provide experience and opportunities for people with special needs and disabilities.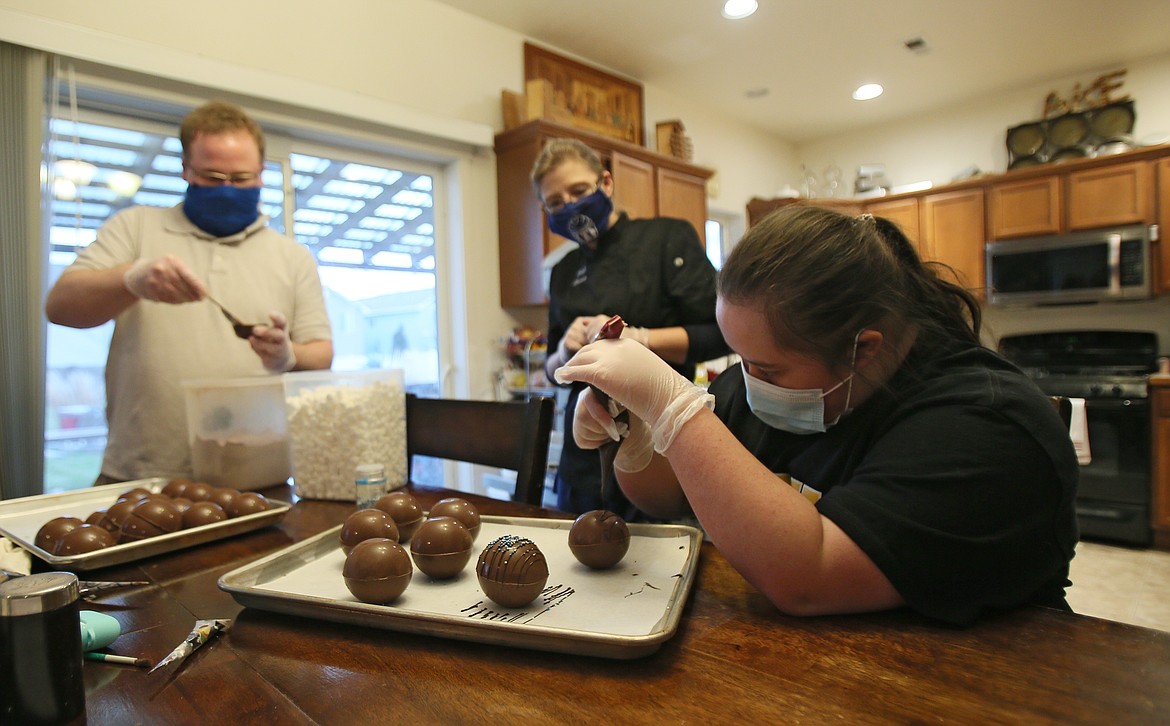 LoriAnn Macklin, 18, of Post Falls, drizzles chocolate on cocoa bombs during a visit to Village Bakery owner Dana Bellefeuille's house on Thursday. "I like to help make them," Macklin said.
The Village Bakery donated $10,000 to the Panhandle Autism Society on Thursday after a successful fundraiser selling wildly popular chocolate cocoa bomb treats. From left: Chef and owner Dana Bellefeuille; baking assistants Andrew Shiley and Lizzie Adams; and PAS Board President Jamie Jonz.
Previous
Next
by
DEVIN WEEKS
Staff Writer
|
January 18, 2021 1:08 AM
Happiness is a warm cup of velvety cocoa and marshmallows.
It's also a joyful kitchen that doubles as a bakery and triples as a loving space where people of all abilities are invited to make their dreams come true.
That's Dana Bellefeuille's kitchen — filled with love and delicious treats, founded on opportunities for all.
"Everyone just needs to be given a chance to shine," Bellefeuille said.
Bellefeuille is a self-taught chef who runs Village Bakery out of her Coeur d'Alene home. On Thursday evening, she and a few of her volunteers gathered to celebrate raising $10,000 for the Panhandle Autism Society through the sale of a super popular treat: cocoa bombs.
PAS, a nonprofit that supports individuals with an autism spectrum disorder and their families in North Idaho, contacted Bellefeuille about a possible cupcake fundraiser around Halloween. When the cupcake sales didn't take off, Bellefeuille found the sweet spot with a new treat that was sweeping the nation.
Cocoa bombs are hollow chocolate balls filled with cocoa powder and marshmallows and other goodies. When one half is filled, a little melting chocolate seals together the sweet sphere, which can be decorated in countless ways.
The cocoa bombs are then placed in mugs, to be doused with hot water or milk that causes the ball to burst in the cup, revealing the deliciousness inside.
"Cocoa bombs exploded," Bellefeuille said. "I said, 'Aha! This is what I need to do for their fundraiser.'"
The sweetness doesn't stop there.
Bellefeuille, who has 20 years of baking and culinary experience, mentors people with special needs and disabilities who dream of becoming proficient bakers and expanding their horizons.
All of her bakers-in-training are volunteers building their skillsets and enthusiastic to learn. All the funds Village Bakery has generated so far have gone back into the business. No one has taken a paycheck, she said.
"We've had teams of five, six people at a time donating their time and effort to come in and join me, side by side, to help get this launched," Bellefeuille said.
Her inspiration began where her heart is — her children. Bellefeuille has a son on the autism spectrum and a daughter who has a physical disability, "so their entire lives were surrounded by other kids with special needs," she said.
Everyone told her to open a bakery, but it just never seemed right.
"There's plenty of bakeries here, and I didn't see the need," she said. "Now I see the need on what we need to do."
The idea to dedicate her business to those with disabilities and special needs came to Bellefeuille as her son went through Project SEARCH, a high school transition program that provides education and training to young adults with intellectual and developmental disabilities.
"We met a young lady there who has Down syndrome, and she said that she wanted to work in a coffee shop or a bakery, and that's when the idea launched, because of the program there," Bellefeuille said.
When asked how she feels about how everything has transpired, "it's going to make me cry," she said.
"I cry happy tears every single day. Every single day, being surrounded by all of these wonderful people," she said. "I never wanted the bakery to be about me."
Baker-in-training Andrew Shiley, 32, of Coeur d'Alene, was all smiles as he talked about how tasty the cocoa bombs are. And his favorite part?
"Adding the marshmallows inside, of course," he said, giggling.
Lizzie Adams, 17, of Rathdrum, is laser-focused on building her culinary skills.
"I think it's a really good idea. I really like her ideas for the cocoa bombs," Lizzie said. "I really want to learn to bake from scratch."
Baking assistant LoriAnn Macklin, 18, of Post Falls, worked to decorate and add sprinkles to the cocoa bombs during a demonstration.
"I like to help make them," she said.
Village Bakery's popularity has exploded with the cocoa bombs, so Bellefeuille is seeking a brick-and-mortar building to expand her team and continue providing opportunities for everyone to shine in the kitchen.
"I can hardly wait," Shiley said.
Visit bit.ly/2XQdL8E or email goddessofcake@yahoo.com to connect with Village Bakery.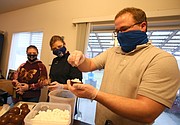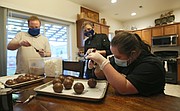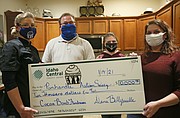 Recent Headlines
---