Homelessness: Not St. Vincent de Paul's Problem, Everyone's Problem
by
KIMBER LONDON/Coeur Voice contributor
|
January 16, 2021 1:00 AM
It is no mystery that winter in North Idaho brings with it freezing temperatures and hazardous weather conditions. St. Vincent de Paul has been a pillar of local communities for decades and is celebrating its 75th year in 2021. Their location in Post Falls has been operating a warming center during the winter months for 10 years now, an endeavor that was launched by CEO Larry Riley to provide aid to residents without homes in North Idaho.
"Winter means cold weather is coming and for those without homes winter is the enemy," Riley explains. "With the library closed we are one of the only resources in the area—our availability depends on mother nature. Generally the center is open from November to March with the throttle on temperature being 28 degrees or colder. That tends to be the sweet spot. While freezing temps begin at 32 degrees, 28 is when it becomes truly intolerable. Due to our mild winter this year, the situation isn't as bad."
Located behind the St. Vincent de Paul thrift shop in Post Falls at 202 W 7th St post Falls, ID 83854 a typical day at the warming center starts around 12pm when operations are announced for the night via broadcasts to Heritage Health, St. Vincent's partner, and Facebook. The center officially opens at 6pm giving folks time to grab a bite to eat at Father Bill's Kitchen in Coeur d'Alene with the option of public transportation to the center where they are provided basic necessities such as sleeping bags, blankets, coats, caps, and gloves. Generally most people arrive around 8pm. Guests are encouraged to remain inside until the 10pm cut off for lights out. This measure is to discourage drug and alcohol use during the shelter's operating hours.
"While 25% of our clientele may struggle with substance issues an overwhelming 75% are frugal and independent and if they can avoid the center they will. For some it's a shelter of last-resort, for others it's the first place they go." One watchman and one watchwoman are on duty all night on St. Vincent de Paul's payroll. With 30 cots donated by Krocs Center there is usually more than enough space for everyone.
Riley goes on to share that the warming center has experienced significant changes in light of the pandemic which have affected services like transportation from Coeur d'Alene to Post Falls, previously provided by a 12 seat passenger van. Unfortunately the van is no longer in service and with current social distance protocols is not a viable option for transport. In response, the center has extended its hours of operation from 7pm-7am to 6pm-7am giving those from CDA time to utilize public transportation. Although the 1700 foot warehouse does not currently have plumbing there are portable restrooms available that are pumped every two days. The center itself is deep cleaned after guests depart at 7am. When it comes to dealing with the health challenges of the pandemic, Riley discusses the center's provisions for pre-screening and quarantining.
"Due to COVID we now have our basement adjacent to the center for those with symptoms. In addition, every night we have professionals from Heritage Health a majority of the time, or North Idaho Aids Coalition and sometimes the Medical Response Council fills in." Riley states that the expected occupancy this year has dropped significantly than in recent years.
"Our capacity is 46 guests in compliance with Panhandle Board of Health regulations. Pre-Covid we would max out around 42 people. This year our seasonal high was 17 around Christmas and our low is 5." Riley expresses that this is a temporary situation most likely due to aid in response to the pandemic.
"Many have received stimulus checks and aid from the Federal CARES Act or have couch-surfing options, pooled resources to stay in motels or the ability to get low-income housing." However, with exponential growth in the area there will naturally be a rise in the number of needy, although Riley estimates the percentage will remain around the tenth percentile.
"This community is giving and in this part of the country people are the first in line to help someone in need however it is not a free-for-all. There are rules and expectations. People soon learn that resources here will help them get off their feet if you really want to commit. If people need help, we're here to help." Riley goes on to say that while St. Vincent de Paul has been able to fund this endeavor over the past decade they are unable to sustain these efforts in the long run.
"The common denominator we need is funding. Long term we need to look at brick and mortar solutions. The body count is going to grow. This can't be a "St. Vinny's" project it needs to be a community project. Let the city step in to help with funding while the professionals like Mike Baker's team at Heritage Health, mine at SVDP, and the CDA Police Department coming up with a solution together. We need to focus on a hand-up not a hand-out. This is everybody's problem, these homeless are citizens of North Idaho, not St. Vincent de Paul. A tipping point is coming where need will outgrow non-profit support."
Larry Riley has been dedicated to helping the homeless with the city who invited him to join the CDA 2030 Plan, a proactive look at the future. "We can't always be a resort, theme park town. I'm on the housing committee where I am able to advocate with City Hall for affordable housing. We need to look at density in housing and increase multi-family dwelling units."
With the pandemic affecting the average person, "low-income" is beginning to describe more and more people. It only takes COVID or a change in circumstances to be a step away from homelessness. Riley implores everyone to reflect on their blessings with his personal mantra "but by the grace of God go I."
So how can you help? Riley has some ideas.
"Right now the best volunteers are those who can provide crockpot food for the center. Our services are contingent on funding of which we have only a limited amount. If you can give, know that we are a frugal agency that understands the business model with 75 years of experience." Riley implores that simply bringing awareness to these issues is crucial.
"A well-defined problem is a problem half-solved," he reminds us. "We know this is coming. If we are proactive and work together now we can come up with a solution, especially as a collective community—we can get a lot of work done. There are those who make things happen, those who watch things happen, and those who wonder...what happened? You don't want to be an observer, nor an enabler. Finding the right balance is when the real magic begins. Consensus, collaboration and community is a powerful force. Which leads me to my final quip: divide and conquer!"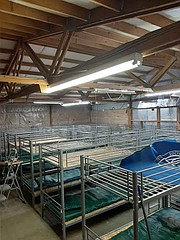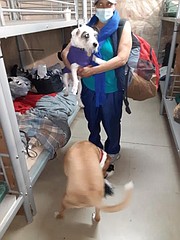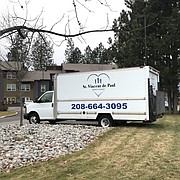 Recent Headlines
---