Rally for LGBTQ Youth set for Saturday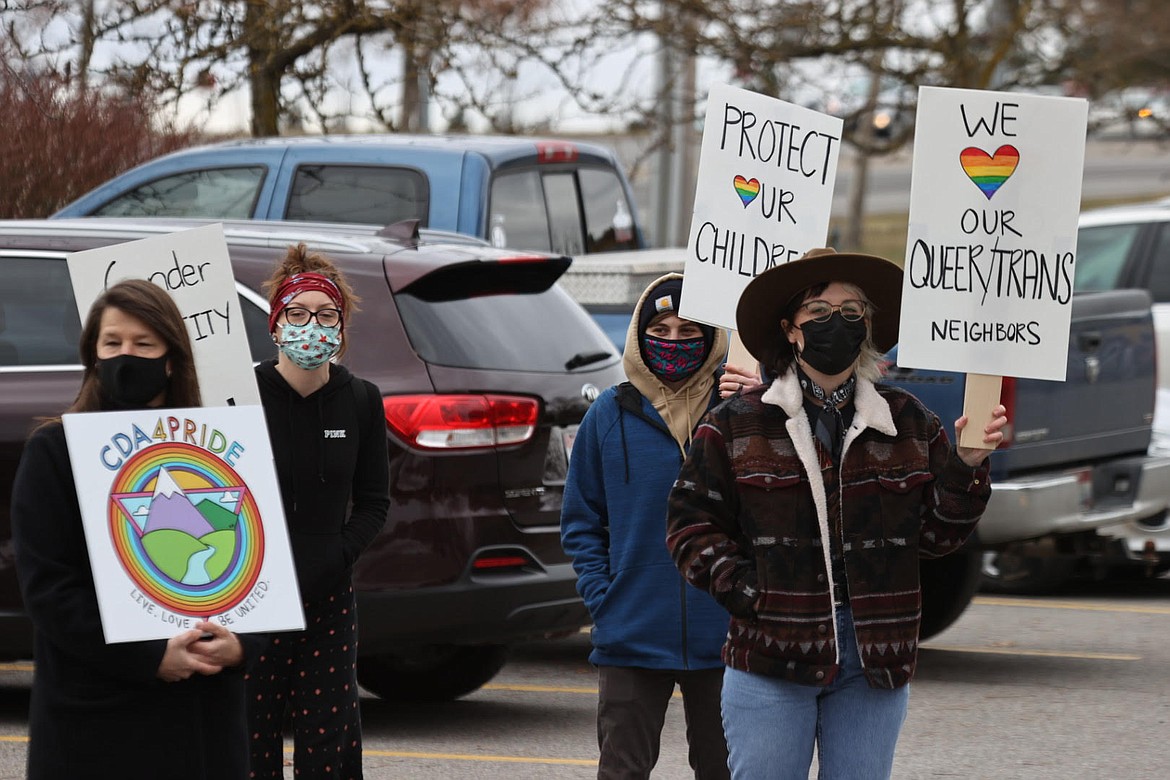 Demonstrators hold signs outside of the Coeur d'Alene School District office Monday during the "Stop the Child Abuse" rally. The "Rally for LGBTQ Youth" will be held in Coeur d'Alene City Park on Saturday.
Photo by DUANE RASMUSSEN
by
DEVIN WEEKS
Staff Writer
|
January 15, 2021 1:00 AM
The "Rally for LGBTQ Youth" has been set for 1 p.m. Saturday at the Rotary Lakeside Bandshell in Coeur d'Alene City Park.
It's being organized by Post Falls 18-year-old Erin Olson in response to the "Stop the Child Abuse" rally held Monday.
"I have grown up in North Idaho, and growing up here as a lesbian, it definitely gave me a strong passion to make this community more welcoming to LGBTQ youth, especially within an educational setting," Olson said Tuesday.
Olson, a Lake City High School graduate, is in college studying educational policy.
"Being able to create a school environment where students feel safe and welcome is so important," she said, adding that the rally "would be a really good opportunity to show LGBTQ youth in the community they are safe, loved and welcome to be themselves."
Attendees are encouraged to bring signs and dress warm. Social distancing and face masks to protect against COVID-19 will be enforced.
"This is a time of high political tension," Olson said. "I'm hoping that the event can be seen as a peaceful opportunity to express support for the LGBTQ community."
North Idaho Pride Alliance has expressed that it is "in full support of citizens taking action and wanting to organize within their own community," said outreach coordinator Jessica Mahuron.
"We're happy to support Erin's effort in organizing this rally, and thank her in providing this opportunity for many to demonstrate their support for LGBTQ youth, families and our schools," Mahuron said.
Recent Headlines
---