Voters sticking with political parties after riot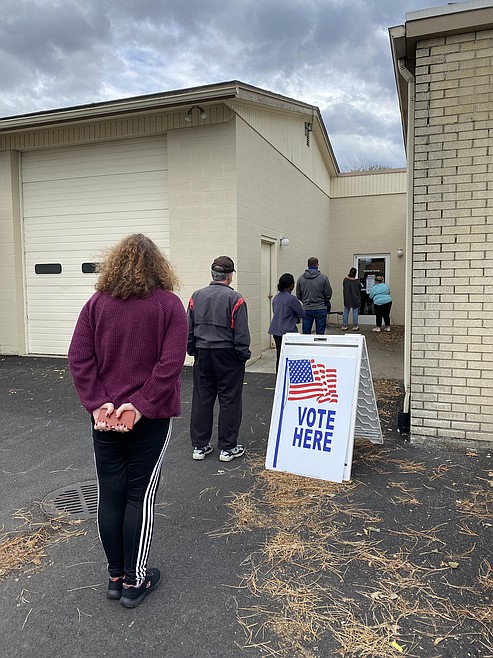 Kootenai County voters line up at the polls for early voting last year. (MADISON HARDY/Press)
by
MADISON HARDY
Staff Writer
|
January 13, 2021 1:07 AM
Riding on the coattails of a more-than-interesting election year and the recent insurrection in the U.S. Capitol, the Kootenai County Elections Office is seeing little to no change in voter affiliation.
"We have not seen a noticeable decrease in people unaffiliated with a party. Actually, they've grown in numbers," clerk Jim Brannon said Tuesday.
The year 2020 was the first time Idaho's Republican, Democratic, and Constitutional Party all held primaries. The Democrats and Constitutionalists previously gathered for caucus elections to select delegates who would choose candidates.
Since the Idaho Legislature passed House Bill 351 in 2011, which implemented a closed Republican primary system in the state, primary elections have allowed members of recognized political parties to determine the general election ballot nominees. The GOP has held closed primaries since 2012 while Democrats left it open for anyone to participate, deputy clerk Jennifer Locke said.
"One party is more dominant here, and so many races are decided at the primary level, so there are a number of people that will affiliate so they can vote in a primary," Brannon said. "That will probably not change until there is more of a balance in the number of people in each party."
The most recent data shows that of Kootenai County's 107,983 registered voters:
61,953 affiliate with the GOP
12,643 are registered as Democrats
468 are Constitutional
2,187 are Libertarians
30,732 are unaffiliated
It is not uncommon for voters to affiliate with a party before a primary election, Locke said, filing for one group and unaffiliating after the election. Still, elections manager Asa Gray said the office hasn't seen an uptick in requests since last week's riots.
"We haven't seen many people change their affiliation since the November election," Gray said. "Somewhere between 10 and 50."
Gray said the most significant jump he noticed in affiliation requests was before the Sheriff's primary election, where there was an increased number of Republican applicants. Changing affiliation is relatively simple, available either online or in-person through a form that requires either identification or driver's license number.
"We want to make sure that people are who they say they are," Brannon said. "It's just a matter of extra safety."
The next election, Locke said, will be in March to decide school levies. Online absentee requests are live for those who want to participate through mail ballots, but in-person voting will be available. The Lakeland and Coeur d'Alene School Districts have applied to participate, but there is still time for more to sign up.
---