THE CHEAP SEATS with STEVE CAMERON: WSU women, good golf around here, and why Pete wants to run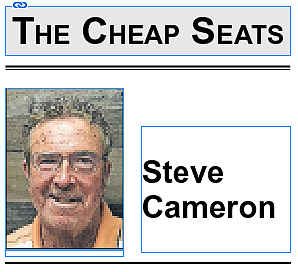 |
January 13, 2021 1:25 AM
Notes and quotes while processing the carnage from Alabama's stroll to another national championship…
The theme was decided early when Ohio State running back Trey Sermon wrecked his shoulder on the second play from scrimmage.
After that, there was no doubt about the winner — Bama took an early lead and eventually cruised home 52-24 — but merely the suspense over who could finish the game without a cast, or perhaps leaving the stadium without crutches.
You know, of course, that the most notable injury was suffered by Alabama star receiver DeVonta Smith, who damaged his hand on the first ball thrown to him in the second half.
Heaven knows what the score might have been with Smith staying healthy, since he caught 12 passes for 215 and three touchdowns in the first half.
There wasn't much suspense as Bama's Nick Saban won his seventh national title, but we got plenty of looks at those sideline medical tents…
ITEM: Washington State's basketball team — the men, I mean — has been a pleasant surprise so far.
The young Cougs have shown plenty of promise while going 9-2 overall and 2-2 in Pac-12 play.
But, hey…
What about the ladies?
The Wazzu women are 7-1 (5-1 in conference), and ranked No. 25 in this week's AP poll after knocking off then-No. 7 Arizona 71-69 on Sunday.
Charlisse Leger-Walker hit a layup just ahead of the buzzer in overtime to give WSU a program-boosting victory.
"We put the ball in Charlie's hands and gave her space so she could at least attack the rim at the buzzer, and it won us the game," said Washington State coach Kamie Ethridge.
The Cougs wouldn't have gotten to OT if Leger-Walker hadn't hit a shot with two seconds left in regulation – and that one came courtesy of an assist from her sister, Krystal Leger-Walker.
Good thing WSU did some recruiting in that household, eh?
ITEM: OK, so you're probably not thinking about golf these days.
Or maybe you are, at least in your dreams.
At least we know we'll have plenty of outstanding courses to play when the links gods gift us with sunshine and warmth once again.
Of course, there is the world-renowned layout at Twin Lakes Village…
Yes, yes, maybe I'm exaggerating just a teeny bit. But I live here, doggone it.
Meantime…
There are plenty of terrific courses in the area, including several that are open to the public.
How about this?
Golfweek's Ultimate Guide was published last week, and it included its annual top 200 resort courses.
Circling Raven (No. 139) and The Coeur d'Alene Resort Course (No. 182) were both included.
Have I told you about the time I drained a 15-footer to make birdie on No. 14 at the Resort?
No?
Let's make time, and I'll show you the certificate to prove it.
Not joking now…
I'm a fan of both the Resort and Circling Raven — two excellent resort links that are completely different, yet each spectacular in its own way.
Lucky us.
ITEM: The Seahawks are barely out of the playoffs, and if you were disappointed in the result, you're going to love Pete Carroll's plan to fix things.
I'm using that word "love" a bit tongue in cheek.
It seems that Pete feels the Hawks need to run the ball more.
Sorry, but that's what he said.
The coach insists that his club got out of balance, that it put too much pressure on Russell Wilson, allowed opponents to play coverages that stifled Seattle's attack, and…
Ah, I can tell you're NOT loving it.
"I know fans don't want to hear it," Carroll said in an interview published on the NFL's official site.
Carroll explained that lack of a running game allowed defenses to take away a lot of the looks that Wilson enjoyed during his hot start during the first half of the season.
Pete made it clear that he wanted his own offense to dictate what opponents would have to do — and that running the ball was the only way to manage it.
"Frankly, I'd like to not play against two-deep looks all season long," he said.
Two-deep is the defensive alignment that causes the most headaches for a quarterback who wants to throw the ball deep.
Let's all guess the QB Pete has in mind, shall we?
Email: scameron@cdapress.com
Steve Cameron's "Cheap Seats" columns appear in The Press on Mondays, Wednesdays and Fridays. "Moments, Memories and Madness," his reminiscences from several decades as a sports journalist, runs each Sunday.
Steve also writes Zags Tracker, a commentary on Gonzaga basketball which is published each Tuesday.
---