Cd'A wants public's help preserving its past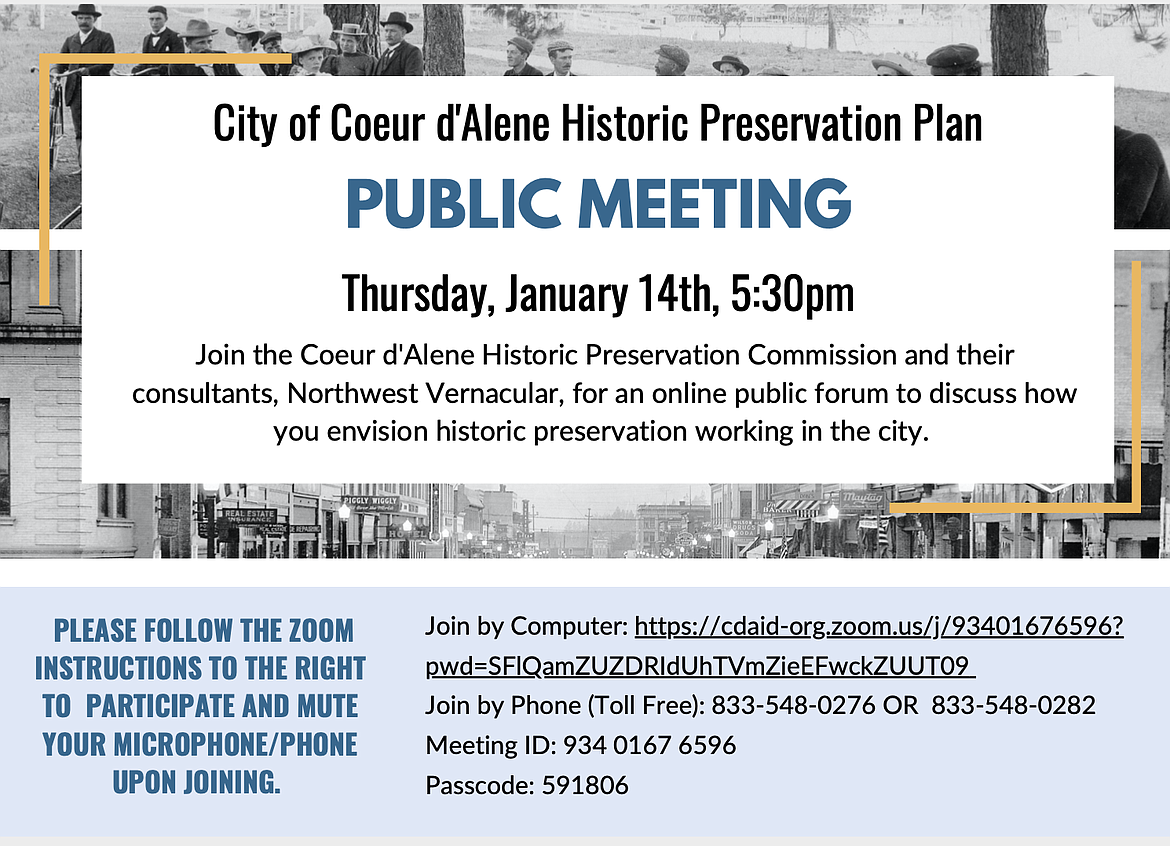 Coeur d'Alene's Historic Preservation Commission is seeking public input on how to craft its preservation plan, which will guide the commission's decisions on what to prioritize over the next 10 years. (Courtesy city of Coeur d'Alene)
by
CRAIG NORTHRUP
Staff Writer
|
January 9, 2021 1:00 AM
This Thursday, the city of Coeur d'Alene is asking its residents to, quite literally, make history.
The Historic Preservation Commission, the newest addition to the city's administrative arsenal, is holding what organizers are calling a critical online forum to help garner public input in an effort to help shape the future of Coeur d'Alene's past.
"I think anything that's done when the city seeks public input, when the people who work here look to get a broad [sample] of the community, it's always a good thing," said Dave Walker, chair of the commission.
As part of a two-pronged focus on public input, the city launched a survey on its website, gauging individual perspectives and interests in Coeur d'Alene's history. That survey will remain open through January.
In addition, Thursday's new virtual public forum will allow commissioners and staff to hear directly from residents about some of the paths the community would like to see the commission follow in the year and years to come. Walker said he was excited to listen to the community's input, both through the online survey and in Thursday's Zoom meeting.
"I'm just speaking for myself," he said, "but nobody on there has a preconceived notion for how this is going to look like. The promising thing is, when I look around this city, you look at the programs and institutions we've had in this city that have been huge successes. I'm eager to hear what people have to say about our history."
Walker added that just because something lived in the past doesn't mean its memory will live on without help, and that Coeur d'Alene's past is subject to erasure each day with the looming threat of one of the city's longest-enduring problems: growth.
"The city realizes we're at a point where our growth is astronomical," he said. "Education. Housing. Zoning. We're not Philadelphia, but we have a pretty great history that goes back to the 1800s. For me, personally, the many buildings that aren't here anymore — the Woolworth that burned down, the Desert Hotel — these were fascinating pieces of our story, and having some kind of historic preservation will help the city keep part of its past."
Walker cited the recent last-minute salvation of the Hamilton House from demolition and the 2019 move of the J.C. White House to its new location at the base of Tubbs Hill as examples of how locals are anxious to preserve Coeur d'Alene's history amid an ever-changing landscape. That changing landscape is something council member Kiki Miller — liaison for the commission — said is what has stoked the fire to lift Coeur d'Alene's historic preservation movement off the ground.
"Primarily, there have been people who have been here a long, long time, and they're seeing the city change so rapidly," Miller said. "I think this is a way to preserve the things that mean so much to this city. It tugs at the heartstrings to hold on to those things.
"Likewise," Miller added, "there's a big contingency of newcomers who want to preserve what attracted them to the city in the first place. They want to see that preserve that uniqueness and charm that originally attracted them to Coeur d'Alene."
Both the forum discussions and survey results will help the commission form its historic preservation plan, a document that will serve as a roadmap to help guide the commission's decisions for the next 10 years. The city received a grant from the National Park Service through Idaho State Historic Preservation Office to build the preservation plan, which will aim to establish Coeur d'Alene's vision, goals and priorities of the city's historic resources.
The city has sought the help of Northwest Vernacular, a historic preservation consulting group that has helped cities and governments preserve histories and work with national registries. Most recently, Northwest Vernacular worked with the city of Wallace to help establish its preservation plan. Katie Pratt of Northwest Vernacular said Coeur d'Alene is making the right decision starting with a forum for robust community input.
"I think, the commission having their first action item getting a preservation plan in place will help future challenges occur," Pratt said. "What will happen sometimes is that commissions will lose momentum. Having a plan in place will help them keep the program moving forward, especially as we return to post-COVID normalcy, where we can get out start attending these meetings again and see some of these great historic places."
Northwest Vernacular will then collect and analyze the data and responses before making its recommendations to the commission, a process Pratt said was anything but cookie-cutter.
"Having a public forum helps us get an idea about what's unique or special about a particular city," Pratt said. "What works in one city won't necessarily work in another."
All Coeur d'Alene community members and property owners are invited to attend the upcoming public meeting to learn more about historic preservation, ask questions, and provide feedback for the plan. The meeting will include a presentation, live polling, and an opportunity for questions and answers. It will be held via Zoom on Thursday, Jan. 14, at 5:30 p.m.
To attend, follow the instructions below:
By Computer: https://cdaid-org.zoom.us/j/93401676596?pwd=SFlQamZUZDRIdUhTVmZieEFwckZUUT09
By Phone (Toll Free):
1-833-548-0282 or 1-877-853-5257
Meeting ID: 934 0167 6596
Passcode: 591806
Recent Headlines
---