Pack your bags kids, you're going to school — full time!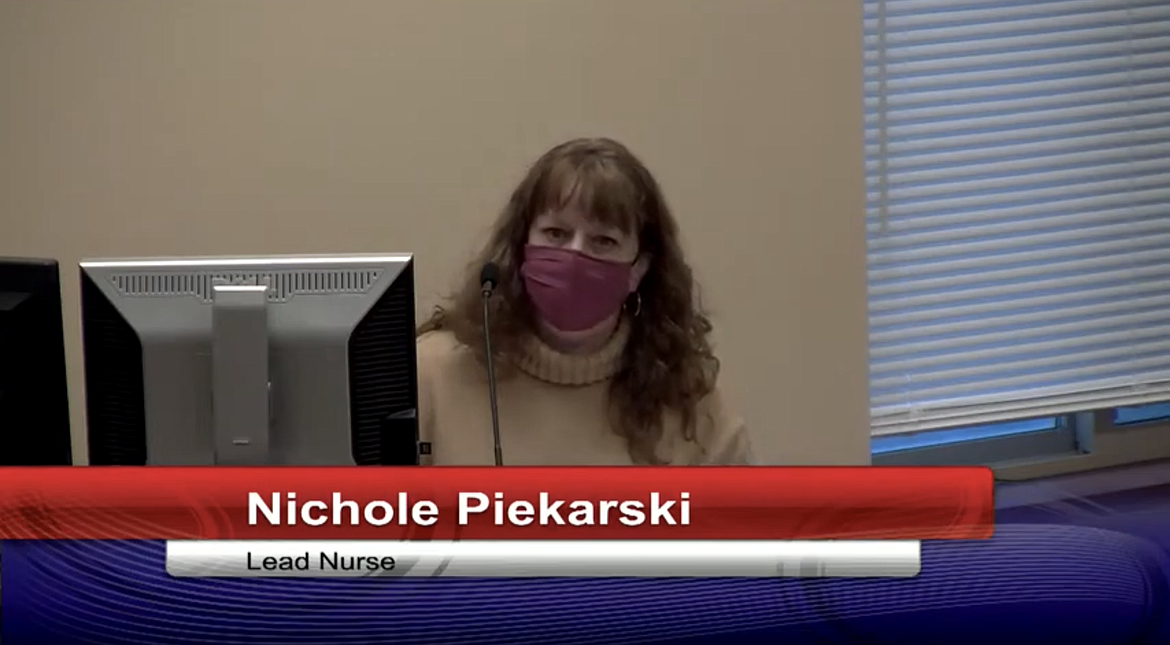 Coeur d'Alene School District Supervisor School Nurse Nicole Piekarshi reported that as of Thursday there were only two new cases district wide. Last week, by comparison, had nine cases, and the week before 16. (MADISON HARDY/Press)
by
MADISON HARDY
Staff Writer
|
February 26, 2021 1:08 AM
In a unanimous decision by the Coeur d'Alene School District board of trustees, elementary and secondary students will be returning to five-day in-person learning on April 5, after spring break. 
Elementary school students will move back into the pre-pandemic schedule in two phases. The first starting March 1 through March 12, cohorts will expand from classrooms to entire grade levels. Schools will decide what works best for their lunchroom and recess schedules — based on area size and comfortability. Teachers will also begin releasing kids freely at the end of the day, compared to the present system of supervised exits, so educators have more time for out-of-classroom obligations. 
A couple of weeks ago, the district sent out a communication to staff and families about their thoughts on returning to a five-day schedule. Superintendent Steve Cook noted that Wednesdays had become a reprieve for educators and students, a time to recollect themselves, plan for the week, and take off the masks. Part of easing the teachers back into full-time while maintaining the same mitigation responsibilities. 
"Wednesdays became that sanity day when teachers could do a lot of preparation," Assistant Superintendent of Elementary Education and Instruction Kate Orozco said. "We hope by after spring break we could think about five days and be satisfied that teachers would feel comfortable that a transition is a manageable approach for them."
"Soft starts" will still be operating for children to come into the classroom early, and masked volunteers will be allowed to begin aiding teachers and administrators after temperature and symptom checks. 
Phase two begins March 15 and continues until spring break's start on March 29, Cook said. During this stage, teachers will start relaxing recess cohorting but remain mindful of maintaining two grade levels or less on the playground at a given time. Any overlapping of grades will be limited to five minutes or less. Extracurricular school clubs and learning groups will also meet — with the proper social distancing, masking, and supervision — before and after school. 
Trustee Tambra Pickford expressed her excitement for returning to five-day schedules and seeing children back in school full time. However, she noted that many emails she received from the community wanted to keep the four-day system. 
"I was surprised to see how valuable Wednesdays have been and the consistency it's brought," Pickard said. "I'm grateful for these phases because I think of the elementary kids, you know, they haven't had lunch in the lunchroom — that's pretty exciting. So I can imagine if you haven't been in elementary school the excitement of any change that would bring, let alone getting to have recess."
Secondary schools have only one phase for reintegrating back to full-time in-person learning running March 1 through March 26 and will also permit masked volunteers. The district hopes that the five-week rolling process will allow students who may have jobs, dual enrollment, or alternative responsibilities to assimilate back to the five-day class schedule. 
"The fact that the students had time available on Wednesdays wound up being a focal point for those dual enrollment classes," Assistant Superintendent of Secondary Education & Curriculum Kelly Niccolls said. "That's one of the really important reasons we wanted to spend a little bit of time giving that opportunity to transition away from that so that those students weren't hit blankly."
Schoology, the online learning platform, will continue to operate, Director of Technology Seth Deniston told the board. All teachers will connect once a week with students through the platform as part of the Blended Learning framework.
The decision comes after weeks of steady decreases in COVID-19 case numbers across the country and a drop in the moving average incidence rate. 
During the meeting, Coeur d'Alene School District Lead Nurse Nicole Piekarski referenced data from Panhandle Health District that showed Kootenai County's current seven-day moving average has decreased to 16 cases per 100,000. COVID-19 positivity rates in the county are also down, she said, to 8.7%. School data shows a similar trend, Piekarski noted, and as of Thursday, there were only two cases reported districtwide. Last week, by comparison, had nine, and the week before 16. 
Cook notes that if the data continues to show a steady decrease of incidents and transmission within the community, they could look at returning permanently to five-day schooling and even reconsider the mask policy sometime before the school year ends. 
"I just want to thank our students, our staff, and our community for having grace with us this year," Board Vice-Chair Rebecca Smith said. "It's been a difficult year for everybody and more change than any individual in any situation should have to endure, so I hope moving forward we've provided a plan that gives some stability for our students, staff and our community."
Schools must additionally continue to:
Avoid assemblies
Avoid any relaxation of masking policies and procedures — including recesses and bus transportation 
Secondary schools must continue to clean during transitions
Elementary schools must continue to wipe surfaces in the morning, and specialists should continue to clean between rotations of classrooms 
The board will meet for its regular monthly meeting Monday, March 1.
---