St. Maries physician honored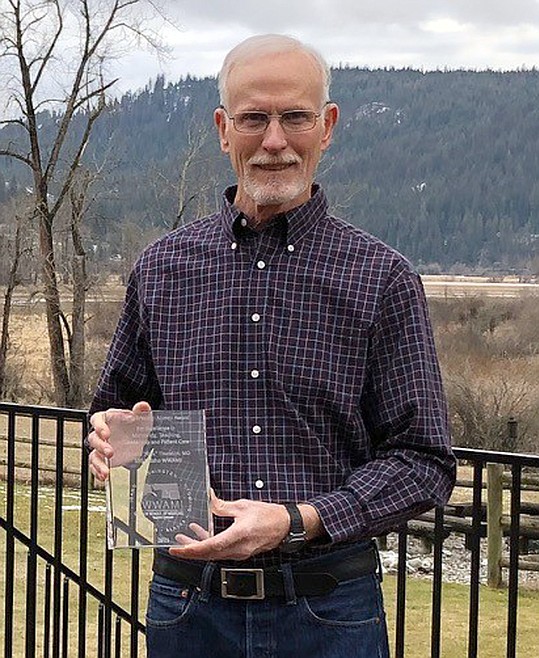 by
By LINDSAY LODIS/University of Idaho
|
February 16, 2021 1:00 AM
Rhegan McGregor's birth was not going the way her first-time expecting parents hoped.
In December 1996, they learned at delivery that their daughter's umbilical cord was wrapped around her neck and that she was struggling to breathe. Upon arrival, McGregor's skin tone was blue. Rick Thurston, M.D., a WWAMI Medical School graduate from Idaho and longtime family practitioner in the Gem State, helped save McGregor's life.
Thurston, who spent 27 years practicing medicine in and around St. Maries before retiring in 2018, is the recipient of the 2021 Idaho WWAMI Alumni Award for community contributions, helping teach the next generation of physicians and providing exceptional care.
The WWAMI Medical Education Program is led by the University of Washington School of Medicine and serves a five-state region (Washington, Wyoming, Alaska, Montana and Idaho). Like each state involved in the partnership, Idaho WWAMI provides an opportunity for students to attend one of the best medical schools in the country in their home state for in-state tuition. In Idaho's case, students attend their first two years of medical school at the University of Idaho, the same university that Thurston attend for undergrad.
"As I reflect back on many years of life and medical practice in St. Maries, I feel so blessed and privileged to be part of so many lives," Thurston said. "Hopefully, I have positively touched these people and their families as much as they have touched me."
Thurston's actions during McGregor's birth would be the first of many to positively influence her life.
Upon graduating from St. Maries High School, she was awarded the Thurston Memorial Scholarship, which supports graduates who want to major in the medical field. As an undergrad, she shadowed Thurston in the Benewah Community Hospital Emergency Room, which solidified her decision to apply to medical school. Today, McGregor is a first-year student at Idaho WWAMI.
"I hope to follow in the footsteps of Dr. Rick Thurston as I pursue my education," McGregor said. "I would like to return to a rural Idaho community, provide quality health care that is amplified by both relationships and service. Additionally, as a future physician, I want to repay the favor of mentorship to the next generation of physicians just as Dr. Thurston has."
Three Generations of Dr. Thurstons
Thurston has deep roots in St. Maries. His father, Walter Dyce Thurston, M.D., practiced medicine there for 40 years and delivered more than 1,200 babies, including McGregor's mother and father.
"Growing up in St. Maries, I saw how much my father enjoyed his work and that people appreciated him," Thurston said. "Once I had the chance to set up practice here, dad was still around and he helped mentor me. It was a really special time, being able to pick his brain about patient care."
Thurston's son, Bill Thurston, is following a similar path to his father and grandfather. After leaving St. Maries to attend U of I himself, Bill started medical school with Idaho WWAMI. Next month, he will learn where he matched for a three-year medical residency. His fingers are crossed that it's close to home.
"I'm like my father in that the connection to people is a fulfilling aspect of medicine, and I think that that may be more pronounced in a small town," Bill said. "I'm proud of the connection my family has with generations of families in and around St. Maries. It's an honor to carry on that legacy."
Award-winning Alumni
Rick Thurston served as Benewah Community Hospital's chief of staff for six years and emergency room medical director for over 20. He was also medical director of St. Maries Volunteer Community Clinic for 16 years and St. Maries Ambulance for 20 years.

Thurston and his wife, Karen, routinely hosted summer picnics for EMTs and their families. The two of them are also founding committee members of the St. Joe River Marathon.
"His mission is to improve the lives and health of individuals through community involvement," said Jeff Seegmiller, WWAMI director at the U of I.
Thurston stayed engaged with his hometown and with state and national medical organizations throughout his career, including:
• American Medical Association member;
• American Academy and Idaho Academy of Family Physicians member;
• six years on the Idaho Medical Association Board of Directors, including the last year as president;
• nine years on the Blue Cross of Idaho Board of Directors;
• six years on the Admission Committee for Idaho WWAMI;
• and six years on the Shiloh Christian Guest Ranch Board of Directors
"We can't think of a more deserving person to present this award to," said Mary Barinaga, M.D., WWAMI assistant clinical dean of regional affairs. "Dr. Thurston displays dedication, empathy, knowledge, leadership and humbleness. He exemplifies the characteristics and qualities that are desired in a physician."
Among the aspects Thurston likes most about retirement is interacting with his former patients, albeit at church or a football game instead of in a clinic.
Whether or not he's wearing a stethoscope, Thurston will always be a small-town doctor that strives to positively influence people's lives.
Recent Headlines
---