Sandpoint man implicated in Capitol insurrection
by
KEITH KINNAIRD
Hagadone News Network
|
February 13, 2021 1:00 AM
SANDPOINT — A 32-year-old Sandpoint man was arrested Friday in connection with the insurrectionist unrest in Washington, D.C., on Jan. 6.
Michael Anthony Pope is charged with two felonies and five misdemeanor charges, according to U.S. District Court records. The felony charges allege Pope obstructed an official proceeding and engaged in civil disorder on the day Congress convened to certify Electoral College ballots, which cemented Joe Biden's presidency and the defeat of former President Donald Trump.
Misdemeanor charges against Pope include entering and remaining in a restricted building, disorderly and disruptive conduct in a restricted building, disorderly conduct in a capitol building, impeding passage on capitol grounds and demonstrating in a restricted facility.
Pope was among the thousands of Trump supporters who converged on the Capitol and is now among the hundreds of people who have been charged for taking part in the insurrection.
Pope surrendered to FBI agents and was taken into custody without incident, the agency said in a news release.
Pope went before U.S. District Judge Candy Dale in Boise via videoconferencing on Friday, federal court records indicate. He was released after Assistant U.S. Attorney Traci Whelan and Pope's counsel, Coeur d'Alene attorney Michael Palmer, reached an agreement on release conditions, federal court records indicate.
Pope's conditions of release require him to report to pretrial services officials on a weekly basis or as directed. Pope's travels are restricted to the 10 northernmost counties of Idaho and the District of Columbia to attend court hearings, according to court documents. He's also barred from leaving the country without authorization or possessing firearms, destructive devices and other weapons.
Pope is scheduled to go before a federal judge in Washington, D.C., over video on Feb. 19. He is waiving his right to a preliminary hearing, according to court documents.
The felony obstruction charge is punishable by up to 20 years in prison, while the felony civil disorder charge is punishable by up to five years in prison, according to U.S. Code. Conviction on the misdemeanor charges can result in punishments ranging from six months to one year of incarceration.
The criminal case against Pope is filed under seal in federal court in the District of Columbia.
Zia Faruqui, a U.S. Magistrate Court judge in Washington, D.C., entered an order on Wednesday stating that the criminal complaint and other court documents should be sealed because there are grounds to believe that their disclosure will result in a flight from prosecution, destruction of or tampering with evidence, and intimidation of potential witnesses, federal court records show.
Pope is the second Idaho man to be arrested in connection with the Capitol riot. Treasure Valley resident Josiah Colt turned himself in last month after he was seen jumping onto the floor of the U.S. Senate and posting videos on social media that depicted him admitting to being involved. Colt issued a public apology for his actions.
Pope's brother, William, was also arrested on Friday in Topeka, Kan. He faces a similar set of charges, but his case is also sealed.
The Topeka Capital-Journal reported that William Pope, 35, acknowledged to the newspaper that he was among the thousands of people who stormed the U.S. Capitol, and he was caught on video inside the building.
"I was at the Capitol to exercise my First Amendment rights and remain loyal to the United States of America," William Pope said.
He said he was not violent during the riot, and he reported himself to the FBI a few days later because "it was the right thing to do."
•••
The Associated Press and the Idaho Statesman contributed to this report.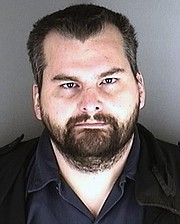 ---