BLM implements mask requirement
|
February 5, 2021 1:00 AM
COEUR d'Alene — The Bureau of Land Management said Thursday it is immediately implementing a mask requirement for employees, visitors, partners and contractors in all BLM facilities and buildings. Also, masks are required outdoors on public lands where physical distancing is not feasible.
"Ensuring people use masks when physical distancing is not an option and washing hands is the best way to stop the spread of COVID-19," said Mike Nedd, BLM deputy director of operations. "Getting outside and enjoying our public lands is a great way to be active during the pandemic. We want to make sure our employees and visitors remain safe while recreating on BLM-managed land."
Masks are also required on BLM-managed public lands when physical distancing cannot be maintained, including narrow or busy trails, overlooks, and historic homes.
One of BLM's most popular hiking trails in Kootenai County is the Mineral Ridge Scenic Area and National Recreation Trail east of Coeur d'Alene just off Highway 97.
In a press release, BLM said the move is to "protect the health of those who live, work and visit BLM-managed public lands and facilities, and in support of President Biden's Executive Order on Protecting the Federal Workforce and Requiring Mask-Wearing."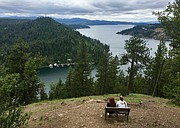 ---