'21's Top 10 Tales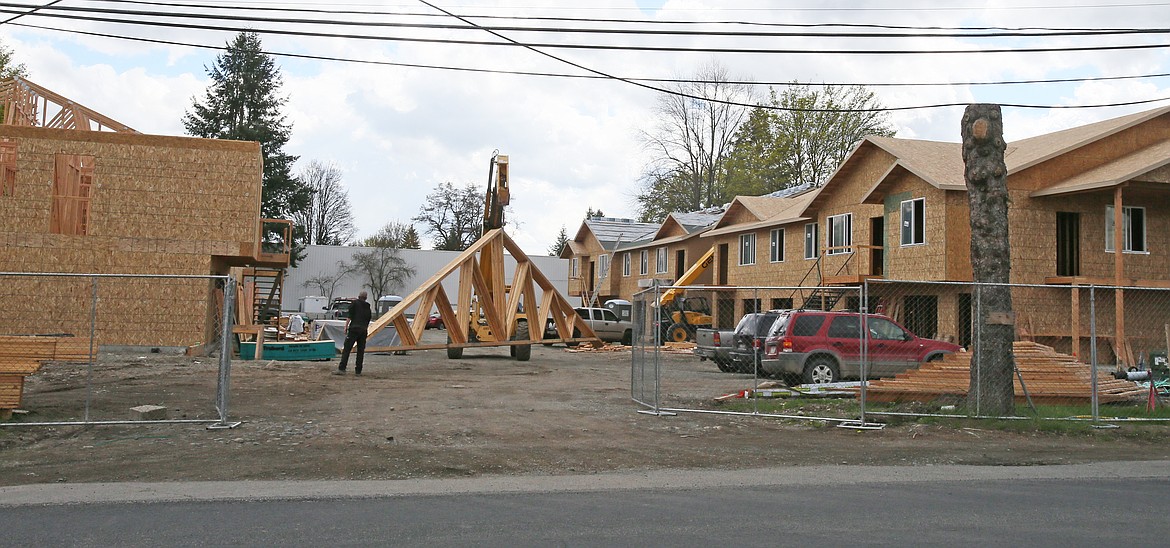 Construction continues to swell throughout Kootenai County, including this multi-family project on Hayden Avenue near Capone's in Hayden. The land crunch, skyrocketing housing prices and the escalating demand for public services has sparked a new regional partnership to explore solutions to the local growth crisis. (DEVIN WEEKS/Press)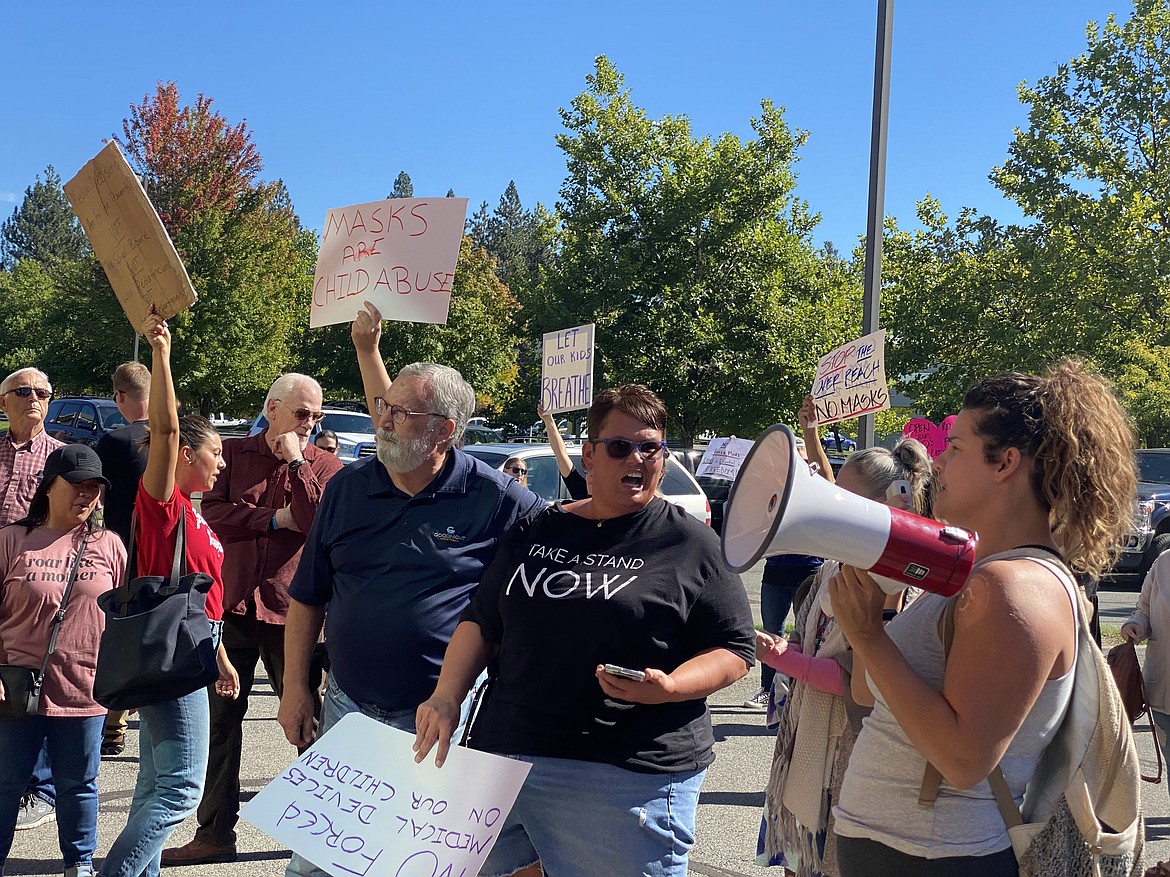 Nearly 200 people protesting a possible mask mandate shut down a special Coeur d'Alene School Board meeting Friday. Here, individuals in the crowd yell their grievances at the district office after moving from the original meeting location. (MADISON HARDY/Press)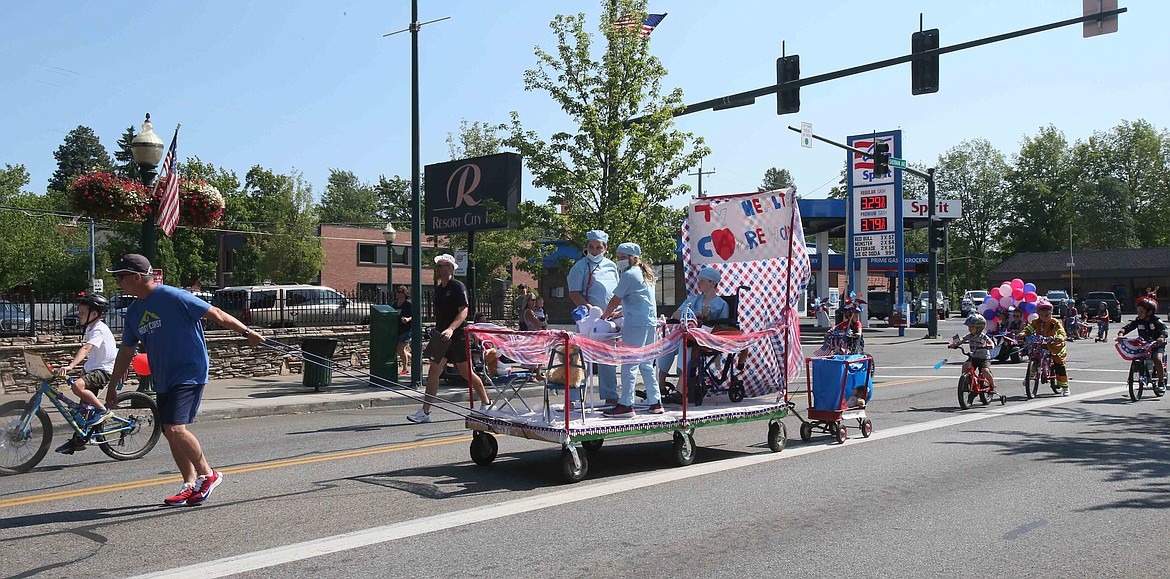 Tristan Riplinger, Shannon Riplinger and Anna Graupman salute America's doctors and nurses with their "Thank you health care workers" float in the Kiddies Parade on Friday.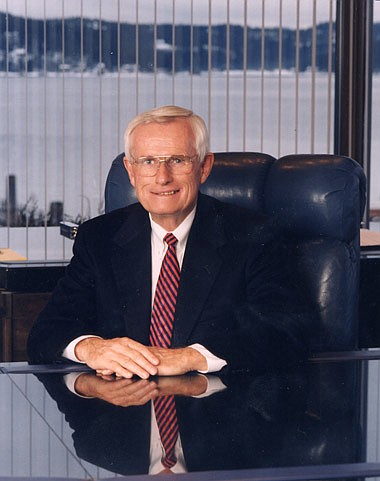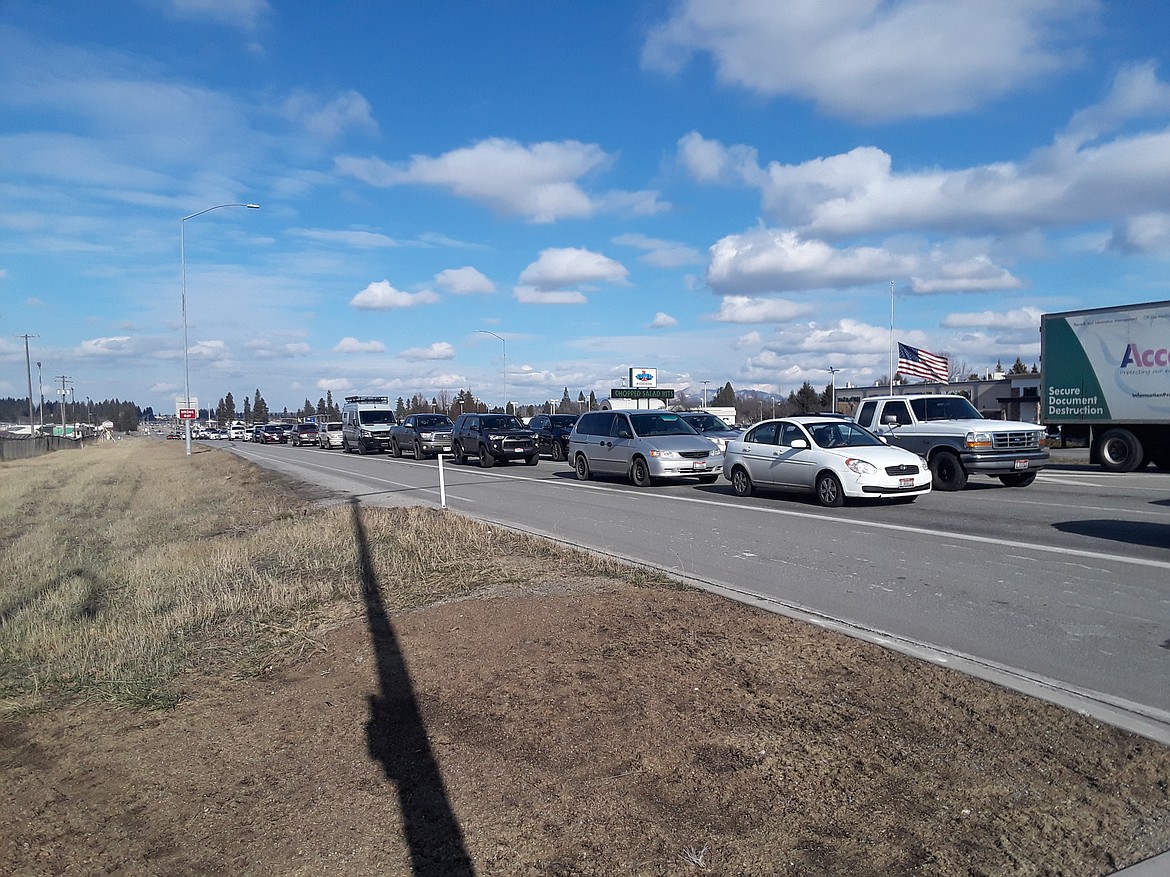 Lunch hour traffic piled up Wednesday, Feb. 10, 2021, as southbound traffic on Highway 95 built up into stop-and-go for parts of the day. Ed DePriest, co-administrator of a new Facebook page devoted to responsible growth in North Idaho, said traffic is the most readily-apparent problem that comes with growth. (CRAIG NORTHRUP/Press)
Previous
Next
by
MIKE PATRICK
Staff Writer
|
December 31, 2021 1:09 AM
Some stories are short and sweet — or sour.
Some are more epic, chapter upon chapter — not single snapshots but slideshows. (Hint: The two "stories" tied for No. 1 fall into this category.)
When Press newsroom editors and reporters got together this week to hash out their humble opinion of the most important local stories of 2021, all kinds were proposed. Some were strongly debated and eventually discarded; others, consensus was almost instantaneous.
Criteria was completely unscientific. Which stories generated the most community discussion, letters to the editor, comments on the Press Facebook page? Which made the Top 10 list based more on gut feelings and a fairly good understanding of where this community has gone in the past couple of decades?
With the admonition that this list is intended only as a conversation starter and not as a final word, we commend to you our Top 10 list. Letters to the editor expressing other ideas are always welcome.
HONORABLE MENTION: Passing of longtime civic leader Ron Edinger; return of summertime parades and festivals, COVID-19 be damned; Nelly stirs 'em up with North Idaho State Fair booking; Tyler Rambo sentenced; Kootenai County Humane Society breaks ground on new facility
10) Major mall moves. May 16 was a day of infamy for local JCPenney fans, when the store permanently closed its doors at Silver Lake Mall in Coeur d'Alene. That retail institution's departure followed its graveyard predecessors Kmart, Shopko and Sears — cruel blows to longtime customers.
But there was good news for mall fans, too. Silver Lake's gradual demise was halted and reversed under new local ownership by the Knoll family, owners of the wildly successful Black Sheep Sporting Goods. An October Press headline pretty well summed it up: Making the mall magic again.
9) CDA School District under attack. Not quite literally, but 2021 saw a national anti-public education movement hit home with increasingly volatile patrons alleging insidious programs were being taught here. Verbal fury unleashed during public comment portions of school board meetings — meetings that typically garnered little attention, let alone unbridled passion — reached a peak on Friday, Sept. 24. That's when about 200 people showed up at the school district's Midtown Center to protest a possible return to masks in schools. The angry mob concerned police enough that school district officials were escorted out the back door and the meeting was canceled.
8) Crime and punishment. We're tossing two big stories into one listing because, well, to do otherwise would give us a Top 11 and that will never do.
*Down she goes — thank God. May 24 was a grand day for lovers of justice. That's the day confessed murderer Laurcene "Lori" Isenberg was handed a life prison sentence. So ended a three-year episode that started with Isenberg being investigated for more than half a million dollars from a local nonprofit and ended when she killed her husband, Larry, when he was on the verge of discovering his wife's transgressions.
*The other reaper. COVID-19 wasn't the only killer turned loose on North Idaho in 2021. The rapid, terrifying increase of lethal doses of fentanyl claimed 16 local lives this year, double the deadly total from 2020. As the year was ending, law enforcement officials were essentially pleading with people to avoid fentanyl at all costs.
7) Wild and weird weather. Mother Nature didn't wait long to serve up a nasty curve. On Jan. 13, she unleashed a windstorm that knocked out power and tore up untold trees throughout the region. The big blow so reminiscent of a November 2015 tempest was only the first trick up Ma Nature's sleeve. In June, temperatures reached 110 degrees as a handful of cities beat or tied their all-time high temps.
The blistering heat, which persisted through one of the hottest summers on record, was accompanied by severe drought conditions. But for those who complained that it was too hot and dry, we're on the other side of wrathful weather. To say that dogs are sticking to fire hydrants is barely stretching the truth.
6) Election battle lines drawn. In this corner, ladies and gentlemen, the Kootenai County Republican Central Committee, recent arrivals calling themselves political refugees, and some of the region's most conservative conservatives. And in the other corner, businesses, education advocates, so called RINOs (they prefer the term "reasonable Republicans") and independents determined not to let the far-right take over every elected office in the land.
The result? On Nov. 2, it was a mixed bag. Perhaps no race personified the high-stakes battle better than recently arrived Post Falls resident David Reilly's quest for a school board seat. Reilly, who made national headlines because of his alleged ties to white nationalists and antisemitic sentiments, was defeated in a low-turnout contest. But Reilly, who was endorsed to the finish line by the Republican Central Committee, still collected 47 percent of the vote.
5) Prices through the roof. One could argue that the insane surge of housing costs in Kootenai County should be the No. 1 story of the year. One would not be wrong. But one will see that this topic is included in a broader story topic higher up on the list.
In the spring, The Wall Street Journal and Realtor.com rated the Coeur d'Alene metropolitan area as the hottest real estate market in the entire nation. The median sales price was up 47 percent in March, and many homes put up for sale received multiple cash offers almost instantly — often leading to bidding wars.
Meantime, rents also skyrocketed, leaving the region awash in this worry: Where will young families and essential local workers live? If you were selling or borrowing against your abode, 2021 was a damn fine year. But for everyone else it was a housing nightmare — one that doesn't appear to be going away any time soon.
4) North Idaho College goes nuts. Well, it did. A newly elected Board of Trustees majority spent most of 2021 wreaking havoc on the community's beloved college, firing its president without cause, shutting off many public comment opportunities, seeing almost the entire leadership team depart, and setting off enough complaints and serious concerns to generate state and national attention, including the prying eyes of the organization that accredits colleges and universities. Oh — and the board majority also appointed the school's wrestling coach as interim president.
P.S. The three-member majority were all supported by the Kootenai County Republican Central Committee.
3) Death of Duane B. Hagadone. The business tycoon who grew up on the shores of Lake Coeur d'Alene and built an Inland Empire empire starting with community newspapers, died April 24 at the age of 88.
Recognized as the region's greatest visionary and one of its most remarkable cheerleaders, Hagadone invented a local hospitality machine that featured the Coeur d'Alene Resort and floating green-noteworthy Coeur d'Alene Golf Course, restaurants, marinas and more. He started it all as a young college dropout by selling ads for the Coeur d'Alene Press, the start of an incredible journey that took him many times around the world — always to return to the place he loved like no other.
TIE
1) COVID-19 refuses to die
1) Growth dominates North Idaho life
Call it a cop-out, but these two issues combined inextricably to alter the landscape like nothing else in recent — or maybe even not-so-recent — history.
The pandemic ebbed and flowed through the year, and a weary public stood down from some of the sterner stances in 2020 like mask mandates and restrictions on churches and businesses. But one look at our vital healthcare industry tells the tale of the tape: COVID-19 and its delta variant took a terrible toll on patients and providers alike. And for those who lost loved ones to the virus in 2020? There's no debate that this was the most important and devastating local story of the year. And with local vaccination rates among the lowest in the U.S., there's a good chance this story will appear again at the end of 2022.
Impacts of growth also were everywhere, from skyrocketing housing prices, longer and angrier traffic lines, the infusion of new citizens seeking sanctuary from what they perceived as bastions of liberalism, elections bucking the status quo, and much, much more.
On the bright side, a public-private group began the long process of addressing key growth issues like workforce housing and possibly preserving prairie land and the lifeblood flowing under it, the Rathdrum Prairie Aquifer. Local elections reflected several races where candidates perceived as proponents of slowed growth conquered long-time public servants. Time will tell if voters chose wisely.
Recent Headlines
---