Let's take a cup of kindness in 2022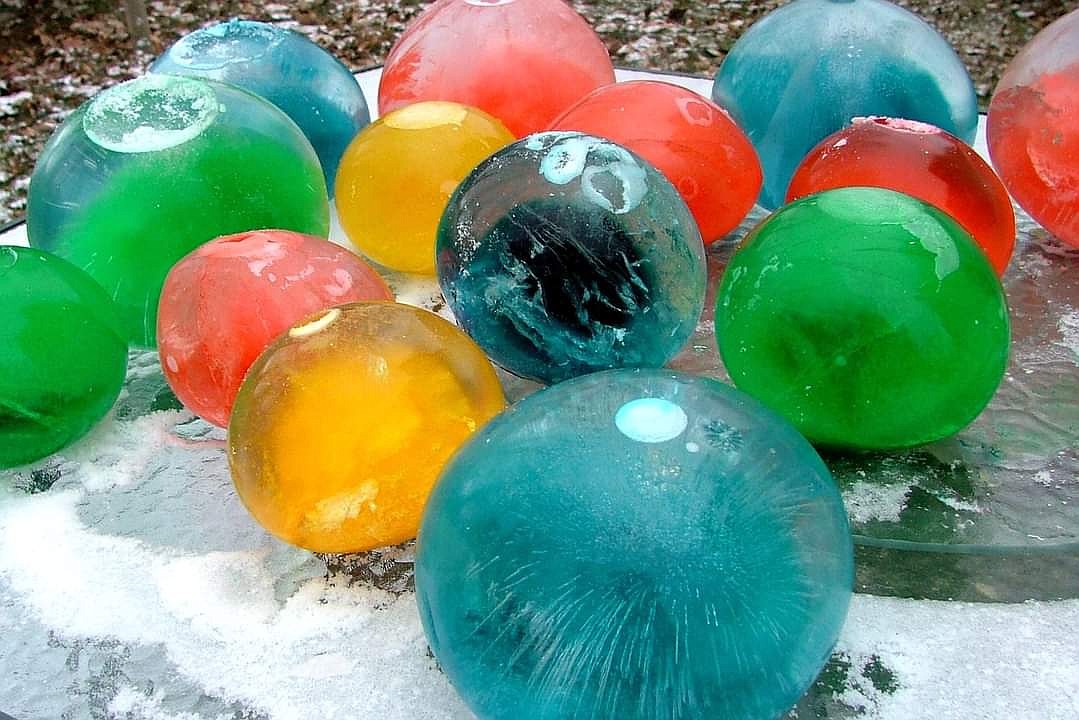 Photo Kerri Thoreson Colored ice balls are a fun project for arctic temperatures.
by
KERRI THORESON
|
December 29, 2021 1:00 AM
Here's to all of the public safety first responders, retail clerks, hospitality workers, delivery people, medical care providers and everyone who will be on duty through New Year's weekend and who have spent the last week dealing with shoppers, revelers and the public in general. Take a bow, you're the unsung heroes of the holidays.
---
Weather is the topic of conversation in these last days of the old year. Single digits and below zero temperatures causing challenges and hardships. On Sunday afternoon there was a National Weather Service warning for a snow squall. Before then I had no idea there was such a thing. While it passed us by in northwest Post Falls, Lisa Seher who lives in the Royal Highlands east of Highway 41, had a bird's-eye view to take a photograph of the wall of snow as it moved north across the prairie. Within an hour it had come and gone. Ahh, winter 2021 still had some tricks up her sleeve.
---
This week's weather is ideal for one of my favorite winter treats for when Mother Nature hands us arctic weather ... making colored ice balls, adding a pop of color to the winter landscape. All you need are some balloons, food coloring and patience. Fill the balloons after adding several drops of coloring and tie in a knot. Place outside in the snow for at least 24 hours, then remove the balloon and viola!
---
On New Year's Day I will continue my tradition of not jumping in the lake. The temperature of Lake Coeur d'Alene is just about 10 degrees above the water turning to ice. The air temperature will be in the teens. So while I won't be plunging, dipping, splashing or frolicking in the icy waters I applaud the insanity of those of you who seem to enjoy it.
---
We had such high hopes for 2020, what an iconic year that went sideways and upside down before we'd even sent a single Valentine. By the time we rang in 2021 we were once again infused with optimism that the worst was behind us and life would be returning to normal. It didn't. Instead we were collectively whip-lashed and feeling like real life was actually a scene from the movie "Groundhog Day."
So here we are on the cusp of another new year. I'm not sure what to expect although I'm attempting cautious optimism. Be good to us, 2022.
Should auld acquaintance be forgot, and never brought to mind.
Should auld acquaintance be forgot, and auld lang syne
For auld lang syne, my dear, for auld lang syne,
we'll take a cup of kindness yet, for auld lang syne.
---
Happy Main Street birthdays today to Jaime Johnson, Molly Shaw, Tammy Engen, Debbie Trimble, Kathy Carothers, Toni Capaul, Sheila Wayman, Connie Haggerty, John Martin, Rachel Pen and Jamie Rowen a happy birthday. Blowing out the candles tomorrow are Glenn Jacklin, Gayle Jacklin Stegmann, Marsha Dornquast, Nona Rambo (70!), Paul Gorringe, Bryce Raynor, Ilene Moss, Kalia Baltzell, Diane Ahlers, Dave Dutro and LeVenia Jacobson. New Year's Eve birthdays belong to Cheryl Freeman, Shaun Leary, Sarah Chase, George Holcomb, Sandy Thompson and Crystal Dean. Happy New Year's Day birthdays to Ron Jacobson, Ron Mills, Theresa Wild, Edie Miller, Billy Newman, Jan Leaf, Kathy Edinger Dingman, Linda Jordan, Kevin Johnson, Steve Schiller, Johanna Johnson, Jessica Hammond, David Attridge, Dianna Owens, Holly Childers, Katrina Boyer, Johanna Johnson, Declan Jones, Cheryl Shepherd, sisters Shaun Williams and Shana Crimp, all celebrating the first Main Street birthdays of 2022. Bob McIlvenna, Cindy Warren, Nicole Barnes, Jerry Roth and Dion Unruh blow out the candles on Sunday. On Monday Harvey Dougall, Katie Soy, Jeff Block and Erika Umphenour celebrate. Darrell Whitesitt, Debbie Ferguson, Andrew Hansen, Norman Tucker, Bert Storlie and Brandon Sutich take another trip around the sun on Jan. 4.
---
Post Script: One person can and does make a difference. Let's all pledge to be that one person in the new year.
---
Kerri Rankin Thoreson is a member of the National Society of Newspaper Columnists and the former publisher of the Post Falls Tribune. Main Street appears every Wednesday in The Press and Kerri can be contacted on Facebook or via email mainstreet@cdapress.com. Follow her on Twitter @kerrithoreson.
Recent Headlines
---