Come on inn the waterfront's fine
|
December 26, 2021 1:07 AM
The new Lake Coeur d'Alene Inn opened last week at 219 E. Coeur d'Alene Drive just south of Sherman Avenue.
The motel has 12 rooms, three with full kitchens and cookware. All have microwaves, Smart TVs, Keurig coffee makers, fridges, free Wi-Fi, HBO, ESPN and custom-built queen and full beds.
Owners are Joseph Taggart, Gerri Bohn and Steven Huffaker with Taggart and Bohn as managers. Phone 208-660-0778. Check www.coeurdaleneinn.com.
Inland Kava and Botanicals open
Nathan and Gina Rogers have opened two new businesses at 1520 N. Government Way.
Inland Kava Bar, in Suite C, offers a variety of Kava beverages, DOMA coffee and exotic teas. A drink native to the Pacific islands and an alcohol alternative, Kava is a social drink made from roots of a pepper plant and provides relaxation, mood lift and stress relief.
Kava Bar hosts NFL games, UFC fights and in January will have open-mic nights and live bands with a fire pit and outdoor games in the spring. Hours are 7 a.m. to 8 p.m. Monday through Saturday. New Year's Eve will have extended hours. Phone 208-758-8251.
Inland Botanicals, in Suite A, offers lab-tested premium Kratom products, CBD, Kava, natural bath and body products, Onnit and Live Pure supplements. Hours are 10 a.m. to 6 p.m. Monday through Saturday. Phone 208-758-8251. Check www.inlandbotanicals.com.
T-Mobile opens Hayden location
The technology company with cellular service and home internet solutions, T-Mobile will open a new location Monday at 285 W. Hayden Ave., northeast corner of U.S. 95 and Hayden Avenue.
T-Mobile delivers products and services to rural markets with technology at 5G speeds. Based in Bellevue, Wash., since 2016, T-Mobile has 75.6 million customers.
Hours in Hayden are 10 a.m. to 8 p.m. Monday through Saturday and 11 a.m. to 6 p.m. Sundays. The grand opening is Jan. 1. Henry Simmons and Adam Stratton are managers. Phone 208-719-7550. Check www.t-mobile.com.
Christmas At The Lake is closing downtown
After 20 years in downtown Coeur d'Alene, Christmas At The Lake is closing the first week of January at 510 E. Sherman Ave.
The liquidation of all merchandise and fixtures is from 10 a.m. to 5 p.m. Monday through Saturday and noon to 4 p.m. Sundays as owner Gregg Peak retires. Phone 208-667-2885. Check www.ChristmasAtTheLake.com.
Now the Tidbits
A new building for Etco Services is under construction off Huetter Road north of Seltice and I-90.
Golden Glo Coffee will open soon at Highway 41 and Nagel Lane.
Breaking Bread Bistro will be where Davis Donuts was at Fourth and Best.
A building permit for the former Shopko building says "Sportsman & Ski." It'll be a new location for Tri-State Outfitters inventory.
HDR Engineering has leased space in Riverstone.
A sign along I-90 near the Ironwood exit says "CdA Kids Dental Coming Soon."
A sign on Wayne Drive in Hayden says "Future home of Blue Chip Chiropractic."
Northwest Specialty Hospital is expanding at 1551 E. Mullan Ave., in Post Falls.
Open Arms Real Choice Clinic will move from 1800 Lincoln Way to 8056 N. Wayne Drive in Hayden.
Metro Express Car Wash is building a large new place in the northwest corner of Highway 41 and I-90.
Lone Mountain Farms & Brewery will have a new place in the Lancaster Market development at U.S. 95 and Lancaster Road.
Consign Furniture has a "coming soon" sign southwest of the U.S. 95-Lancaster Road intersection.
Renew Aesthetics & IV Hydration Bar will move from 515 Fourth St. to 1101 W. Ironwood Drive in January.
An Express Exterior Carwash is being built in the 3400 block of Seltice Way in Post Falls.
We hear something new is coming beside Cabela's at State Line.
The Rebel Junk Shoppe at 2424 N. Fourth St., will expand to a street-side location.
Bruchi's quick service restaurant is planned for a new building north of the corner of Highway 41 and Mullan Avenue.
The new Dairy Queen at 513 W. Hayden Ave., just west of U.S. 95, will open soon.
The former Ugly Fish restaurant building will be a Berkshire Hathaway Realty in Riverstone.
Watch for construction of Vantage Point Brewery across from Michael D's Eatery off Coeur d'Alene Lake Drive.
Pedego Electric Bikes is coming into Riverstone.
Kaffee Meister will be at 9212 Government Way.
A Sweet Lou's restaurant, a Dollar General store and a Grease Monkey auto place will be at the Crossings in Athol.
Gathered Restaurant is new on Spokane Street in Post Falls.
TownPlace Suites by Marriott Hotel will be built where the Outback Steakhouse was in the southeast corner of I-90 and Northwest Boulevard.
Several steel storage buildings will be built at 3758 W. Hanley Ave., off Atlas Road, for Hern Ironworks.
New places coming to Silver Lake Mall include Customs Laser Engraving, All Fired Up, Crime Scene Entertainment and American Heritage.
A Sarah Hamilton FACE place will be at 2120 Northwest Blvd.
A new commercial and residential building will be built at Government Way and Davidson Avenue.
Watch for major changes with the Burger Bunker and Bunker Bar off Spokane Street in Post Falls.
The Garnet breakfast place in Midtown will move to the former Broken Egg building on Government Way.
A new gas station-convenience store will be in the northeast corner of Atlas at Seltice Way.
We have rumors of new Costcos in Hayden and State Line and a Trader Joe's in Coeur d'Alene. We'll see.
A large storage complex and new corporate office for Steel Structures of America is being built off Highway 41.
The Den will be a new tavern at 761 N. Idaho St., in Post Falls.
My Nails & Spa will be off Canfield Avenue.
The CD'A Corner Store is adding a kitchen and tables downtown.
Schmidty's Burgers will be at 1524 E. Sherman Ave.
Napa Auto & Truck is building a new location in Rathdrum.
Coeur d'Alene Nissan will have a major addition to its building off U.S. 95.
The Takara Japanese restaurant will open 4 p.m. to 1 a.m. New Year's Eve at 309 Lakeside Ave. Details on the new place next week.
Watch for a new apartment building at 128 W. Neider Way, across from Safeway.
Mountain Goat Lounge is under construction connected to the Moose Lounge downtown.
The Post Falls Pavillion food truck court will be at the Prairie Avenue and Heartland intersection.
A major east-west street connecting Poleline and Hanley streets is actually planned for 2022.
Happy holidays everyone!
Contact Nils Rosdahl at nrosdahl@cdapress.com.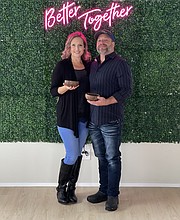 Recent Headlines
---