StanCraft acquires Resort Aviation at CDA Airport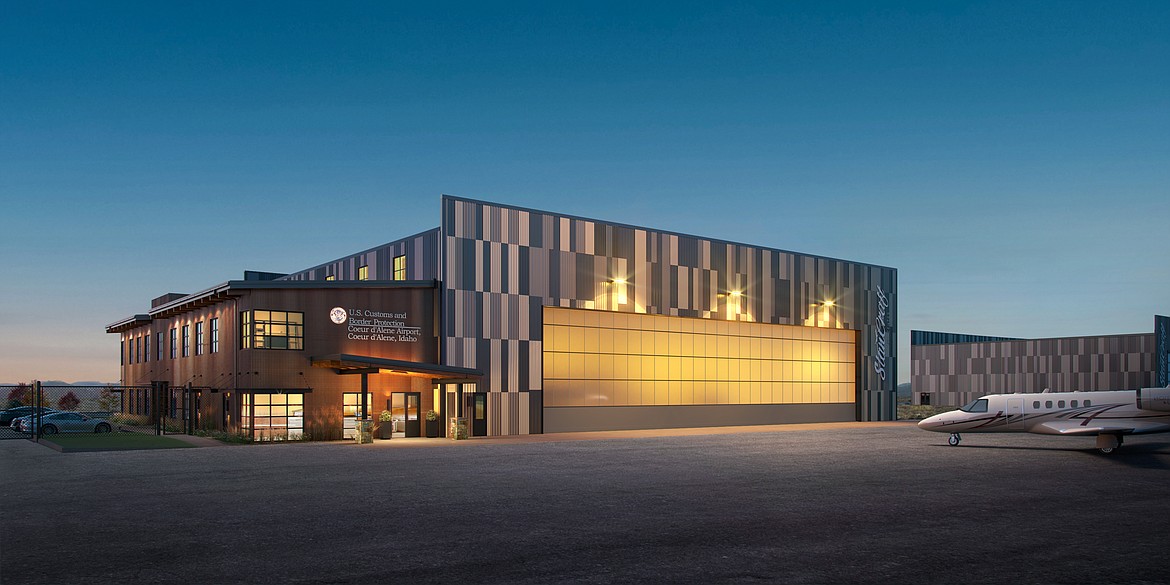 StanCraft Jet Center's newest hangar at the Coeur d'Alene Airport will feature U.S. Customs and Border Protection services and have additional aircraft hangar and leasable office spaces. Photo courtesy StanCraft Jet Center.
by
MADISON HARDY
Staff Writer
|
December 24, 2021 1:09 AM
StanCraft's purchase of Resort Aviation Jet Center signals some significant changes for the Coeur d'Alene Airport as the company moves forward on another aerial endeavor.
Resort Aviation closed its doors for good this month after serving patrons of the Coeur d'Alene Airport-Pappy Boyington Field for over 40 years. Founded in 1980, Resort Aviation was a fixed-base operator (FBO) that supplied fuel and hangar space to local and visiting pilots.
While the Coeur d'Alene Airport has been home to several FBOs over the years, Director Steven Kjergaard said Resort Aviation was one of the longest-running operations.
"It's a longstanding business that just disappeared overnight," Kjergaard told The Press.
StanCraft Jet Center officially purchased Resort Aviation after years of interest, CEO Robb Bloem confirmed.
"We've been trying to work out a deal with Resort for years, and it finally came into place," Bloem said. "This will allow us to combine resources, ultimately give better customer service, have better buying power and do more things for airport users."
Bloem and his wife, Amy, moved back to Idaho in 2003 and took over the family's wooden boat manufacturing company, StanCraft. Bloem said the company has since expanded exponentially to employ more than 100 people and construct four new facilities.
In 2018, the Bloems launched a new venture — StanCraft Jet Center.
Since taking flight, StanCraft Jet Center has become a significant airport presence. After purchasing the site of Southfield Aviation, a former FBO at the Coeur d'Alene Airport, StanCraft invested $15 million into a complex on the north side of the airfield.
The 30,000-square-foot facility, which finished construction in May, consists of a 15,000-square-foot terminal that features a "crew club" with private communication pods, a bathroom with showers and a pair of sleeping rooms.
The complex also contains a business center, conference room, tenant offices, golf center and coffee shop.
With the purchase of Resort Aviation and its assets, Bloem said the company has big — 35,000-square-foot big — expansion plans.
In March 2022, StanCraft hopes to break ground on a second hangar at the Coeur d'Alene Airport. The facility will house U.S. Customs and Border Protection services and have additional aircraft hangar and leasable office spaces.
Bloem said the company is also working with the airport and engineers to increase ramp parking space to accommodate air traffic flow. He anticipates the construction to conclude in spring 2023.
"The airport is experiencing pretty rapid growth, just like the rest of North Idaho and Coeur d'Alene," Bloem said. "Just as the community grows, the airport needs to continue to grow."
Resort Aviation's five employees also transferred over to StanCraft Jet Center, which has about 20 staff members. Bloem said the workers seem excited to join the team with benefits like health insurance and 401(k) packages.
"I think it's going to be a very harmonious marriage," he said.
StanCraft already owns the airport's self-serve fueling island used by base tenants and offers other facilities for larger customers, Kjergaard said.
With the addition of Resort Aviation's FBO resources, Bloem said StanCraft would have a larger fueling capacity for all airport patrons. He also assured that local general aviation and tenant pilots would likely not see any price increase at the pump.
"That price will stay the same if not probably get a little less expensive, and the same goes for any tenant or local jet traffic," he said. "I'm a local Coeur d'Alene kid, born and raised in Idaho. I'm here to keep the peace."
Recent Headlines
---