Protesters target teen library patrons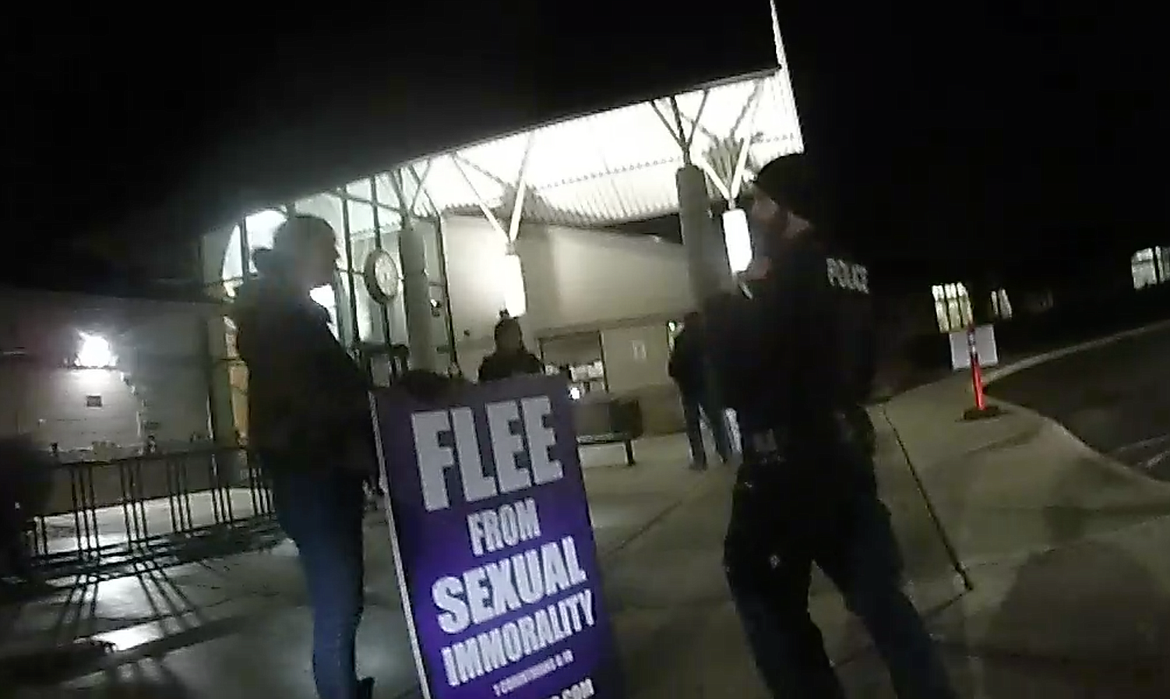 Post Falls Police officers were called to the Nov. 20 Rainbow Squad event to address picketing outside the Post Falls Library. Photo courtesy Post Falls Police Department.
A Community Library Network program geared toward LGBTQ+ teens has gotten pushback from residents, reigniting discussions on what should, and should not, be allowed in the public facility. 
Rainbow Squad, a monthly program intended for LGBTQ+ teens and allies aged 11 to 18, has been hosted by the CLN for about three years. According to the network website, Rainbow Squad attendees participate in various crafts, activities and games.
The network recently expanded the program to include a corresponding session for adults to meet other parents, ask questions and support their children.
Both activities require registration and typically average 12 to 23 attendees, CLN Director Amy Rodda said. 
On Nov. 20, attendees of the Rainbow Squad event were met by a crowd of community members holding anti-LGBTQ+ signs outside the Post Falls Library entrance. 
Body camera footage from Post Falls Police Department Officer Kellsey Torres shows signs stating "Flee From Sexual Immorality," "Obey God Not Men," "Sexual Immorality is an Abomination to God" and "The Solution is Jesus Christ."
All seven Community Library Network locations are public property. Therefore, the protesters were legally permitted to continue picketing if they did not block attendees from entering the building. 
Michelle White and her two children have participated in Rainbow Squad events for several months. A Post Falls native, White said she always thought of the library as a "safe space" without judgment. 
"These people are making it not a safe place for kids to gather by picketing and yelling at them as they go inside," she told The Press. 
As a practicing behavioral therapist, White said instances like the Post Falls picketing could "cause trauma" for young people and their parents. 
"Creating an environment that is not safe is not OK," she said. "It makes me want to be more protective and be there, not just drop them off because I don't trust people if they're going to do that. What are they going to do next with that mindset?"
North Idaho Pride Alliance Outreach Coordinator Jessica Mahuron also attended the Nov. 20 Rainbow Squad event.
"There were some people who felt intimidated from entering the building, others left because they were feeling so terrible, and for some, this is nothing new to them, so they stood strong," she said. 
"The program is supposed to provide a safe, inclusive space for fun and friendship," Mahuron said. "What they experienced coming into that meeting was the exact opposite." 
Mahuron believes the picketing results from nonpartisan positions, like the Community Library Network board of trustees, being filled by partisan candidates. 
"There was an individual who ran blatantly on a campaign wanting to remove the Rainbow Squad altogether and also targeting books in the library," she said. "This person [once] elected continued to target this program through their religious perspective to the point of rallying people to library board meetings to speak against programming or books." 
In May, Kootenai County voters elected two new library trustees, Vanessa Robinson and Rachelle Ottosen. Both candidates were endorsed by the local Republican party and listed their political affiliation on the ballot, something never seen before in local library races.
Robinson did not respond to repeated requests from The Press for comment. Ottosen had not submitted a statement to The Press ahead of the print deadline but emailed a comment late Tuesday night.
"Moral and responsible adults do not push or encourage sexual agendas on children, whether they are heterosexual or homosexual," she wrote. "And it really is not the Proper Role of Government to do so."
On Ottosen's former campaign website, she stated: "I don't think the public libraries need to be an extension of scriptural knowledge only, but they sure shouldn't be forcing taxpayer funding of satanic agendas that lead to the destruction of our nation."
The Press published a Letter to the Editor from Robinson in April wherein she expressed her opposition to censoring or banning books from the library.
"The hot issue now is for libraries to promote social issue books to our young children, like sexual orientation or white privilege," Robinson wrote. "I believe these are subjects better left to parents and that libraries should be a resource for knowledge that makes our community better."
Community Library board members are considering how to evaluate ongoing and future programs. The network already has a policy on material selection but not on programming, Rodda explained. 
"What we're working through is how limiting or broad the policy should be," she said in a recent interview. "We need a policy that provides a nice, general framework but is not too limited so that we support the viewpoints and perspectives of all audiences." 
Previous trustees approved the library's material selection policy in 2018. The document is intended to "maintain a balanced and diverse collection of materials that meet the informational, educational, and recreational needs of our residents." 
"The whole role of a library is access to information for all ages, and no one gets to control it," Trustee Judy Meyer said. "Some things in the library I'm not keen about either, but I don't check them out.
"If you don't like what we have in the library, don't check it out, but don't stop somebody else from having the right to look at it," she said. 
Minutes from the Oct. 12 meeting cite suggestions from Robinson and Ottosen to add programs that "support or oppose a specific sexual orientation" and "are reasonably considered controversial, sexual, immoral or illicit for minors" to the list of items the "library will not provide."
Trustees tabled the discussion to their next meeting on Oct. 25. However, numerous public comments, predominantly about the policy and Rainbow Squad, delayed any further action.
Minutes from the Oct. 25 meeting documented 17 comments from the public. Nine expressed opposition to literature, programming or discussion of LGBTQ+ topics in public libraries.
"We're not here to do things that cause controversy, but by the nature of what we do — providing books and resources on all sorts of topics — we might have people who disagree," Rodda said. "We certainly value our community feedback and input and use that as we evaluate how to move forward."
Regina McCrea, a practicing lawyer, has been on the board since 2016 and the board clerk for four years. She said the "recent controversy caught me by surprise," considering the Rainbow Squad was created three years ago by community request. 
Pointing to legal precedent, McCrea referenced the June 2020 Supreme Court ruling in Bostock v. Clayton County that determined Title VII of the 1964 Civil Rights Act prohibits employers from discriminating based on sexual orientation and gender identity. 
"While that case was decided under Title VII concerning employment, the (1964 Civil Rights Act) applies to places of public accommodation and public facilities which would include a public library," McCrea said. 
Idaho Code also states in Title 33 Chapter 27 that public library districts are a "service for all the people of Idaho." 
"All means all," McCrea said. "We can't take a population and say we are not going to have any programs for you. 
"I feel like there is some fundamental misunderstanding going on in the public of not only what the program is about, but what the library is set up to do and the population it is to serve," she said. 
The Community Library Network offers programming activities for residents from infancy through adulthood every year. Programs listed on the network's website range from home schooling activities to STEAM (Science, Technology, Engineering, Art and Mathematics) learning kits to teen Dungeons & Dragons virtual campaigns. 
Rodda said that 88% to 90% of the network's annual budget is derived from property tax revenue. Other funding sources include state sales tax revenue, grants and miscellaneous donations. 
She estimated the Rainbow Squad costs approximately $15 to $20 per month, covering snack items, games and crafts. However, much of those supplies are bought in bulk and used in the "hundreds of youth service programs offered by the library every year," Rodda said. 
CLN board chair Katie Blank has worked in the public library world for over 30 years. She said the institution "doesn't hold a stance on how people live their lives," but instead "provides information and space for people to find that out themselves." 
"Providing resources on both sides of an issue is what makes the library controversial at times," Blank said. "But, the foundation of public libraries is the First Amendment." 
Still, the library does suggest age groups for programs and materials.
"We have a designated children's area, an area for teen books and adult and grown-up books. We certainly try to have age-appropriate materials stay in each of those sections," Rodda said. 
Blank worries that the recent upset regarding the Rainbow Squad will inhibit the library from offering residents a "free, safe" environment. 
"I think we have a very radical, conservative element in our community, and there's an element that wants people to live one certain way and not allow people free choice," she said. "That's of concern to me."
Blank added that she's concerned "the new people who come on board aren't clear of what they're stepping into and what the ethical background of being a trustee is." 
Meyer agreed.
"Some new board members seem very concerned about these issues and are inserting themselves personally," Meyer said. "That is not the best approach."
Access to information applies to everyone, whether the LGBTQ+ community, "John Birch Society or anyone else who wants to share ideas," Meyer said. "Libraries are considered a safe place to go, be accepted and treated with dignity — and that goes for adults and kids."
Recent Headlines
---