Circling Raven Championship notes: Chien captures inaugural Symetra Tour event at scenic Worley course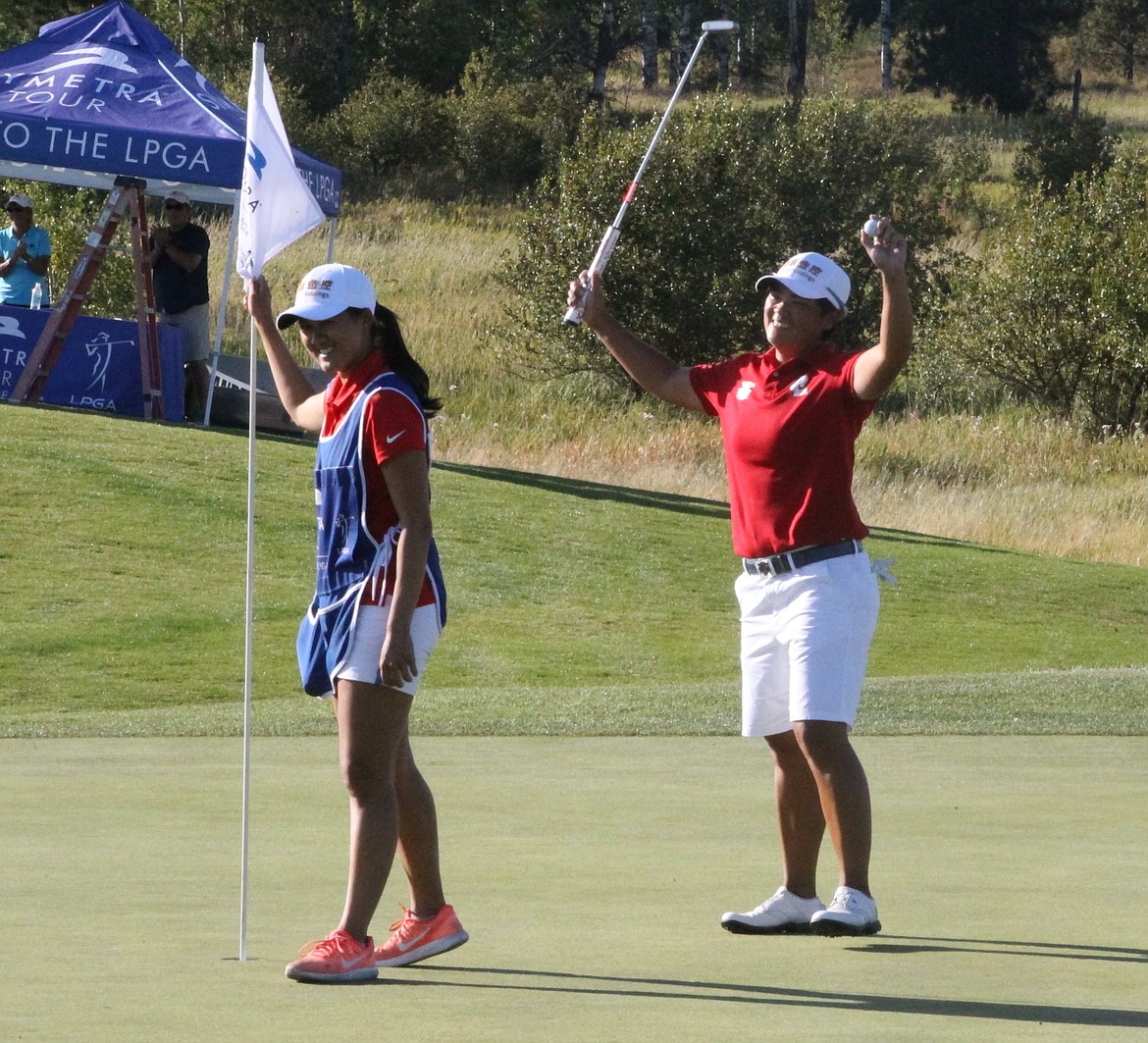 MARK NELKE/Press As her caddie and friend, Min Chen, holds the flagstick, Peiyun Chien of Chinese Taipei celebrates on the 18th green after winning the inaugural Circling Raven Championship, a Symetra Tour "Road to the LPGA" event, Sunday at Circling Raven Golf Club in Worley.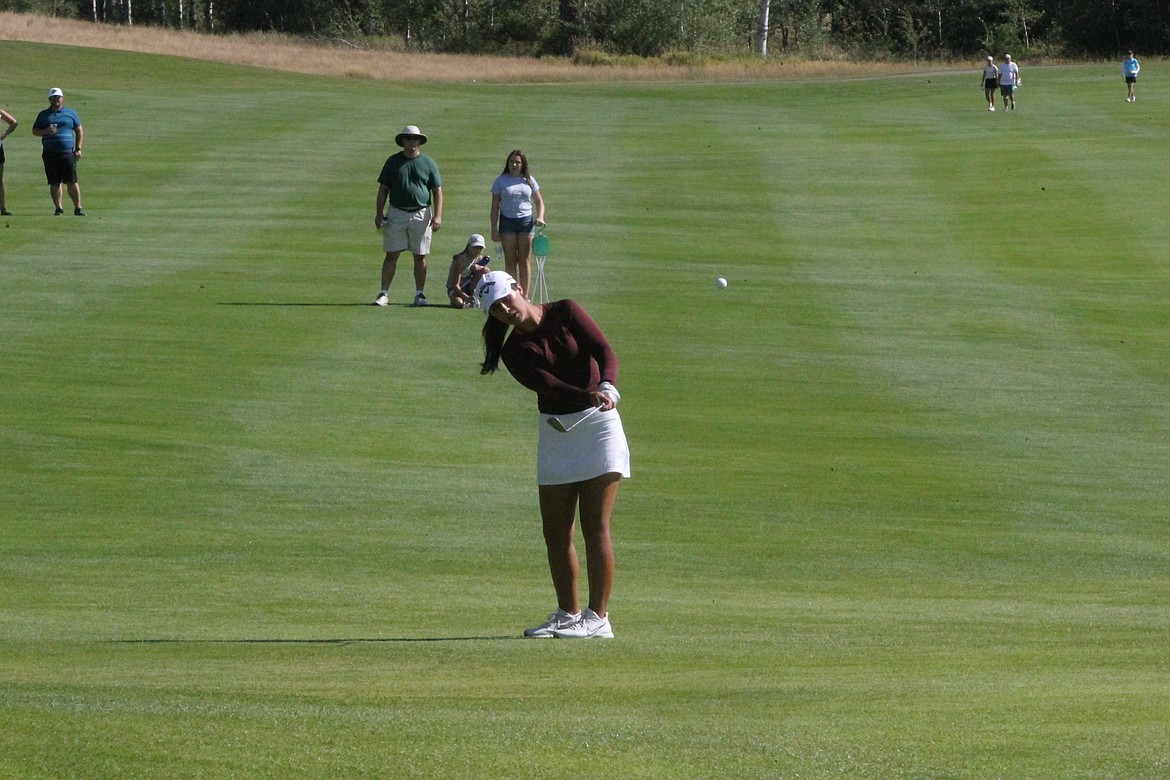 MARK NELKE/Press Sophia Schubert chips onto the 10th green in the final round of the Symetra Tour's inaugural Circling Raven Championship on Sunday at Circling Raven Golf Club in Worley. Schubert, tied for the lead after two rounds, shot 2-under 70 on Sunday and finished tied for fifth at 13 under, three shots back of the winner.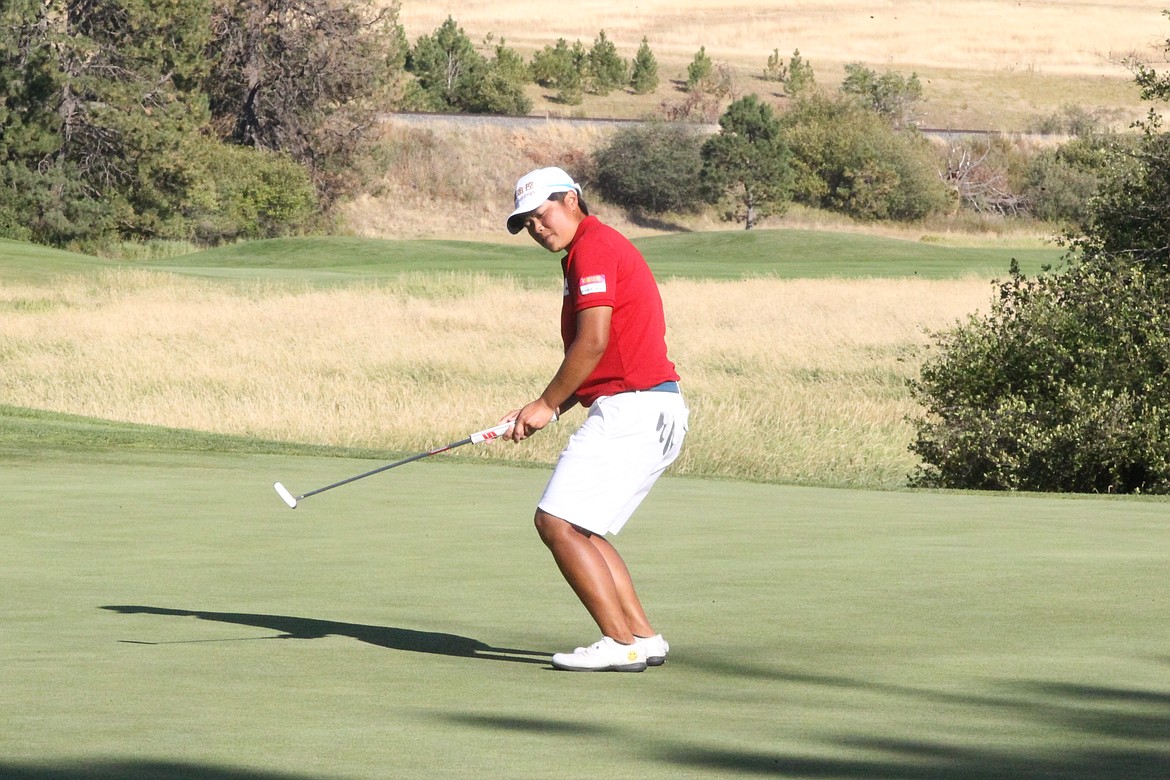 MARK NELKE/Press Peiyun Chien reacts to a missed birdie putt on the 17th hole of the inaugural Circling Raven Championship on Sunday at Circling Raven Golf Club in Worley. Chien went on to post a one-stroke victory.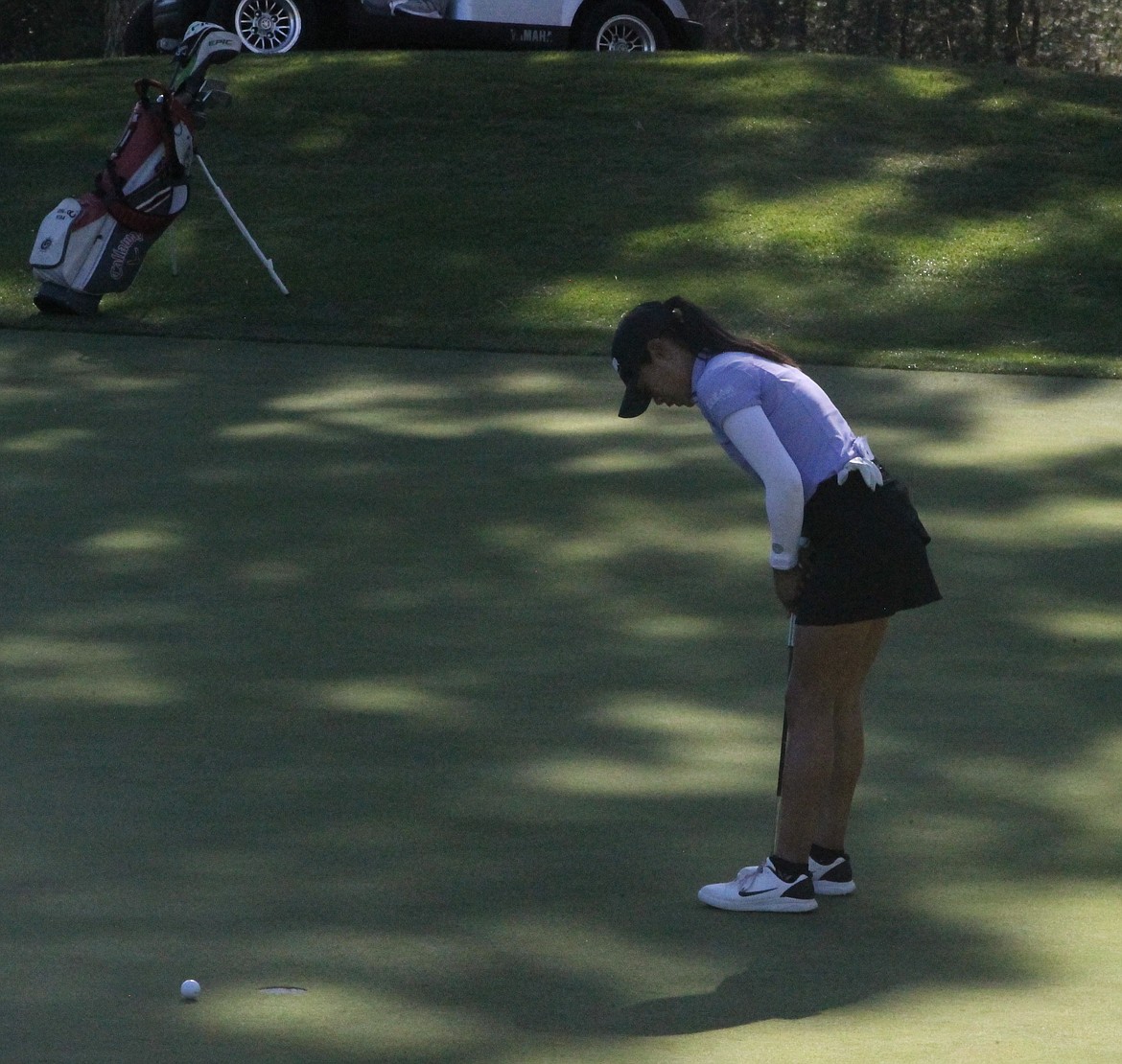 MARK NELKE/Press Demi Runas watches an eagle putt slide by on the 15th hole at Circling Raven Golf Club on Sunday, in the final round of the Symetra Tour's inaugural Circling Raven Championship. Runas finished second, one stroke back.
Previous
Next
|
August 30, 2021 1:05 AM
By MARK NELKE
Sports editor
WORLEY — Thanks to technology, nearly everyone, including the several hundred folks who surrounded the green on the final hole at Circling Raven Golf Club for the inaugural Circling Raven Championship, knew who was leading the tournament, and who was contending.
Peiyun Chien was not one of them.
Even walking up the 18th fairway with a one-shot lead, the native of Pingtung, Chinese Taipei didn't know where she stood on the leaderboard for this season's 16th stop on the Symetra Tour, which is one step below the LPGA Tour.
But after lagging a 20-foot birdie putt within a foot of the hole and quickly tapping in, she knew.
Chien shot her arms up in triumph, and moments later was covering up as a group of fellow players came onto the green and poured water on her.
"I don't watch the leaderboard," Chien said afterward. "I know if I could play very good every shot, I can win the tournament.
"You need to putt very well here and make a lot of birdies to win the tournament," she added.
Chien, tied for the lead after the third round, shot a 5-under-par 67 on Sunday to finish at 16 under par (66-67-67—200) for the 54-hole tournament, one stroke ahead of Demi Runas, the Southern California resident who shot 66 on Sunday (67-68-66—201).
Bailey Tardy, who played at Georgia, shot an 8-under 64 in the final round and finished tied for third at 202 (72-66-64) with Gabby Lemieux, who played at Vallivue High in Caldwell, and shot 69-68-65.
Chien, 30, earned $30,000 from the purse of $200,000 for her victory, and jumped into 15th place in the Race for the Card with $51,202 in total earnings this season. 
At season's end, the top 10 on the Symetra Tour money list automatically qualify for next season's LPGA Tour.
The first two rounds of the Circling Raven Championship, Chien played without a caddie, but realized by the back nine of the second round she was growing tired pushing her own bag around the course.
She called a friend, Min Chen, who flew in from Phoenix on Sunday morning, making it there by Chien's 12:50 p.m. tee time to carry her bag in the final round.
"I really needed someone to help me so I called her — 'If you can come in … '" Chien said.
Birdies were plentiful all weekend at Circling Raven, and several players going off earlier in the day made runs up the leaderboard before the leaders teed off.
One of those was Beth Wu, who started the day at 5 under, six back of the leaders. Wu tallied seven birdies in a 10-hole stretch, with the seventh one, on the downhill par-3 12th, putting her in the lead at 12 under.
She finished at 13 under after a final-round 64.
"I had nothing to lose today," said Wu, who played at UCLA.
As Chien and Sophia Schubert, who was tied for the lead with Chien after the third round, were playing the 10th hole, Tardy completed her round with the clubhouse lead at 14 under.
"I shot 6 under yesterday and I knew there was a little bit out there," Tardy said. "Even today, I left a couple out there too; I'm just happy the way I played, and stayed in it the whole day."
Tardy eagled the par-5 10th hole, knocking a 7-iron from 193 yards ("It was downwind," she said) within 5 feet, and making the putt.
"I wasn't really being super aggressive out there," Tardy said. "But I hit a couple close on the front nine, and made a couple good putts, and all of a sudden I was 7 under or something."
Tardy, 25, said she "missed my (LPGA Tour) card by like 340 bucks last year. So this is my revenge year."
When Tardy finished, Chien was at 13 under. Schubert, who won the 2017 U.S. Women's Amateur, was 12 under.
Lemieux birdied the par-4 18th to finish 14 under, tied with Tardy for the clubhouse lead.
Runas birdied the par-5 14th to move to 13 under. Chien, in the group behind, also birdied 14 to go to 14 under.
The tees were moved up on the uphill par-4 15th, and it played at 225 yards Sunday. Runas missed a downhill 5-footer for eagle, but tapped in for birdie to go to 14 under — making it briefly a four-way tie for the lead.
Both tee shots on 15 from Chien and Schubert landed on the green and rolled off the back. Both chipped on and Chien rolled in a downhill 5-footer for birdie take the solo lead at 15 under.
Chien then hit her tee shot on the downhill par-3 16th to within 4 feet, and rolled in the uphill birdie putt to take a two-shot lead at 16-under.
Up ahead, Runas birdied the par-4 17th to pull within one stroke of Chien. She had 30 feet for birdie on 18 to tie for the lead, but the putt didn't challenge the hole.
"I didn't look (at a leaderboard) until 16; that's when I allowed myself to look because I didn't want to get too far ahead of myself," said Runas, who played at UC Davis. "And, I was fortunate enough to make a birdie on (17) so I was like, 'All right, I don't know what that's going to do, we'll have to see until 18,' and I gave myself a chance on 18. I'm not going to say I fell short; I gave myself a shot."
Especially considering her first tee shot of the day on hole No. 1 (usually the 10th hole, as the nines were flipped for this tournament), a par-4 with carry over a hazard.
"I was nervous on the first tee," said Runas, whose caddie this week was Gonzaga women's assistant golf coach Victoria Fallgren, whom Runas knew from their junior golf days. "I did catch it a little bit heavy, but I was just kinda fingers crossed that it was up there and bounced on the other side, and I was very thankful to find it (in the hazard, but playable).
"I just kinda laughed — we put so much pressure on ourselves to do things perfectly, and to start it off that way, I looked at my caddy and we just laughed, and I said 'Well, that's out of the way.'"
She took a drop from the hazard, hit it on the green from 134 yards and missed the par putt. The bogey was one of two she made on the day, to go with eight birdies.
Chien missed short birdie putts on 11 and 17 that could have eliminated some of the drama, but it all worked out for her in the end.
"I wasn't playing very well this year, so it gave me a lot of confidence (to play well here)," Chien said.
Chien first played on the Symetra Tour in 2012, and Sunday's win was her third on the tour. She also won an event in January. In 2018 and '19, she played 29 events each year on the LPGA Tour, with her best finish a tie for third in the Marathon Classic in 2017 (Lexi Thompson was second).
Circling Raven is scheduled to host this event for three years. The first year was supposed to be in 2020, but COVID-19 canceled the event, so the Symetra Tour stop will return to Worley in 2022 and '23.
There are four events remaining on this year's Symetra Tour, starting with the Guardian Championship on Sept. 17-19 in Prattville, Ala. The season culminates with the Symetra Tour Championship, a 72-hole event Oct. 7-10 in Daytona Beach, Fla.
LEADERBOARD
Peiyun Chien, $30,000 66-67-67—200 -16
Demi Runas, $18,996 67-68-66—201 -15
Bailey Tardy, $12,286 72-66-64—202 -14
Gabby Lemieux, $12,286 69-68-65—202 -14
Beth Wu, $6,776 69-70-64—203 -13
Allison Emrey, $6,776 68-70-65—203 -13
Fatima Fernandez Cano, $6,776 64-71-68—203 -13
Sophia Schubert, $6,776 67-66-70—203 -13
Casey Danielson, $4,390 72-67-65—204 -12
Samantha Wagner, $4,390 69-68-67—204 -12
Min-G Kim, $4,390 64-70-70—204 -12
Bianca Pagdanganan, $3,140 74-67-64—205 -11
Sierra L. Brooks, $3,140 71-67-67—205 -11
Lauren Coughlin, $3,140 71-67-67—205 -11
Anita Uwadia, $3,140 70-67-68—205 -11
Yaeeun Hong, $3,140 69-68-68—205 -11
Lilia Vu, $3,140 68-69-68—205 -11
Pannarat Thanapolboonyaras, $3,140 64-73-68—205 -11
Daniela Iacobelli, $3,140 67-69-69—205 -11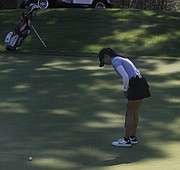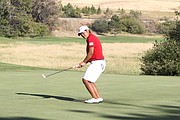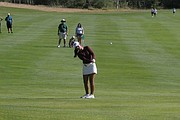 ---