MY GARDEN PATH: Wave goodbye to August
by
ELAINE CERNY/Special to The Press
|
August 29, 2021 1:00 AM
Did this summer "fly by" or what? At least the end of the month is to have some nice cool weather. Our area was blessed with a bit of rain too.
During a recent storm, I got to wondering how close the lightning was, so I looked it up. Using the relationship between seeing lightning and hearing thunder, you can determine a rough estimate of how far the lightning is from your location. After seeing a lightning bolt in the distance, count how many seconds it takes to hear the thunder. That number of seconds is approximately how many miles away the lightning is from where you are.
Once we go into actual fall with the calendar saying September and October, you might want to begin looking for some spring bulbs as fall is the only time to plant these and the only time you'll find them in stores. Don't wait too long as they always sell quickly.
Hopefully, you've been reaping rewards from your vegetable garden. I have some very strange pole beans. For weeks on end, they just grew and grew. No beans. Then they suddenly began to bloom and grow some. These went from an inch long to about a foot in no time flat. Pretty crazy.
The tomatoes are behaving a bit better. They've been ripening right on schedule and are very tasty. I'm pinching off any flowers as they need to get the message that it's time to ripen what's on the vines. Time is a-wasting.
Hopefully, your fall blooming perennials are starting to do their thing. I have LOTS of phlox plants in many colors. They're really going to town and so are the roses. I hated to see the lilies bloom out but they were lovely for quite a while.
One thing I'm really wondering about is, where are the birds? Ever since we had that nasty week of smoke, they have pulled up stakes and hit the road. I can't help but wonder where they went.
Even the hummingbirds have taken a powder. Normally they stick around until mid-September. Hopefully they'll return for a while. We'll see.
If these cool days continue, we'll be able to have some luck with planting grass seed. If you're like most of us, you may have some bare spots or some that might as well be bare as they have more nasty weeds than lawn grass. This has been a "good" year for crabgrass.
I have to laugh sometimes when I read something that says do not use overhead watering. I kind of thought that was a normal thing called rain.
• • •
Elaine Cerny has gardened most of her life, starting in 4-H. She has belonged to garden clubs in three states and is currently an active member of the River City Gardeners Club in Post Falls. Her column has appeared in The Press every other Sunday from early March until late October for the past 12 1/2 years.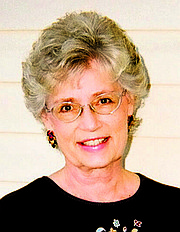 Recent Headlines
---