'The need is imminent'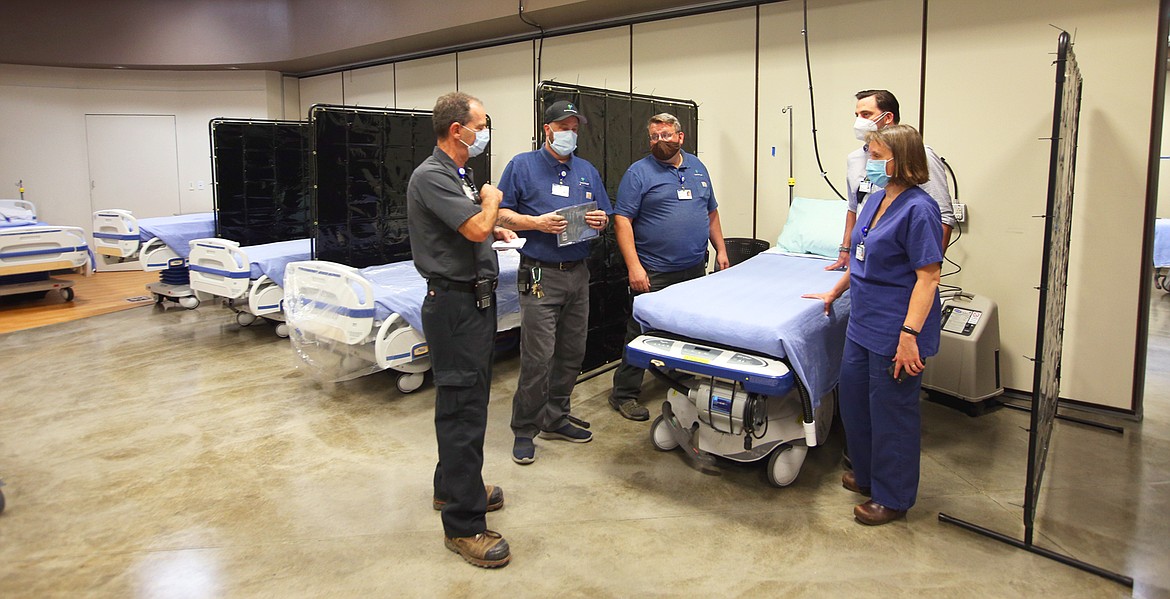 Kootenai Health employees talk Wednesday in the Health Resource Center that is being converted into a care unit for up to 22 patients.
BILL BULEY/Press
by
BILL BULEY
Staff Writer
|
August 26, 2021 1:09 AM
COEUR d'ALENE — With a record-number of COVID-19 patients on Wednesday, Kootenai Health announced it is converting the hospital's largest classroom in its Health Resource Center into a care unit for up to 22 patients.
Jeremy Evans, chief regional operations officer, said patients could be in the new care unit as soon as this weekend — or perhaps not at all if discharges exceed admissions. But that's not expected to be the case.
"We hope that it does taper off but our projections show it's going to continue to climb. So it's best to be ready," he said.
"We feel the need is imminent. It's urgent," Evans added.
Kootenai Health had 96 coronavirus patients Wednesday, with 37 of those requiring critical care. The previous high of 91 was set on Dec. 23.
Case count shot up locally and nationally in recent weeks, with health officials saying the more contagious delta variant is responsible. Vaccinated people are being encouraged to get a booster shot to combat it, and the unvaccinated are being urged to get vaccinated. All are being encouraged to wear masks indoors and in crowded places outdoors.
This week, within a 36-hour period, four COVID-19 patients at Kootenai Health passed away, a press release said.
Panhandle Health reported 69 new COVID-19 cases on Wednesday. It reported 358 total deaths attributed to the virus.
KH teams worked around the clock starting last week to ensure the new care space meets standards for patient and staff safety and infection prevention. Carpet was ripped out, floors stripped and waxed, power outlets added, and storage areas turned into medical supply holding areas.
Beds, chairs, portable sinks, oxygen tanks and wheelchairs were brought in, some purchased, some rented, some on hand.
The intent is to use the space to care for low-acuity COVID-19 patients.
Separate rooms in the Health Resource Center have been converted to provide monoclonal antibody therapy to COVID-19 patients who are not hospitalized. 
Classes in the resource center were canceled or relocated.
Karen Cabell, chief physician executive, said a concern now is there could soon be even more COVID-19 patients because there are many other "potential spread events happening in the community." She mentioned the North Idaho State Fair, Labor Day weekend celebrations and schools will be back in session.
"We've got the tools that we need to prevent the disease with the vaccine but we don't have great plans," she said.
The influx of patients at Kootenai Health, along with its shortage of about 500 workers, has strained hospital staff and resources.
Cabell said KH's staffing "is actually our biggest issue." She said frontline nurses and others are working long hours, and KH has a team dedicated to bringing staff on board "to care for the growing surge of COVID-19 patients."
Kootenai Health does not currently require its employees to be vaccinated.
Cabell said there is a chance they might need even more beds.
"Our projections go beyond the 22 beds," she said. "It could be as high as 140 or 150 beds total need. We're close to 100 now. This gets us closer to that 125 mark. But there could still be a gap in the future that we'll need to address."
On Tuesday, Kootenai Health installed a new, higher-capacity oxygen tank because the hospitalized COVID-19 patients they are seeing now have a greater need for oxygen.
Kootenai Health continues asking everyone to get vaccinated, wear a mask when in public, avoid large gatherings, practice social distancing and wash hands frequently.
Recent Headlines
---