MY GARDEN PATH: The 'Dog Days' are here
by
ELAINE CERNY/Special to The Press
|
August 15, 2021 1:00 AM
To be perfectly honest, I didn't take this photo recently. After all the hot weather we've had, most of my outdoor plants don't look this good. Who can blame them?
Speaking of hot days, if you have any plants that are still looking good, you're doing a heckuva job. Even with constant watering, most of them are looking kind of sad. We can only hope that next year will be better.
When it comes to heat, the big cities are really sweltering. Some of them are now asking residents to paint their roofs white so that it will reflect the heat back up into the atmosphere. They're also using lighter colored material to surface streets.
Hopefully, your tomato plants are producing some nice ripe fruit. Yes, they are considered a fruit, not a vegetable. I always thought that was kind of odd. I'm sure you know that there are two types of tomato plants. Indeterminate means that only a few will ripen at a time. Determinate means that they'll all ripen at the same time. I prefer the first kind unless I'm in a crazy canning mood.
I hope you're seeing a lot of butterflies this summer. I'm not. So far, I've probably seen two or three. That's it, even though I have lots of flowers that usually attract them. I even have several butterfly weed plants that I put in specifically for the monarchs. I shouldn't be surprised as monarchs are rapidly heading for extinction thanks to overuse of Roundup.
I hate to keep harping on tree watering, but we need to remember that the water your trees get from lawn sprinklers isn't nearly enough … especially in this on-going heat. If you want to keep those nice big trees alive, you'll have to continue to deep water them. Just lay that garden hose a ways out from the trunk and let it trickle all night.
You'll need to continue to mow your lawn grass at a higher setting as long as the heat continues. This helps it to survive until cooler temperatures arrive. I don't remember a time when so many of us wished for colder weather. We'll have to think back on this about next January.
I see where Aug. 8 was designated as "National Sneak Some Zucchini Onto Your Neighbor's Porch Day." The other suggestion is to slip them into unlocked cars.
There's a trick to getting those tomatoes to ripen. Give them a really big drink and then withhold any more water until they start to wilt. This sends a message to the plant that it needs to ripen that fruit in order for seeds to mature, which will carry on to the next generation.
Here is something to think about, the only thing worse than finding a worm in a cherry is finding half a worm!
• • •
Elaine Cerny has gardened most of her life, starting in 4-H. She has belonged to garden clubs in three states and is currently an active member of the River City Gardeners Club in Post Falls. Her column has appeared in The Press every other Sunday from early March until late October for the past 12 years.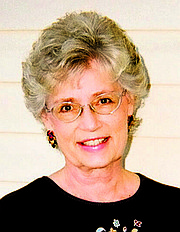 Recent Headlines
---