COLLEGE FOOTBALL: Vandals, Cougars hold scrimmages — of sorts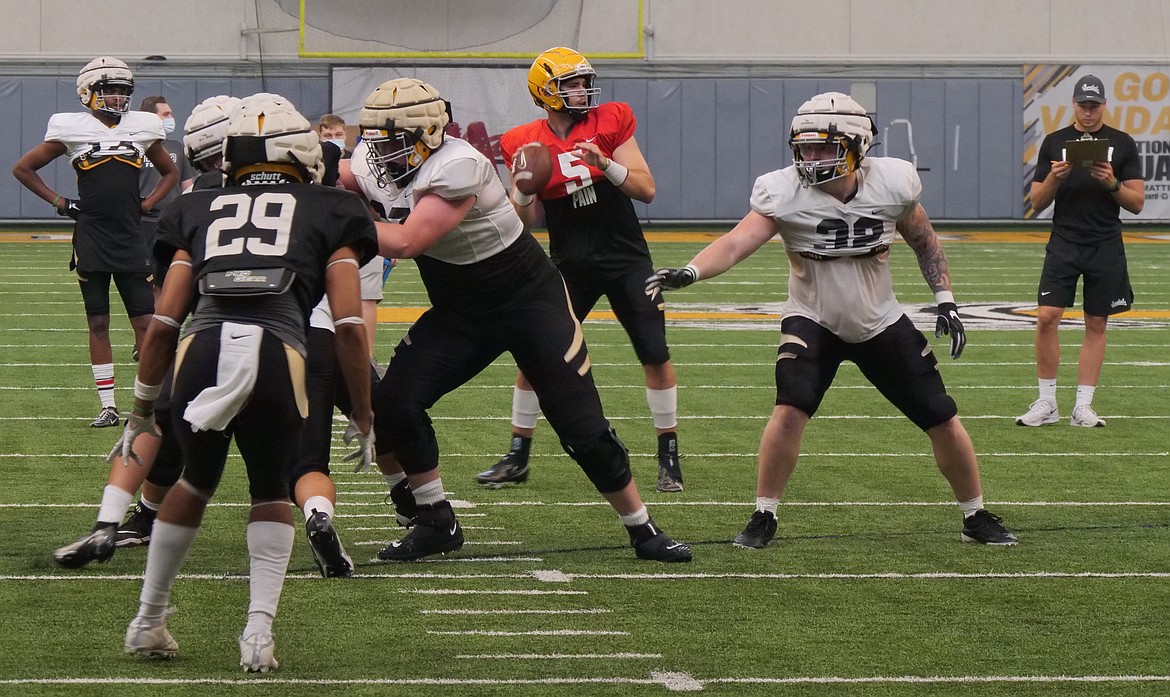 Photo courtesy Idaho Athletics Idaho quarterback Mike Beaudry looks for a receiver Saturday during a situational practice at the Kibbie Dome in Moscow.
|
August 15, 2021 1:25 AM
Idaho
MOSCOW — The Vandals focused more on situational work than a normal scrimmage Saturday in the Kibbie Dome.
No stats were available.
"You heard a lot of pads popping, that's really what you want to see on the first day — see guys tackle, see guys block," Idaho coach Paul Petrino said.
Petrino said the Vandals ran the ball well, and fullback Logan Kendall blocked well. He also noted the play of quarterback Gevani McCoy, a true freshman from Gardena, Calif.
"He's got a lot of talent, runs around, makes a lot of plays," Petrino said.
Senior linebacker Charles Akanno said Kayode Rufai stood out among the defensive linemen, then added, "I want to shout out the whole D-line — Rahsaan Crawford, Nate DeGraw (a junior from Post Falls High) … we're working. We're working to get better … once we all put it together, we'll be an unstoppable team at the end of the year."
Junior running back Roshaun Johnson noted the running of Elisha Cummings, a freshman from Waco, Texas.
"What I saw was Big E getting busy today," Johnson said.
Idaho opens Sept. 4 at home vs. Simon Fraser.
Washington State
PULLMAN — Quarterback Cammon Cooper threw a pair of touchdowns passes to Donovan Ollie (70, 7 yards) while going 6 of 7 for 110 yards as the Cougars held their first scrimmage of preseason camp Saturday, working through 70-plus plays at the Indoor Practice Facility.
Jayden de Laura, last year's starter as a freshman, completed 5 of 7 passes for 38 yards with a 14-yard touchdown pass to Nakia Watson. Xavier Ward added a 5-yard touchdown pass to Josh Meredith.
On the ground, running back Nakia Watson led the way with 34 yards in three carries, while Peni Naulu added 18 yards on four carries and Kannon Katzer rushed three times for 14 yards.
Wideout Billy Pospisil III led all players with four catches while Calvin Jackson Jr. added three catches and Donovan Ollie caught two passes for 77 yards, both for touchdowns.
The Cougar defense combined for six sacks and six pass breakups as Ben Wilson led the way with pair of sacks.
WSU will take today off before returning to practice Monday.
SCORING PLAYS
Ollie 70 pass from Cooper
Watson 15 pass from de Laura
Meredith 5 pass from Ward
Ollie 7 pass from Cooper
STATISTICS
RUSHING — Nakia Watson 3-34, Peni Naulu 4-18, Kannon Katzer 3-14, Jayden de Laura 1-13, Cammon Cooper 2-12, Jarrett Guarantano 2-9, Xavier Ward 1-(minus 2).
PASSING — Cammon Cooper 6-7-0-110, Jayden de Laura 5-7-0-38, Xavier Ward 3-7-0-24, Jarrett Guarantano 4-10-0-15, Victor Gabalis 1-3-0-5.
RECEIVING — Billy Pospisil III 4-23, Calvin Jackson Jr. 3-17, Donovan Ollie 2-77, Drake Owen 2-10, Nakia Watson 1-14, Mitchell Quinn 1-11, Kannon Katzer 1-11, Anderson Grover 1-8, Reed Shumpert 1-8, Joey Hobert 1-7, Josh Meredith 1-5, Brandon Gray 1-1.
PASS BREAKUPS — Tanner Moku, Alphonse Oywak, Raam Stevenson, Francisco Mauigoa, Justin Anderson, George Hicks III.
SACKS — Nicholas Sheetz, Sam Carrell, Travion Brown, Ben Wilson (2), Lawrence Falatea,
---