Freemasons assure Children's Village kids good rest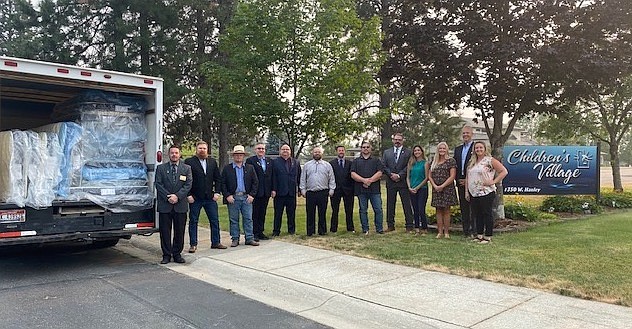 On hand to deliver a truck full of new mattresses to residents at Children's Village are Freemasons from the Rathdrum Masonic Lodge # 41: (from Left) Dan LaVine, Nathan Bendel, Matt Griffin, Andrew Evenson, Mike Meline, Trever Sams, James Childs, Danny Osburn and Scott Tollackson and from Children's Village, chief program officer Rosa Mettler, board members Toni Capaul and Christopher Liermann and interim CEO Vanessa Moos.
ELLI GOLDMAN HILBERT/Press
by
ELLI GOLDMAN HILBERT
Staff Writer
|
August 6, 2021 1:00 AM
COEUR d'ALENE — Nine members of the Freemasons from Rathdrum Masonic Lodge No. 41 arrived at Children's Village Tuesday evening with a truck full of brand new mattresses for the youngsters living there.
"We got a call a couple of weeks ago asking what our highest needs are," said Vanessa Moos, interim CEO for Children's Village.
"They mentioned mattresses and we jumped at it," she said. "We don't usually get new mattresses and ours are pretty well used. The kiddos are pretty hard on them."
The village's needs aren't always for financial support, she said.
Grand Chaplin Dan LaVine knew that mattresses are a need he could fill. He happens to be the owner of National Mattress & Furniture at 6235 N. Sunshine St. No. 3, in Coeur d'Alene.
Providing the mattresses at wholesale cost, LaVine said he approached his fellow Freemasons and they put the matter to a vote.
Andrew Evenson, past master for the lodge, said their group of around 50 members was "contacted by Dan LaVine, and the brothers discussed it and we felt this was a worthy cause."
Moos said she was thrilled that the Freemasons also purchased a mattress for their house-mom's room. Children's Village has staff that work with the kids 24 hours a day.
"Giving them a comfortable place to rest at night is a big part of their hard day," she said.
Children who receive care through Children's Village are affected by homelessness, domestic violence, substance abuse or mental health crises.
Children's Village provides services 24 hours a day, 365 days a year and for many kids, they will experience a stable home for the first time.
"These kids, for most of them, this is their first bedroom," Moos said. "They know the community is donating (the mattresses) and they tell us they feel very loved and supported, They know the community is there for them."
Children's Village works with 10 to 17 children at a time, sometimes as many as 24.
Onsite therapists make sure the children are well supported during their time there and when they return to their families.
LaVine said the Freemasons are highly motivated to support the community and be involved with what's going on.
"We want to make sure that our organization is known," LaVine said. "And that members of the community can approach us with their needs."
"Our biggest intention is to better the world around us," he added.
The Freemasons group is connected to the Shriners and donates millions to support the Shriners' 22 children's hospitals located throughout the United States, Canada and Mexico.
Under the direction of Head Servant Scott Tollackson, the Rathdrum Freemasons routinely support local community projects as well.
Recently a slew of new bikes were provided for students at Betty Kiefer Elementary School in Post Falls. The Freemasons also collect food and financial donations to distribute to food banks across Post Falls and Rathdrum and they give scholarships annually for seniors at Lakeland High School and Post Falls High School, among other things.
Evenson has been a part of the Freemasons for 23 years. He said the organization helps "to build up better men."
"We are trying to do some nice things for the world," said LaVine.
Recent Headlines
---