Ride and raise bucks to fight Parkinson's
by
ELLI GOLDMAN HILBERT
Staff Writer
|
August 2, 2021 1:07 AM
POST FALLS — A 50-mile fundraiser is on the horizon for the Coeur d'Alene Parkinson's Support Group. The Ride for Parkinson's takes place Aug. 21 and everyone is welcome to join in.
Parkinson's disease is a nervous system disorder affecting close to one million Americans. Often starting with a slight tremor, the disease worsens over time leading to severe loss of movement and motor control.
Cory Mahal, a member of the support group, doesn't suffer from the disease himself, but he has been deeply affected by it.
"I'm the only one in the group without Parkinson's," Mahal said. "But I have friends with the disease and I want to help out."
Mahal actually created the whole event.
"We really appreciate Cory's organizing the whole thing," said Beth Hatcher, secretary for the support group. Hatcher has suffered from Parkinson's disease for the past 12 years.
"The group's members will be manning the rest stations," Hatcher said. "But what we really need are the riders."
Hatcher said they don't have many signed up at this point but hopes that word will get out.
Riders will set off from Falls Park in Post Falls at 9 a.m. and follow a scenic route along the Centennial Trail. Traveling first to the state line, riders will then go to Higgens Point and back again.
For those who aren't quite as ambitious, there's a 10-mile option that Mahal said is no less beautiful.
Medical costs associated with treating the incurable disease are ongoing and often crippling, Mahal said. All proceeds will provide help for local patients.
Riders can register online or on the day of the event. Arrive by 8 a.m. to register on site. Taking the 50-mile route costs $50; the 10-mile route is $20. Barbecue and beverages will be available for sale following the ride.
Info: To register, go to carriagehousehotelbf.com and scroll down; another option is to visit Facebook - Coeur d'Alene Parkinson's Support Group, Inc.; or contact Cory Mahal directly at 208-691-6980, or Beth Hatcher at 208-635-5243.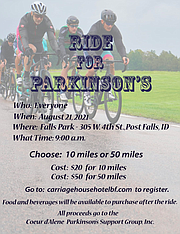 ---