SHOWCASE GOLF: All smiles and sunshine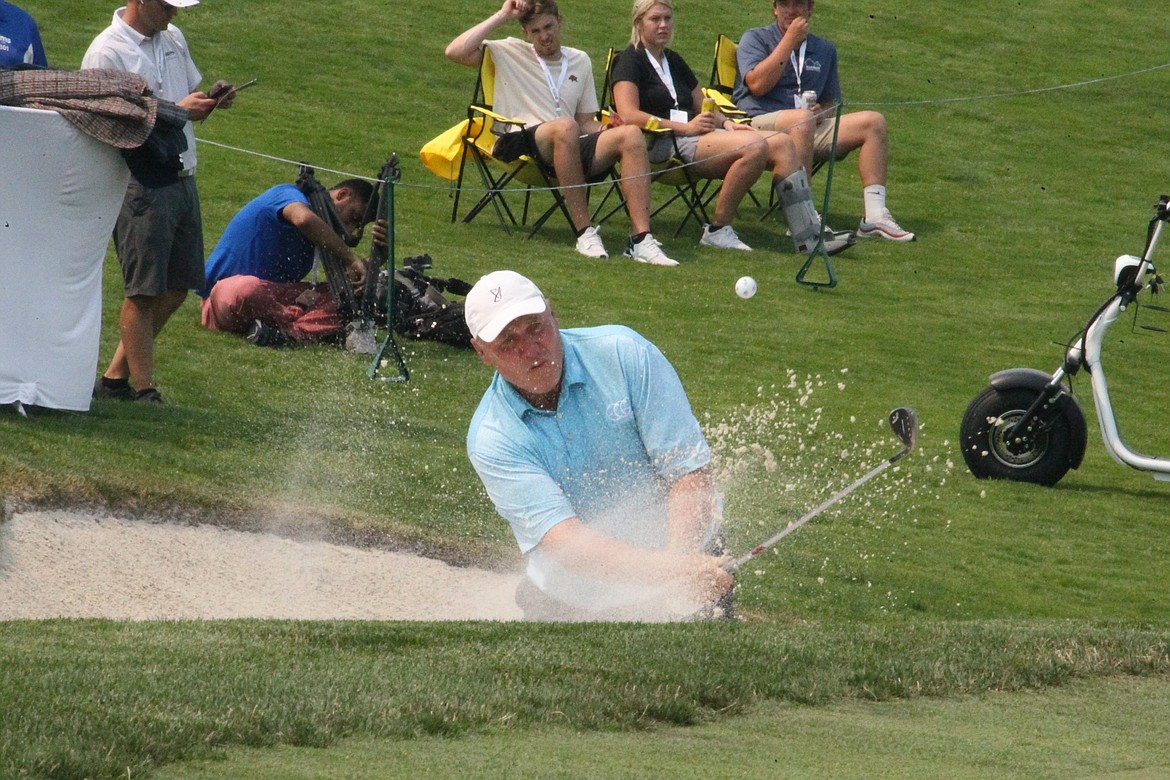 JASON ELLIOTT Former NFL and Washington State quarterback Mark Rypien hits out of the sand on the 18th hole in the final round of The Showcase golf exhibition at The Coeur d'Alene Resort Golf Course.
COEUR d'ALENE — The smiles returned.
Both from the celebrity field at The Showcase golf exhibition as well as the spectators on hand at The Coeur d'Alene Resort Golf Course on Saturday afternoon.
The biggest of the day was from former Major League Baseball pitcher Mark Mulder, who claimed a four-shot victory over NHL great Ray Whitney.
"It was very important to come back this year," said Mulder, who also won the 2019 event before last year's was canceled due to COVID-19. "In Arizona, we've been so lucky. We've been without masks for a long time and to be able to come somewhere and see smiling faces, to me, means more than anything. Especially to see all the little kids. You can tell there's people here living their lives and enjoying it."
Mulder capped the tournament with an 8-under 134, shooting a 65 in Friday's Celeb-Am and a 69 on Saturday.
"Yesterday (Friday), I made a ton of putts," Mulder said. "Today, I made nothing. I had a little bit of a lead, and then Brenden (Morrow) and Ray (Whitney) stumbled a little at the beginning on Saturday, so it gave me a few stroke lead. It was one of those things were my 13-year old son was caddying for me a little bit, and I just kept telling myself 'don't make a mistake, and don't let them back into this. And I didn't play that great on the front nine, but the back, there's some birdies out there, so you've got to be patient, and I was and eventually made a couple."
Temperatures reached a record 105 degrees on Saturday, with fires from around the northwest dipping the Air Quality Index reaching 156 (unhealthy) levels.
"I'm from Scottsdale, so we've had a few fires like these," Mulder said. "It's Mother Nature taking care of herself. This will all pass."
The event, a 36-hole golf tournament, is a fundraiser for the Community Cancer Fund, which has raised over $17 million for the fight against cancer since 2014. "Our most recent progress was the completion of the Hospitality Center at Kootenai Health," Community Cancer Fund Executive Director Jerid Keefer said. "During the pandemic this hospitality center has been a welcome addition for lodging patients and their families. We remain committed to investing donated funds in local programs that benefit cancer patients, their families, and the Inland Northwest organizations that serve them.:
Janet Gretzky, actress and wife of NHL great Wayne Gretzky, was the net champion with a 134, winning in a card-off against her husband.
"Since we live just across the lake, love Coeur d'Alene and the community and people, it's important to come and support a cause like this," Gretzky said. "This is a great charity and I personally have had two sisters that have passed because of breast cancer, so it touches me emotionally and we want to give all the support we can."
On Saturday, Gretzky was in a pairing with LPGA golfer Nicole Materne of Spokane and Tracy Hanson, a Lakeland High Hall of Famer.
"It was a thrill to get to play with them," Gretzky said. "It was just great to be able to watch them play."
Hanson, who has started the nonprofit Tracy Hanson Initiative, is semi-retired now.
"I haven't come back too often, so it's good to come back and support something like this in the area," Hanson said. "Idaho is always my home, and it sometimes feels like I'm a little disconnected, so it was good to be here a few days and reconnect."
Hanson, who finished 13th, added that Saturday's weather didn't affect her too much.
"I like to play in the heat," Hanson said. "I don't get a lot of chances to compete anymore, so it was fun to feel some nerves, because I've got some tournaments coming up, so I was processing things and moving forward."
GROSS RESULTS — 1, Mark Mulder, 65-69—134. 2, Brenden Morrow, 66-72—138. 3, Cody Ross, 70-71—141. 4, John Elway, 75-67—142. 5 (tie), Blair O'Neal, 71-72—143; Ray Whitney, 68-75—143. 7, Mark Rypien, 69-78—147. 8 (tie), Grant Fuhr, 77-76—153; Vince Coleman, 70-83—153. 10 (tie), Pat Burrell, 77-77—154; Ryan Longwell, 72-82—154. 12, Neil Lomax, 77-79—156. 13, Tracy Hanson, 79-78—157. 14, Sheldon Souray, 79-79—158. 15 (tie), Kyle Lohse, 82-78—160; Nicole Materne, 77-83—160. 17 (tie), Seth Joyner, 87-80—167; Dustin Pedroia, 78-89—167. 19, Tyler Johnson, 78-91—169. 20, Jimmy Rollins, 90-82—172. 21, Katie Kearney, 100-93—193.
NET RESULTS — 1 (tie), Janet Gretzky, 65-69—134; Wayne Gretzky, 69-65—134. 3, Eric Dickerson, 69-66—135. 4, Andre Reed, 70-67—137. 5, Doug Weight, 67-71—138. 6 (tie), Desmond Mason, 65-75—140; Bobby Ryan, 70-70—140; Ron Harper, 68-72—140; Kelly Chase, 65-75—140; Jermaine Dye, 67-73—140. 11, Sidney Rice, 61-80—141. 12 (tie), Adam Morrison, 72-75—147; Fred McGriff, 72-75—147; Marcus Allen, 64-83—147. 15, Patrick Sapp, 81-67—148. 16, Shane Victorino, 76-73—149. 17, Jon Cooper, 76-75—151. 18, David Justice, 75-77—152. 19, Richard Dent, 80-77—157. 20, Bruce Bowen, 78-84—162.
---