Participants named for study of optional forms of government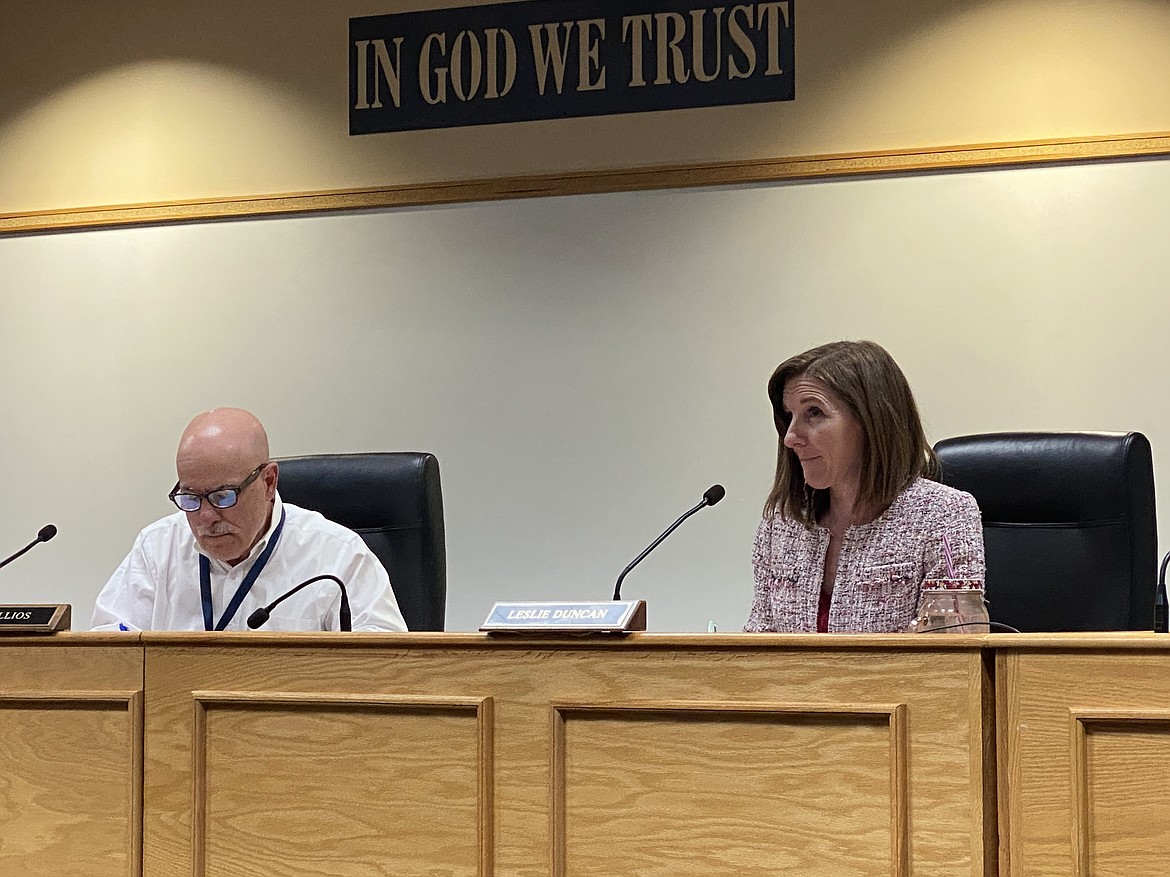 Commissioners Chris Fillios, left, and Leslie Duncan announce their nominees and alternates for the optional forms of government study committee during a Monday meeting. (MADISON HARDY/Press)
by
MADISON HARDY
Staff Writer
|
April 27, 2021 1:08 AM
COEUR d'ALENE — A long road of failed ad hoc committees and opposed selection processes regarding optional forms of government came to an end Monday as the Kootenai County board of commissioners released the names of nine study participants and three alternates.
Each commissioner nominated three individuals and one alternate member to the study, which will do a deep dive on the seven forms of government structure permitted under the Idaho Code.
Commissioner Bill Brooks, the instigator of the study, nominated:
• Brian J. Cleary, an attorney
• Robert Fish, a Community Library District trustee and president of the Pachyderm Club of North Idaho
• Kristen Wing, a Coeur d'Alene resident with 35 years of healthcare administrative management and aided in developing the new Washington State University Elson S. Floyd College of Medicine in Spokane, and
• Joan Genter, a member of the Coeur d'Alene Airport Advisory board, as an alternate.
Cleary has spent the brunt of his life focusing on complex litigation and dispute resolution involving multi-government-private interests, Brooks said. In Cleary's brief, he expressed to the commissioner that he will review the styles of government impartially.
Brooks said Cleary has no predisposition toward changing the current government. He said Cleary intends to work with the other study commission members on the assigned task.
Brooks said he chose Fish, who recently decried vetting tactics by the Kootenai County Republican Central Committee, because of his work as a trustee for the Community Library District and his long Republican history.
Chris Fillios nominated:
• Dave Botting, an Athol resident with experience in management and organizational theory,
• David Levine, chairman of the Kootenai County Planning and Zoning Commission,
• Phil Ward, a former county government administrator, and,
• Dr. Cheri Zao, a former medical studies teacher at North Idaho College, as an alternate.

In addition to chairing the Planning and Zoning Commission, Levine also chairs the Kootenai County Board of Community Guardians — a volunteer organization that aids people who need assistance — Fillios said.
"He has over 35 years experience running large multi-department operations for major airlines, including leadership roles in human resource training, contact centers, and planning," Fillios said.
Commissioner Leslie Duncan nominated:
• Kurt Andersen, a site reliability engineering architect,
• Tamara Bateson, who has years of managing multiple medical practices,
• Bryant Bushing, a local attorney with about three decades of experience at the Kootenai County Prosecutor's Office, and,
• Bruce Mattare, a Coeur d'Alene business owner with expertise in demographic data investment, publishing, and finance companies, as an alternate.
Duncan said she spoke to about 12 people interested in participating.
"To all the people who reached out to me who wanted to do this, I'm sorry I couldn't pick all of you," Duncan said. "It was really a difficult decision and one I struggled with for a long time. But I encourage everybody who wants to be involved to still be engaged in this."
Now that the nominations are confirmed, the study commission will likely announce the first meeting soon.
Recent Headlines
---