Built on handshakes and trust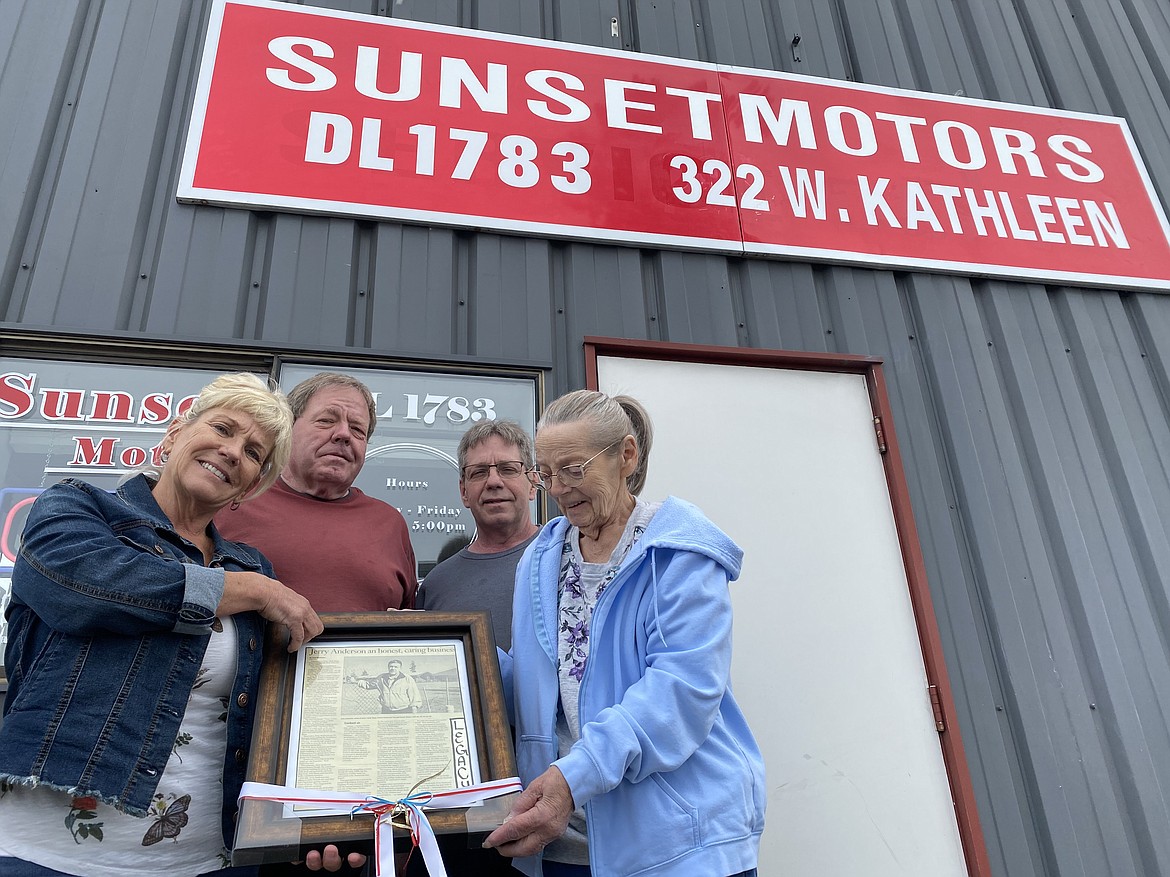 Jerry Anderson, the man behind Jerry's Body Shop, Sunset Dodge, Sunset Motors, and Sunset Towing & Taxi, is survived by his family and many happy customers. From left, Sherry "Sis" Mckay, Rick, Mike, and Deone "Patty" Anderson. (MADISON HARDY/Press)
by
MADISON HARDY
Staff Writer
|
April 12, 2021 1:08 AM
They don't make businesses like Jerry's Body Shop anymore. 
Established in 1961 by the late Jerry Anderson and wife Deone "Patty," Jerry's Body Shop was the epitome of a mom-and-pop, old Americana. 
Sixty years later, following the economic challenge of COVID-19, Patty and her three children decided to sell the business to Caliber Collisions - the country's largest collision repair company. 
In those six decades, the Andersons built their business on loyalty, handshake agreements, and customer confidence in their word.
"A handshake and your word are more valuable than any written contract there is," said Mike Anderson, Jerry's son. "It's always been that way if you promise something to somebody or you tell them you're going to do something. That's your word, that's your bond, and you do it."
It all started in a small shop behind Jerry and Patty's 15th Street home, where Jerry passionately worked on cars for friends and families. Soon after, Jerry expanded, purchasing a tow truck and creating Sunset Towing — which still stands today on the corner of Kathleen Avenue and U.S. 95. 
Mr. Anderson didn't stop there, his daughter Sherry "Sis" Mckay said. In 1970, Jerry purchased property on Appleway, acquired a Dodge franchise — Sunset Dodge — and launched Sunset Taxi with two cars from the dealership. In 1996, the Andersons opened Sunset Motors, a used car dealership they still own and operate. 
In the midst of building this empire, the Andersons raised three children — Rick, Sherry, and Mike.
The booming days of auto shops like Jerry's have passed, the Andersons said. Mike and Rick, who still work at Anderson's Sunset Towing & Taxi, said nowadays it's difficult to compete with significant conglomerates.
"Mom-and-pop body shops in this industry are dying now. We can't keep up with the insurance industry, the technology," Mike said. "These big huge corporations are the only ones that have access to be able to do it because they can buy on a national level, whereas we're buying on a local level."
Sherry said the decline in traditional family-run businesses is something the family has noticed for about a decade. 
"At that point, we said we would never sell. We thought we would probably close before we sell to corporate America," Mike said. 
But sold it they did.
While Caliber Collisions is one of those large organizations, the Andersons said their relationship has been positive, and the family is happy to remain connected to its past. Rick, who received the initial offer, said the family had never considered letting the business go. 
"Their whole idea is they want to take the small business to a new level, really make it something my family can be proud of," Sherry said. "We have a great thing going on, and they're really friendly."
What was most important to the Andersons was not impacting their loyal employees. Caliber Collisions was happy to support the family's request and agreed to hire all six of Jerry's Body Shop workers. 
"Emotionally, it's a little difficult," Sherry said. "My grandkids don't see the Jerry's Body Shop sign on the road anymore. So there's a lot of sentimental value in that."
The family plans to continue to operate Sunset Towing & Taxi and plans to revitalize Sunset Motors.
In the 49 years the Andersons were married, before his death in 2003, Patty said the family made many memories in the shop. She watched as the kids started working in the shop or the dealership, the neighbors and grandkids, too. Patty said the most important value her late husband bestowed on the company and family was honesty.
"He took care of his customers, no matter what it took," she said. "If he said he was going to do it, he would do it one way or another."
Back in the day, if a customer came into the shop to get something fixed and had a ding on the hood, Sherry said her dad would fix it whether it was part of the service or not. It was that extra mile that set Jerry's Body Shop apart, she said. 
"His customers meant more to him than just a number of dollars and cents. He took a personal interest in everybody," Rick said. "You get what you put in."
---