Winifred 'Winnie' Ann Sorenson Holm, 92
Winifred "Winnie" Ann Sorenson Holm, age 92, passed peacefully at the Schneidmiller Hospice House in Coeur d'Alene, Idaho, on April 6, 2021.
Winifred Ann Sorenson was born on Aug. 1, 1928, in Burmah, Idaho, to Joseph and Ada (Brown) Sorenson.
Winnie moved to Coeur d'Alene with her family when she was a young girl. She had one sibling, her brother, Ivan Sorenson. She attended school in Coeur d'Alene and graduated from Coeur d'Alene High School in 1946.
On May 21, 1948, Winnie married Jack Holm. Jack was a Tugboat Captain in the Coeur d'Alene area. Three children, John, Chuck and Patty, were added to their family. They purchased a house in the "Fort Grounds" neighborhood, where they raised their family and lived happily for many years. She worked for The Hobby Shop in Coeur d'Alene until her retirement.
Winnie is preceded in death by her husband, Jack Holm; her brother, Ivan Sorenson; her father, Joseph (Bernita) Sorenson; and her mother, Ada (Clarence) Johnson.
Winnie is survived by her three children: John Holm, Chuck Holm and Patty (Curtis) Vogt; grandchildren, Lindsey and Shawn Shaw, Chad Vogt, Breanne and Scott Stackofsky, Jennifer and Tony Begovich; and great-grandchildren Alex, Payton, Madelyn, Jerzey, Jordyn and Jorja.
A graveside service will be held at 11 a.m. Friday, April 16, 2021, at Riverview Cemetery, 1065 N. Lincoln Way, Coeur d'Alene, Idaho, where Winnie will be laid to rest with her husband, Jack.

English Funeral Chapel has been entrusted with the arrangements. Memories and condolences may be shared on Winnie's online memorial at www.englishfuneralchapel.com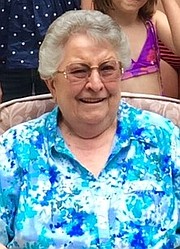 ---