Vandals nearly upset Eagles with running back-turned quarterback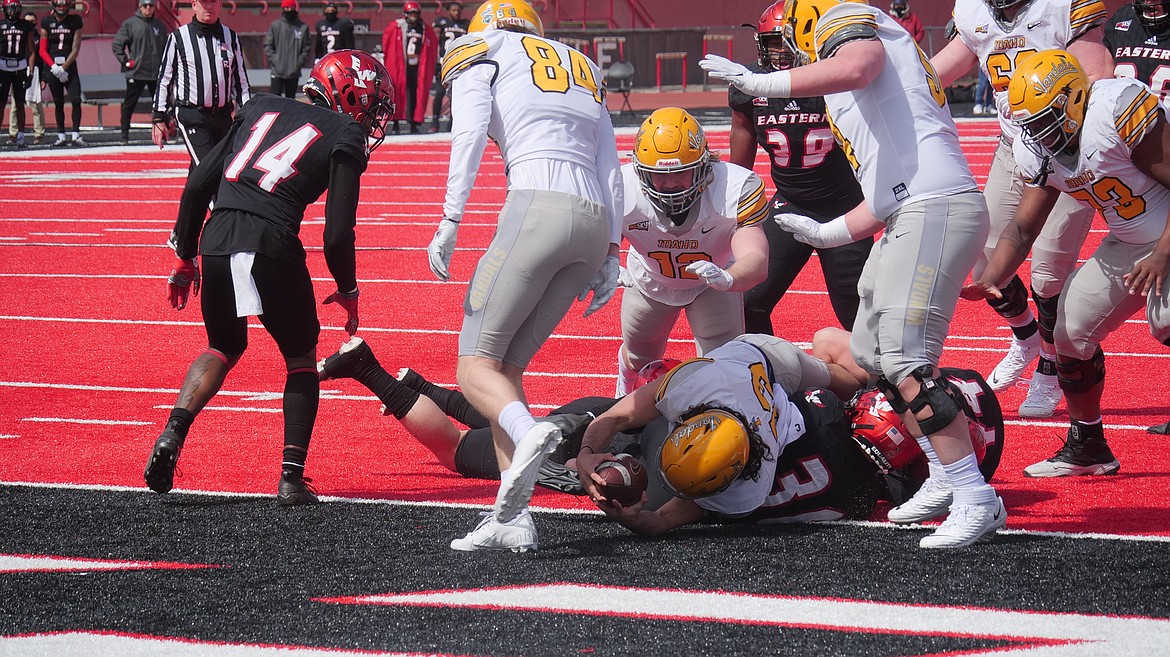 Photo courtesy IDAHO ATHLETICS Zach Borisch of Idaho dives into the end zone vs. Eastern Washington to tie the game at 7 in the first quarter Saturday in Cheney.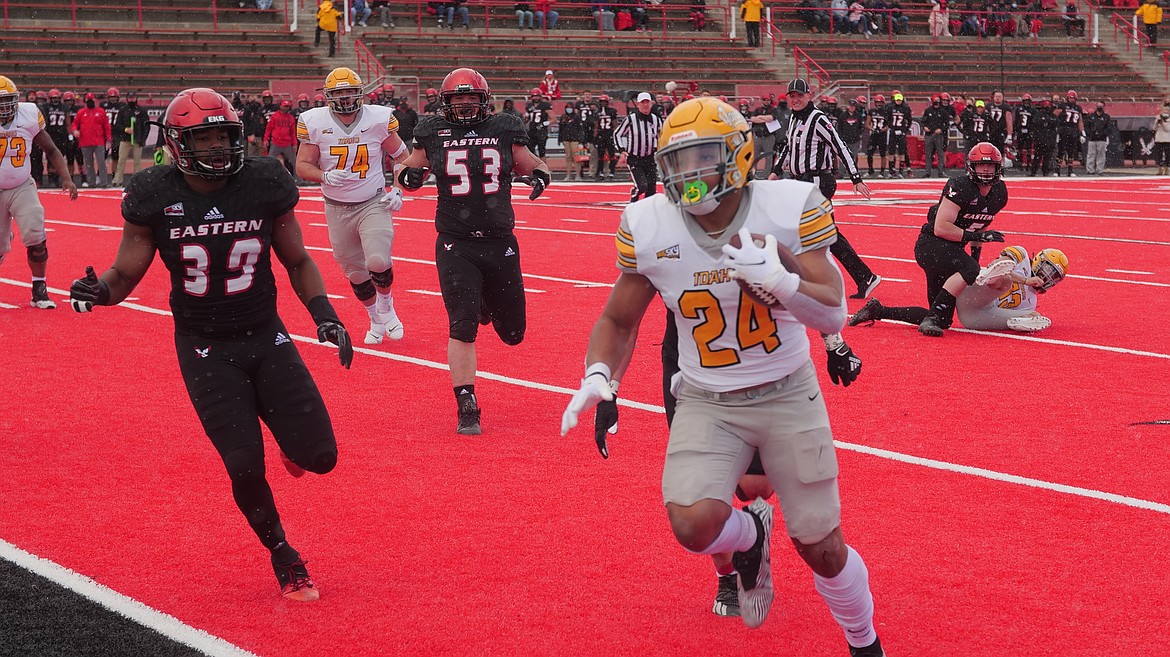 Photo courtesy IDAHO ATHLETICS Roshaun Johnson of Idaho scores from 3 yards out to give the Vandals a 14-7 lead over Eastern Washington late in the first quarter Saturday in Cheney.
Previous
Next
From wire and news services
CHENEY — With their top four quarterbacks not making the trip, the Idaho Vandals turned to an athlete who last played QB in high school in their game Saturday at No. 9 Eastern Washington.
And despite a yeoman effort from redshirt sophomore Zach Borisch, Idaho came up short, 38-31 to Eastern at Roos Field.
Borisch, from Kamiakin High in Kennewick, Wash., had played some running back and defensive back for the Vandals, as well as special teams. Pushed into action at QB, Borisch guided an offense heavy on the run.
He ran for 205 yards and two touchdowns on 33 carries, and his second touchdown, late in the third quarter, put Idaho (2-3, 2-3 Big Sky) up 31-24.
But Dennis Merritt ran for two of his three touchdowns in the fourth quarter for EWU (5-1, 5-1) in its final regular-season game of the truncated spring season.
"I thought the team just fought its tails off," Idaho coach Paul Petrino said. "Zach fought hard. Our coaching staff came up with a really good plan to give us a chance to win, and we had a chance to win all the way down to the end. I'm proud of our guys; they played with a lot of love for each other, and love of the program, and I think it just says a lot about our players and our staff and how much they care about each other."
Eric Barriere threw for 309 yards and a pair of scores for the Eagles, who avenged a season-opening 28-21 loss against the Vandals in Moscow. Eastern has reeled off five straight wins since its Feb. 27 opener and hasn't scored fewer than 32 points during the streak.
"It was astounding," Eastern coach Aaron Best said of his team's late-game heroics, especially the key plays and stops made by the Eagle defense. "The average field position for Idaho was about the 35-40 yard line (officially the Idaho 41). No matter who is running an offense, it's going to be extremely difficult for your defense when it's out there every time at mid-field. We have to cover kicks better and the wind didn't heed us in the punt game."
Despite the win, Eastern Washington will have to wait until next Sunday to see whether they've done enough to secure one of six at-large bids to the FCS playoffs. Weber State clinched the Big Sky title edging out Idaho State earlier in the day.
Borisch became the first Vandal since Deonte Jackson in 2007 to top 200 yards. His 205 rushing yards are the 11th most in a single game at Idaho.
A former all-state quarterback in high school, Borisch threw for 74 yards, a touchdown and two interceptions — both of which came on the Vandals' final two possessions.
"He's been the backup running back, and he's worked hard at that, so we felt he would do a good job of running," Petrino said. "And I think we came up with some good schemes to help him, and he competed his tail off and did a really good job."
With his team trailing 31-24 entering the fourth quarter, Merritt ran wide right for a 21-yard touchdown to even the score with 12:41 remaining. The go-ahead score — and eventual winner — came on his 14-yard weave and dash up the middle with 6:50 left.
The Vandals rushed 59 times and passed 11, and controlled the ball for 36:23 in their upset bid.
"We did enough to win this game and that's what it's all about," Best said.
EWU jumped out to a quick 7-0 advantage but Idaho responded with two scores to go up 14-7 after the first quarter of action. The Eagles leveled the score at 17 heading into the break.
Logan Kendall got the Vandals up, 24-17, early in the third quarter, but the Eagles leveled the score moments later.
Christian Elliss led the Vandals defensively with 13 tackles. Tre Walker added eight.
Next up for the Vandals is the season-finale at Northern Arizona next Saturday.
E. Washington 38, Idaho 31
Idaho 14 3 14 0 — 31
E. Washington 7 10 7 14 — 38
First Quarter
EWU_Roberson 18 pass from Barriere (Harrison kick), 12:56
IDHO_Borisch 4 run (Coffey kick), 06:00
IDHO_Johnson 3 run (Coffey kick), 03:49
Second Quarter
EWU_FG Harrison 23, 14:42
EWU_Merritt 3 run (Harrison kick), 07:39
IDHO_FG Coffey 30, 03:01
Third Quarter
IDHO_Kendall 25 pass from Borisch (Coffey kick), 10:48
EWU_Limu-Jones 66 pass from Barriere (Harrison kick), 10:11
IDHO_Borisch 13 run (Coffey kick), 06:55
Fourth Quarter
EWU_Merritt 21 run (Harrison kick), 12:41
EWU_Merritt 14 run (Harrison kick), 06:50
IDHO EWU
First downs 20 27
Rushes-yards 59-278 35-167
Passing 74 309
Comp-Att-Int 5-11-2 18-38-0
Return Yards 155 38
Punts-Avg. 3-43.3 4-35.8
Fumbles-Lost 0-0 0-0
Penalty-Yards 4-38 6-80
Time of Possession 36:23 23:37
INDIVIDUAL STATISTICS
RUSHING_Idaho, Za. Borisch 33-205, Ro. Johnson 15-54, Ni. Romano 5-11, Lo. Kendall 4-6, Dy. Thigpen 2-2. E. Washington, Ta. Pierce 16-71, De. Merritt 9-64, Er. Barriere 8-40, Team 2-(minus 8).
PASSING_Idaho, Za. Borisch 5-11-2-74. E. Washington, Er. Barriere 18-38-0-309.
RECEIVING_Idaho, Lo. Kendall 1-25, Ro. Johnson 2-23, Ha. Hatten 1-16, Co. Whitney 1-10. E. Washington, Ta. Limu-Jones 4-140, Fr. Roberson 5-53, Ef. Chism III 3-43, An. Stell Jr. 2-41, An. Boston 2-13, De. Merritt 1-11, Bl. Gobel 1-8.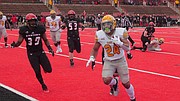 ---